Disgruntled elements sabotage education with ulterior motives, says Colombo University VC
Vice Chancellor of the Colombo University Dr. Kumara Hiriburegama said disgruntled elements sabotaged the registration of new students at the "Telawala" hostel for female undergraduates and effectively blocked the commencement of studies for the new undergraduates, because studies could not commence without registering students. He said that the saboteurs gave the wrong interpretation by showing only partially built parts of the building thus misleading the public and the media. Only the top floor of the building was completed with all facilities at that time and the second floor was partially complete as the renovations were delayed due to unavoidable circumstances. As it is an old building, many unexpected obstacles relating to the structure of the building, had to be dealt with, he said.
It was unfortunate that undergraduates were used by some elements for their political gains and for other hidden agendas. The Colombo University authorities acknowledge that undergraduates need hostel facilities, especially those from rural areas as Colombo city is left with limited space. Some elements from outside the university misled these undergraduates and even their parents.
He rejected allegations that hostel fees were to be increased. The students are charged only 2000 rupees for the whole year which amounts to about 5.50 per day. New students have to pay 1000 rupees as one time registration fee. This amount has been used to mislead the students and the public. About 44 students had been taken there earlier and shown the building being constructed. There had been no protests at that time.
"The majority of the students are well behaved. only a handful of them engage in disruptive activities due to brainwashing by some elements who are staying outside of the Universities. These people want to disrupt education and create chaos in the country. They take advantage of the students coming specially from rural areas who need support when they come to live in cities", he said.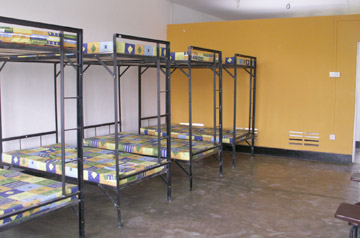 Double beds for undergrads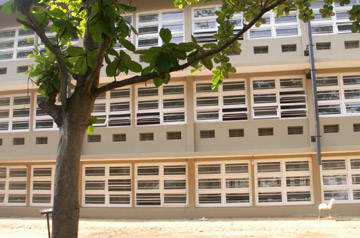 The University hostel. Pix: By Vipula amerasinghe
The Colombo University will not be relocated in another area. A university is important to a city and its environs as those contribute to the community by way of research and development. Universities in other countries as well as Colombo University are following this concept. All development will take place at the same locations of the Colombo University.
He said that people with vested interests such as Non Governmental Organisations (NGO) are behind disruptions to university education. NGO's are loosing their clout in the University system since they are getting exposed at present. These elements instigate agitations together with some people in the university, he said. This is evident by the fact that the undergraduates who are protesting usually have enough funds to sustain themselves irrespective of the duration. The protest was timed for UNHRC sessions in Geneva and they expected a clash with police.
Dr. Kumara Hiriburegama said that 'Telawala Hostel Redevelopment Project' has been designed on the 'University Residencies' concept with facilities on par with international standards. He said that it was built as a green building with mechanisms for rain water harvesting, sewerage recycling and ventilation is maximised to reduce power costs.
The 1 and 2 floors of the building has residential facilities which include modern furniture and bathroom fittings, not found at other Universities. The ground floor has the conference area, library and reading area, sports and recreational facilities. It can be used as a centre to exchange international students. It is an integrated human development project not just a hostel, he said. It is a pilot project on a new concept which is to be implemented by other Universities later.
The Vice Chancellor said that some people in the University were being tempted by the NGO money and they engage in anti national activities. They misuse their academic freedom.
He said that such people only speak about their rights but not about their responsibilities. University academics should research on subjects that are useful to the country. Research is not useful if development is not followed with it. Development should lead to production and manufacturing. It is of no use if research is conducted and hand over the findings to another country to produce goods.
The universities in other countries have more autonomy where they can take decisions on developing and administration of the universities, which is lacking in Sri Lanka. It is very difficult to progress fast without a greater degree of autonomy as the present systems and procedures are time consuming. Even to construct a building, it takes years,he said.
The buildings at the Colombo University including Telawala hostel, are being built by the Army on voluntary basis. Dr. Hiriburegama said that the University provides building materials and the Army is doing professional work with constructions. The cost has been reduced drastically as the Army is working on the sites on a voluntary basis as their contribution towards development of education in Sri Lanka.