Paddy prices shoot up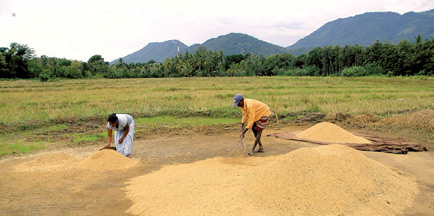 With expectation of a sharp drop in paddy supply during the Yala season due to the extended drought, the open market price of paddy has increased sharply this year.
Farmers said that for the first time in several years the open market price of paddy has increased above the government's purchasing price.
Farmers coming under the Minipe irrigation scheme in Hasalaka said that open market price of Nadu is Rs. 38 per kg and Samba Rs. 40-55 per kg against the government's purchasing price of Rs.32 and 35 per kg.
They said that last year the open market price of paddy dropped below Rs. 30 per kg. This year the Maha season harvest is extremely good due to favourable weather. Dry weather during the harvesting season also helped to improve the quality of paddy with low moisture content and, therefore, there is no issue with marketing it and at this price farming is profitable.
Irrigation and agriculture officials said that the water level in major reservoirs are not sufficient for paddy farming in the Yala season and farmers have been advised to shift to other crops.
With the expected drop in supply, the market price of rice has increased sharply. Traders in the Pettah wholesale market said that stocks are coming in and there will not be a shortage of rice during the festive season.
- GW