A friend in need
Lahiru and Ananda were good friends at school. They were both classmates. Lahiru's father was a well-off businessman so his father was able to fulfil all his son's needs. On the other hand, Ananda lived only with his mother as his father had passed away even before his birth.
Although Lahiru and Ananda belonged to different social classes, they were the best friends well known to the whole school. They were popular in school due to their strong relationship as they were very united on all occasions. Even the school teachers were amazed to see their friendship and they believed that the main reason to have a good bond is not money but the hearts.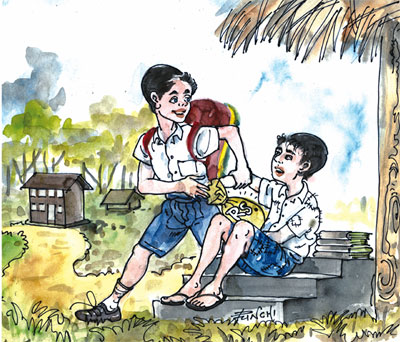 They were together for six long years and all of a sudden in grade six Ananda showed a lack of interest in attending school. Lahiru did not realise the reason behind it. Ananda was continuously absent for a week. This made Lahiru quite upset.
One day as Lahiru did not see Ananda for a long time, he decided to visit Ananda's place. So, in the evening, Lahiru set off to see his best friend.
When he arrived at Ananda's house, he heard Ananda's mother weeping, "my dear son it is difficult for me to feed you, dress you and look after you, so you have to help me in my work. I cannot buy the things you need for school...", saying so, his mother started weeping again.
As Lahiru overheard the words, while he was about to enter the compound, he stopped as he could not move further.
"Amma, I know that it is difficult for you to look after me. It is not easy to buy the things that I need for school so I am going to work in a grocery shop. I will earn some money so both of us could live", said Ananda.
Lahiru burst into tears when he heard Ananda saying so. They had been good friends from grades one to six and Ananda has hidden all his family burdens from Lahiru.
Lahiru turned back and started walking on the road, while he was going many weird things were going on his mind.
The next day Ananda found a bag at his doorstep. He opened the bag curiously to see what it was and to his surprise there was a lot of money in it. He was excited to see a lot of money and shouted, "Amma!". When his mother came running, both of them were happy to see such a huge amount of money.
This started happening very often. Although Ananda and his mother were very happy, they were quite afraid of this unusual thing. Ananda as usual started going to school and this made Lahiru very happy.
But who had been helping Ananda and his mother?. No one knew!
One day Ananda told Lahiru, "Lahiru you are my best friend, there is no one who can replace your love and care. Lahiru just smiled and said, "You are my best friend too but why are you talking like that all of a sudden?"
Ananda said, "I know that it is you who is helping us"
Lahiru was shocked to hear this "Me! But how do you know?"
The bag in which you bring the money is your father's grocery shop bag, the name is printed on it, right?", said Ananda.
Lahiru said, "you are my best friend Ananda, why did'nt you tell me that you had such problems? I did not know what to do so I spoke to my father about you. It is my father who gave me this idea. I am sorry if I had hurt you." Lahiru started crying. Ananda gave him a big hug and said, "you are more than a friend for me."