Ranil back to political montessori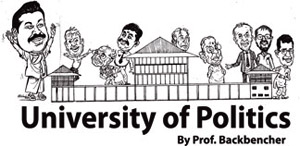 Most politicians spent almost the whole of the past week holding post-mortems and reviewing the results of the Western and Southern Provincial Council elections. As predicted, the ruling UPFA registered landslide victories in the Western and Southern Provincial Councils with absolute majorities.
The UPFA secured 33 seats in the Southern Provincial Council while its closest rival the UNP manageed to win only 14 seats. In the Western Provicial Council, the UPFA obtained 56 seats while the UNP won only 28 seats. The JVP and Sarath Fonseka-led Democratic Party (DP) won totals of 11 and 12 seats in both the Provincial Councils.
Though it was obvious that the UPFA had once again emerged victorious with thumping majorities, the Opposition political parties came out with different theories to claim that they are the real victors. The manner in which these bankrupt Opposition political parties adopted various strategies to cover their defeats looked as if the UFPA has lost its grip. But that fact remained that the UPFA's vote base at the 2010 general election remained intact.
Fonseka appeared to be overjoyed even with the few seats his party managed to win. He even went to the extent of using his own jargon to identify the Commissioner of elections, calling the polls chief as a scarecrow. Fonseka found fault with the Elections Commissioner for the DP's inability get more votes.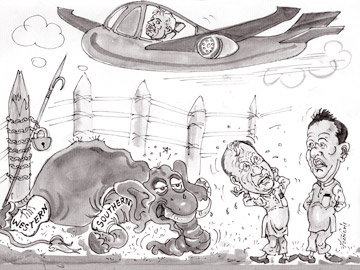 But Elections Commissioner Mahinda Deshapriya took Fonseka's wild allegation lightly, saying that he does not mind being compared to a scarecrow made of straw by Fonseka as a scarecrow had the power to at least scare aware birds.
Speaking at a post poll media briefing, he made this comment with reference to a remark by foul-mouthed Fonseka that Deshapriya was a scarecrow made of straw.
"I am happy that he did not compare me to a dead body. A scarecrow is at least an object with some power. It can scare away birds," Deshapriya was quoted as saying.
Minister Basil creates history
Economic Development Minister Basil Rajapaksa set a unique example not only to his party but also to all political parties in Sri Lanka. Normally, the losing candidates are a forgotten lot in any party without any attention from their party seniors. Though they spend a considerable sum of money and campaign tirelessly for the parties they represent, hardly anybody bothers to look into their fate or at least talk to them after they fail to secure a seat.
But Minister Basil thought of changing this culture and appreciating the roles played by the candidates who failed to secure seats. He hosted all unsuccessful UPFA candidates at the Western and Southern Provincial Council elections for a discussion followed by a dinner on the day the preferential votes were released.
The losing UFPA candidates commended Basil's thoughtfulness, saying no political party had held such unique event in the past. They thanked the minister for caring about them and appreciating the roles played by them to increase the vote base of the UPFA. Some losing candidates told their grievances to the minister and he promised to look in to those and find relief at party level.
That was not all. Basil later made a careful analysis of election results and found that the UPFA had increased their percentage of votes in every district. It was also noted that the Democratic Party has polled lesser number of votes in the Western and Southern Provinces than when the party leader Sarath Fonseka faced the 2010 presidential election.
Armed with those encouraging election trends and plus points of the UPFA, the minister visited Temple Trees on Monday to brief the President.
John to cover Ranil's duties
When most UNP seniors had been busy with election campaigns during the last couple of months, the National Leader of the UNP, Ranil Wickremesinghe had been corresponding with an American university for an advanced study program. Prior to the Western and Southern Provincial Council elections, Ranil had already secured a deal and a sponsor sum host.
But he kept that a secret until the UNP suffered its 29th defeat under his tottering leadership. Inside sources at Sirikotha sad yesterday that Ranil expected even a worse defeat and secured the deal to overcome humiliation in the event he was expelled from the party leadership.
Days after the UNP's humiliating Provincial Council elections defeat, Ranil disclosed his plans to "study the latest trends in politics and other related subjects".
He intends to leave for the US tomorrow on a month's lecturing assignment at the Massachusetts Institute of Technology (MIT). Though the US Embassy in Colombo claimed that they were unaware of Ranil's tour as the MIT is not a government university, one could make a guess on possible sponsors of the tour, if any.
"The MIT had invited me last year for a guest-lecturing assignment but I was not ineterested in visiting a Western country at the time due to the US-sponsored resolution against Sri Lanka.
"Now that the UNHRC sessions are over, I have now decided to accept the invitation to be a guest-lecturer," Ranil was quoted as saying.
"During my lecture tour, "I will also study the latest trends in politics, information technology, industrial developments and other subjects. One of the best constitutions based on an executive prime minister is functioning in Japan. That constitution was formulated by the US," Ranil had said.
The UNP and Opposition leader had said that it is necessary to study how to formulate a constitution, sans executive presidency. But the UNP leader appeared to be least bothered after the UNP had suffered its 29th defeat under his shaky leadership. Though a number of party members had expressed concern over the party's predicament, Ranil, true to his usual lackadaisical attitude, has decided to leave for the US, to teach as a guest lecturer at Massachusetts.
Interestingly, Ranil said that he will be going to 'teach and not to be taught' at MIT this time around. During his stint in the US, Ranil will also be visiting Harvard University to study ways in which the Executive Presidency can be abolished and a new Constitution, which would be more suited to Sri Lanka, can be adopted.
Hirunika finishes on top
The daughter of slain Presidential Advisor Bharatha Lakshman Premachandra, Hirunika Premachandra, polled the highest number of preferential votes of the UPFA in the Colombo District at the Western Provincial Council Election. She polled 139,034 preferential votes to finish on top of the UPFA candidates list in Colombo, ahead of Jathiya Hela Urumaya stalwart Udaya Gammanpila who obtained 115,638 votes.
Hirunika vowed that she would use her victory and her position to put her native Kolonnawa electorate on the right track. She said she had many other plans lined up for the future in order to serve the public.
"Everyone knows that the Kolonnawa electorate is the most corrupt in the Colombo District, with many immoral activities going on. People have proved at this election that they want a change. I will use my influence and position as a Provincial Council member to put Kolonnawa on the correct path," she said. Hirunika added that she had received more than 85% of the preferential votes in Kolonnawa.
Hirunika, one of the most popular candidates during the recent Provincial Council election campaign, said she was also able to win more votes for the UPFA in Colombo Central, where she is the party's co-organiser, than it had won at previous Provincial Council Elections.
Actresses fail in Matara
Actresses Nadeesha Hemamali (UNP) and Anarkalli Akarsha (UPFA) had something in common when they contested for the Southern Provincial Council from Matara District. They had the identical preferential number (2) in their political party lists. But both of them failed to secure a seat at last weekend's elections.
The UNP secured only four seats in the Matara district and Nadeesha finished way behind obtaining around 11,000 votes. But Nadeesha had said the number of votes she had obtained could be considered a real victory, considering the fact that she is a new entrant to politics and to Matara.
"I achieved a real victory with 11,000 preferential votes though I wasn't able to secure a seat in the Southern Provincial Council.
This is my first election and I was new to Matara. I had to come all the way from Colombo to contest in Matara and that had also affected my campaign," she was quoted as saying. Nadeesha said her only objective was to serve the people and not earn from politics unlike most of the others.
"I won't stop my political career and I will continue to engage with the people," she said
Unlike Nadeesha, Anarkalli had served in the previous Southern Provincial Council from the Galle district. But with veteran actress Geetha Kumarasinghe contesting from Galle district, Anarkali was compelled to move to the adjoining Matara district which ultimately became a costly move.
Aanarkali had said that she would continue to engage in politics despite her failure to garner enough votes in the preferential list in the Matara district.
"I don't see this as a downfall or a defeat. Engaging in politics is not an easy task, but somehow I did it for four and half years in the Galle District," she said.
"I clearly requested the voters in Matara to vote for the party and the UPFA won the election.
"I will continue my political battle aspiring even to enter Parliament in the future," she said.
Anarkali claimed that she had been engaged in her political campaign "like a lady" and played it by the rules. "I didn't use cheap tactics.
"I didn't give away inducements among the voters asking for their votes. I campaigned like a lady," she said. She said that she was a peace maker and said she was receiving the fullest support of the people.
Prasanna, Shan take oaths as CMs
Prasanna Ranatunga was sworn in as the Western Province Chief Minister while Shan Wijeyalal de Silva was sworn in as the Southern Province Chief Minister by President Mahinda Rajapaksa on Friday.
In addition to his Chief Minister post, Prasanna was also sworn in as Minister of Finance and Planning, Local Government and Provincial Administration, Law and Order, Education, Human Resources and Employment, Engineering Services and Media.
Shan was sworn in as Minister Finance and Planning, Law and Order, Local Government and Transport, Health and Indigenous Medicine, Tourism and Engineering Services.
Western Provincial councillor Udaya Gammanpila was sworn in as Minister of Agriculture, Agrarian Development, Minor Irrigation, Industry and Environment, Cultural and Arts. Nimal Lansa, Ranjith Somawansa and Upali Kodikara were also sworn in as Ministers. In the Southern Provincial Council, Chandima Rasaputhra, Dayawansa and D.V. Upul were sworn in as Ministers of Southern Provincial Council.
UNP positions to non-performers
While the UPFA offered the Chief Minister positions to those who had polled the highest number of preferential votes, the UNP adopted a different criteria in picking its Opposition Leaders for the Western and Southern Provincial Councils.
The UNP Working Committee which met last week, decided to appoint Manjusiri Arangala as the Opposition Leader of Western Provincial Council and Thennekoon Nilame as the Opposition Leader of Southern Provincial Council.
Arangala obtained 45,664 preferential votes at the recent Provincial Council elections contesting from the Colombo District whereas Thennakoon Nilame who contested from the Hambantota District obtained 28,829 votes.
Harshana Rajakaruna who obtained 51,000 votes contesting from the Gampaha District will act as the Chief Opposition Whip of the Western Provincial Council while Bandulal Bandarigoda of Galle District who obtained 32,030 votes will act as the Chief Opposition Whip in the Southern Provincial Council.
These decisions were made by the working committee meeting which met with Party Leader Ranil Wickremesinghe at the chair. Informed sources at Sirikotha said that the percentage of votes received by these candidates out of the total number of votes obtained by the party and the seniority had been taken into consideration when deciding on the posts.
Bandarigoda had said that he secured the first place in the UNP's Galle district list even without a minor organiser post in a grama seva division.
"Though I have won four previous Provincial Council elections, I was not even given the responsibility of organising even a grama seva division, forget about the district leadership altogether," he was quoted as saying.
Bandarigoda said though he was ill-treated by the party, his victory was made possible by the UNP supporters in the district and that he salutes them with profound gratitude.
Kabir bats for UNP
Unlike in most previous elections, UNP General Secretary Tissa Attanayake did not come to the rescue of the party in a post-election press conference. Instead, UNP chairman Kabir Hashim did the hard work of justifying the UNP's performance.
The UNP claimed on Thursday that the 'anti-government' votes had been recorded as 46% in the Western Province and 41% in the Southern province and said it would work with other opposition parties in the two Provincial Councils.
UNP parliamentarian Lakshman Kiriella told a news conference the international community had lost confidence in Sri Lanka and the country could not hope to rebuild its international image by winning elections.
UNP Leadership Council President Karu Jayasuriya too gave several lame excuses to cover UNP's defeats.
He claimed that the Government had blatantly violated election laws. Karu, infamous for losing even to actress Paba at the last general election, claimed that the elections were not free and fair.
Perhaps, Karu is the only person who had made such claim in a desperate bid to find excuses for UNP's defeat.
Sajith, Hema, Dulanjali call President
The family of former President, the late R. Premadasa made a desperate bid for survival after Dulanjali Premadasa was caught in a forged currency drama. She was caught in a bank with forged Rs. 5,000 notes amounting to Rs. 2.1 million.
But she claimed that the forged notes had been given to her by an owner of a garment factory as her share of an investment.
Though the normal practice is to arrest such persons and conduct investigations, Dulanjali was fortunate to go scot free due to the efforts of her mother and brother.
When Dulanjali was caught in the bank with forged currency notes, she alerted her mother Hema Premadasa and brother, Hambantota district UNP MP Sajith Premadasa.
Both of them immediately called the President and pleaded for help, claiming that Dulanjali was innocent and that she had got the money from a businessmen. Later, Dulanjali too called the President on the matter.
Instead of arresting Dulanjali straightaway, the Police went on the clue given by her and apprehended a businessman who is said to have given the forged notes to the ex-President's daughter.
The businessman - Managing Director of a garment factory who was arrested on charges of having printed counterfeit currency notes equivalent to Rs.2.2 million was granted bail by Colombo Chief Magistrate Gihan Pilapitiya last week.
He was released on a Rs.100,000 cash bail and four sureties of Rs.1 million each. The Magistrate directed that two of the sureties should be government officers.
The UPFA could have got extensive political mileage as Dulanjali was caught up in high drama on the eve of the Provincial Council elections. But the President set an exemplary act by asking the UPFA not to descend to that level. At a time Dulanjalee's brother Sajith had been engaged in a determined election campaign in Hambantota, the Government could have gone to town with the incident but did not do so.
Instead, the UNP's internal battle came to light with newspapers owned by Ranil's uncle going to town by connecting the Premadasa family to the incident.
It was an obvious move to sling mud at Sajith and promote Ranil's nephew as the future leader of the UNP.
The Premadasa family would undoubtedly be grateful to the President for his exemplary act at a time their own party was trying to capitalise on the incident.
Maithri says that he comes from a UNP family
Health Minister Maithripala Sirisena, who is also the General Secretary of the SLFP, last week claimed that he comes from a staunch UNP family and once almost got hammered by his father for supporting the Communist Party as a student.
Maithri made these disclosure when he was in the midst of a group of old farmers in his native Polonnaruwa constituency brought down on his instructions to the Vijaya Kumaratunga Eye Hospital in Seeduwa for eye treatment last week.
This group of 40 farmers underwent cataract eye surgeries to correct their eye sight and Minister Sirisena visited them before they left the hospital after successful surgery.
Speaking to farmer who is over 80 years old and known to him from his younger days, Minister Sirisena asked him whether he has a better eye sight now.
The farmer who profusely thanked Minister Sirisena said, he recollected the day when young Sirisena was driven away from home by his father.
The doctors who treated the farmers from Polonnaruwa were keen to know the full story and the minister obliged.
"My father was a die-hard UNPer and had a high regards for Prime Minister D.S. Senanayake. But I was inclined towards the Communist Party (CP - Peking) led by N. Shanmugadasan from my tender age. I was a supporter of the Communist Party from the age of 12," Maithrti said.
"I called Shanmugadasan 'comrade' but the age difference between us was more than 40 years. My father used to ask me as to how a 50 year old man became my comrade.
My father used to reprimand me when I came home late after party work. One day he threatened me and said I would be driven away from home if I did not resign from the CP and join the UNP" he explained.