Local universities to be made world-class:
Quality control mechanism in the offing
The Ministry of Higher Education wants to develop Sri Lanka's universities on par with international universities so that local graduates will find employement anywhere in the world. It wants local undergraduates to be globally competitive who are not just job seekers but job providers in the future.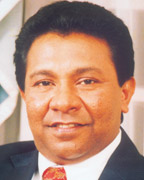 Minister S.B. Dissanayake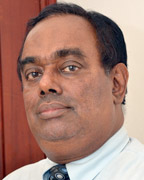 Dr. Sunil Jayantha Navaratne
This needs new thinking, innovation and creativity. The Ministry has already launched an ambitious program to achieve this goal by the year 2020, says the Secretary to the Ministry of Higher Education, Dr. Sunil Jayantha Navaratne. The vision of the Ministry is to make Sri Lanka an international hub of excellence in higher education by the year 2020.
He said that they have identified 7 local universities out of the fifteen, to be developed to be world class universities. The universities are, Colombo, Moratuwa, Peradeniya, Ruhuna, Jayawardenapura, Kelaniya and Jaffna. The government will invest heavily to make all facilities available to those universities, under the project, 'University Townships'. Dr. Navaratne said that these universities will get IT and other laboratories, Wifi facilities and even film theatres as found in universities abroad where the undergraduates are expected to have a full university life.
"The universities have the cream of the youth with knowledge and they have the new ideas, he said. The universities must use their ideas and teach them to turn those into solutions, so that the society would be benefited. Research and development are important to find solutions to problems".
Therefore the undergraduates would be encouraged to undertake research and development more, not only with locals but with foreign undergraduates as well, he said.
Exchange programs
Foreign professors and students will be invited to work and study at local universities. Student exchange programs will be initiated along with academic exchanges so that local undergraduates and lecturers will get exposed to an international environment.
The foreign professors will come on a short term basis. Therefore, local lecturers' employment will not be affected. Locals will gain much experience by working together with their foreign counterparts.
Dr. Navaratne said that Sri Lanka needs world class universities to make the island a knowledge hub. The government provides lands on ninetynine year lease, duty free imports and tax concessions for such universities. The Central Lancashire University of the United Kingdom which comes under the State, has already commenced construction on a land of one hundred acres in extent in Meerigama.
"Foreign universities in the country will attract foreign students. Those will help to retain local students who plan to go abroad for higher education which will save foreign exchange. Education will be converted as one of the major exports by 2020 and we aim to get around fifty thousand foreign students by then"
There are about three thousand foreign students in the country at present, he said. They are from Pakistan, Maldives, Nepal, Bhutan, Myanmar, Thailand, China, Japan, UK, US, Australia, Kenya, Nigeria, South Africa and Seychelles. Sri Lanka has a vast potential to provide higher education at a very reasonable cost.
"We are very competitive in our rates to attract foreign students. It is about US$ 200 per month for a student whereas it is about US$ 1000 in other countries. Friendly people, peace, good weather, beaches, mountains, historical sites, strategic location are the attractions".
Under a long term plan there are twelve goals, he said. The first goal is to strengthen and expand state education. The Ministry is planning to expand the non-state higher educational institutes and to permit non-state universities. The non- state higher educational institutes will be strictly regulated in future by introducing laws to ensure the quality. Dr. Navaratne said that they would not use the word "Private" as the term misinterpreted the meaning.
Access to state universities will be increased from twenty two thousand in 2011 to twenty five thousand five hundred by 2015. Non-state higher education will be increased from four thousand nine hundred to six thousand by next year. Distance education will rise from one thousand five hundred to five thousand by 2015. The level of access will be made twenty thousand by next year through the Open University.
He said that those non-state universities were not profit oriented. Those would re-invest in the institutes, the fees charged from students to maintain, upgrade and to expand. SLITT Campus is one such institute, which is managed by Mahapola scholarship program whose course fees are re-invested in the Campus. NSBM is another such institute.
Quality control mechanism
A quality control mechanism will be introduced in the future to ensure the quality of the degree programs offered by various institutes at present. The government wants to make it certain that both state and non-state higher educational institutes offer quality programs to the students. It will introduce "Accreditation and Qualification Frame Act", which is expected to be passed soon.
"The employability of our graduates are very important. Every year we calculate it. The definition of employability is whether the graduates are employed or not by the date of graduation. We did a census about it in 2012 covering all national universities". The employability of faculties of engineering is 94%, medicine is 92%, Agriculture is 70%, science is 69%, management is 65% and arts is 28%, he said. Arts graduates have fared poorly due to lack of skills.
At present they need both knowledge and skills because it is very important to put into practice what they have learnt. Dr. Navaratne said that the employers look for communication skills, team work, leadership, creativity, planning and implementation skills, confidence, problem solving, writing and numerical skills, subject and practical knowledge.
What is happening at the Arts faculty is that the students memorise the lectures and write that on examination answer scripts. They are passive listeners.
There is no interaction between the student and the lecturer. What they can do is very little and that is the reason for low employability. we are going to change this system by introducing outcome based and student-centred education concepts, he said.
According to the new concept the lecturer becomes a guide and a mentor. He/She should make certain that the students are learning not as individuals but as teams. Each student will be given a text book. The students have to come prepared for the class with the summary of the first chapter in the text book, and make a power point presentation in front of the class. This will improve their IT and communication skills and knowledge.
The lecturer will give assignments based on the theoretical knowledge, where the students as teams have to visit places such as markets and complete their assignments.
This is expected to improve quality of the education as students will get real life experiences when they interact with vendors to get the information they need. They will learn to face and solve unexpected situations and face challenges as teams.
The undergraduates will be allowed to run small business ventures in order to make them learn to be job givers rather than job seekers. There are many successful entrepreneurs who have graduated from national universities. They have provided a large number of jobs for the unemployed. The undergraduates will be allowed to study for professional courses so that they will have both academic and professional qualifications.
They will be trained targeting global and regional job markets. The idea is "Globally employable graduates and global market oriented entrepreneurs".
" If we want to take Sri Lanka to the next level and make it the miracle of Asia, the graduates should take the leadership", Dr. Navaratne said.
The definition of higher education is "After A/L, more than 2 years of education, except vocational training, he said. There are seven hundred international schools and four hundred and fifty thousand students are studying in those and they also need higher education facilities.
The leadership training program is showing results with the change of attitude and positive out look of undergraduates who enter the universities following the training. It has been introduced to prepare the students who are just after A/L examination to a new life at the university.
They undergo training in activities such as problem solving, dressing up, using folk and spoon, dramas and talent shows. The undergraduates now acknowledge the usefulness of this training program.
Talent
Dr. Navaratne said that the "Kavitha" Television show was introduced to bring out the talent in undergraduates. Minister S.B. Dissanayake has decided to have 1 Sinhala and 1 Tamil show to do so.
The show has a variety of items including singing, dancing, writing novels, short stories, poems and lyrics, comedy acts. Altogether twenty four talents are appreciated. President Mahinda Rajapaksa will hand over excellence awards to the most talented Tamil undergraduates at the show which will be held on May 22 and 24 at the BMICH.
The program SIIIP (solutions, ideas, innovations, inventions, products), is a competition on innovations. It has been introduced to identify the innovative ideas of the undergraduates and to convert those into solutions. Those ideas could be turned into products and services for the benefit of the country. This year 3 undergraduates have won one Gold and two Bronze medals at the Geneva Innovation Competition displaying the true potential of them.
For the first time in history of the universities, the president has directed to build sixty hostels to solve the hostel facilities of the undergraduates. Each hostel can accommodate four hundred students thus there will be accommodation for twenty four thousand students during this year and next year.
Minister Dissanayake has decided to allocate more funds for research and development from this year. Every university has 3 roles to play.
They are teaching and learning, research and community service. The research and development role has been neglected due to lack of resources.
The minister has instructed the universities to allocate at least ten percent out of total capital budget for research and development. This approach is expected to lead to more research and development resulting in innovations and solutions, which will benefit the country.
Dr. Navaratne said that under the visionary leadership of the President and the dynamic leadership of Minister S. B. Disanayake, Sri Lanka can become the international Hub of Excellence in Higher Education by the year 2020.