Sri Lanka's exports to India grow 10-fold
Since the launch of the Indo-Sri Lanka Free Trade Agreement (ISLFTA), Sri Lanka's exports to India have increased by over 10-fold from US$ 49 million in 1999 to US$ 543 million in 2013, Indian High Commissioner Yashvardhan Kumar Sinha told the 17th AGM of the Exporters Association of Sri Lanka (EASL) in Colombo last week.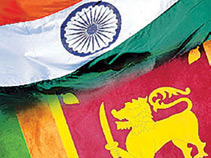 He said that bilateral trade during the first six months of this year and Sri Lanka's exports from January to June 2014 have been around US$ 300 million, an increase of 7.42 percent compared to the corresponding period of last year.
Trade turnover doubled within two years of the ISLFTA coming into operation and in three years it doubled again. From 2000 to 2008 trade turnover increased five-fold. Trade reached the highest level in 2011 to notch US$ 5 billion. Trade between the two countries last year was US $ 43.76 billion.
Following the implementation of the FTA, Sri Lanka's garment exports to India increased from three million pieces to eight million pieces at zero duty with no fabric sourcing conditions, a 25 percent tariff reduction for 528 textile items, 2,500 mt of pepper exports were permitted, the validity period of the licence for processed meat was extended from six months to one year and 50 percent tariff preference on five tea items subject to a quota of 15 million kilograms per year.
Sinha said that among all trade partners of Sri Lanka, India has the most balanced trade with Sri Lanka.
India is the largest source of imports for Sri Lanka and the third largest export destination after the USA and the UK, accounting for around 5.2 percent of total exports of the country.
He stressed the importance of addressing the non-tariff barriers (NTB) which restrict market access to India. The NTBs were not addressed by the ISFTA.
These issues have been regularly discussed between the authorities of both countries and working to harmonise standards and cooperation between the Customs of the two countries.
Discussions for a Goods and Services Tax is at an advanced stage and when implemented will replace the multitude of State taxes with one tax for the entire country.
Sri Lanka's exports during the first half of this year increased 22.1 percent to US$ 5.4 billion compared to the corresponding period last year.
Export turnover increased by 6.4 percent to US$ 10.3 billion last year compared to the 7.4 percent decline in 2012.
EASL Chairman Rohan Daluwatte said that export turnover increased this year due to the increase in exports of all major categories and added that the growth momentum will help Sri Lanka to achieve its export target of US$ 20 billion by 2020.
He said that the percentage of Sri Lanka's exports to GDP has steadily declined, from a peak of 33 percent in 2000 to 17 percent in 2012. Sri Lanka needs to identify strategies to capture new markets and diversify exports that will help to prevent falling into the middle-income trap.
"Lack of job specific skills impedes sustained economic growth. Technical skills should be improved to boost growth in the export industry," Daluwatte said.