'Transcendent': An exhibition of lyrical paintings
Champani Devika's 18th exhibition of paintings titled "Transcendent" will be held on August 12 and 13 at the Lionel Wendt Art Gallery, Colombo 7. The exhibition will be open from 9 a.m. to 9 p.m. The opening ceremony will be on August 11 at 5 p.m.
The display of works presented by Devika invariably enters a domain of creative lyrical paintings by the surprising uniqueness of her vision.
Devika was born in Biyagama. Her father had taught her painting. "He gave me books and colours and allowed me to draw on the walls of the house. In fact, the house was not colourwashed until I was 10." She was only interested in taking the pieces of chalk he brought home and with these traced the cracks in the cement, which may very well have helped her master the "line".
Results
Devika secured the best results in her school, Biyagama Maha Vidyalaya, at the NCGE and qualified to enter the science stream. "I wanted to enter the arts section, but no one in the family approved. There was a teacher Subadra Jayasekera and she was the only one who supported me. I cried and insisted that I be allowed to take the subjects of my choice. Finally, my father relented, but not before making me promise that I would not blame him later on in life."
She entered the University of Kelaniya and read for a degree in Fine Arts. While in the university, Devika held two solo exhibitions. She had been the first woman to hold an exhibition at Kelaniya University. She began her career as an artist for the women's weekly, Navaliya, in 1985. In the same year she was awarded a scholarship by the Chinese government to learn Chinese at the Beijing Language Institute.
She followed a course of advanced studies at the Central Academy of Fine Arts in China, from 1986-1988, and later completed a Masters in Fine Arts at the same academy. Her thesis was a comparative study of frescoes in Sri Lanka and China.
Devika returned to China for six months in the early nineties to study Chinese traditional paintings and in particular the Kum-bi technique, the use of the "fine brush". She felt a certain affinity to this technique. This became popular on account of the things she painted for the newspapers so she continued with this style.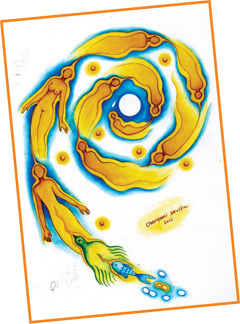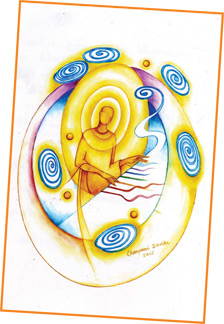 It was from China that she "picked up" light colours and these have been a virtual signature in her paintings. She had been particularly interested in "Scholar's paintings". They were educated people who could paint and could also write poetry. There was philosophy in what they drew. She too had written poetry from the time she was a child but it was in China that she realised that what she had practised had actually been an ancient tradition.
Teaching
Devika has worked as an art teacher from 1993. She had also been a visiting lecturer from time to time at the University of Kelaniya and the Post Graduate Institute of Archaeology, where she has taught Chinese, Art, History and Painting.
Devika said in relation to her theme 'Transcendent' this year that according to nature we have inherited the mind power that will be transcended. According to our belief, we will meet this transcendent mind one day. Our effort should be to reach this level.
Since her first exhibition at the University of Kelaniya, Devika has held 17 solo exhibitions in Sri Lanka, China, Pakistan, India and Thailand. Her latest which was held in January 2012 was titled Mandala specifically an invitation to a new era based on the Dhamma and to give birth to a new vision through the metaphorical fragrance of the lotus.
It was here that she introduced a new concept or doctrinal idea called Asirivaadaya or blessings. One feels, however, that this is a thought-strand that runs throughout her work, from the first exposition to the last, and that it will probably run through her 18th exhibition of paintings titled 'Transcendent'.