Creative encounters
Lanka Children's and Youth Theatre Foundation (LCYTF), popularly known as Play House-Kotte will present its latest program for children named "Creative Encounters" during the school vacation this month.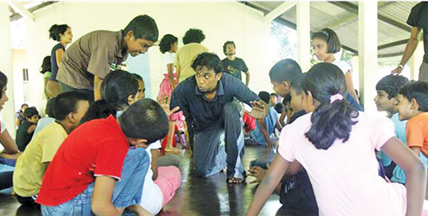 "Creative Encounters" allow children to learn and enjoy the basic elements of different art forms such as drama, dance, music and painting.
The program is aimed at enhancing the artistic taste, cheerfulness and playful sense of the child through creative activities and thereby to develop his abilities and self-esteem.
While providing a valuable opportunity to learn basic forms of art, the program encourages the child to explore human relationships, socio-cultural values and achieve world awareness. Therefore, taking part in "Creative Encounters" would be a different and rewarding way for children to spend their vacation.
Children between seven and 15 can take part in the program which is conducted on weekdays. The program runs for five consecutive days from 8.30 a.m. to 1.30 p.m. at Lion's Club Hall, Jayanthipura, Battaramulla.
On the final day of the program, children will perform in the presence of their families. For details send in a stamped envelope to the Coordinator, Lanka Children's and Youth Theatre Foundation, No. 166/1, Buddhist Institute Avenue, Parliament Road, Kotte. Details of the program are also available on www.playhousekotte.org.