Six Independent groups in the fray for Uva PC polls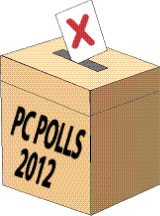 Six Independent groups have made security deposits to contest the forthcoming Uva Provincial Council elections, Additional Elections Commissioner R.M.A.L. Ratnayake said.
While one Independent group has made the deposit for the Badulla district, five Independent groups made deposits for the Moneragala district.
Only one registered political party has handed over the nominations to contest the Uva PC polls so far. The Maubima Janatha Party, has handed over their nominations to contest the Badulla district.
Accepting nominations will resume tomorrow after the weekend. The Elections Department will accept nominations from registered political parties and Independent groups till August 6. The nominations opened on July 30.
The polls date will be announced by the Elections Commissioner Mahinda Deshapriya after the close of nominations.
- MF