Uva PC polls - turning point for UNP:
Ranil goes back for A/L tuition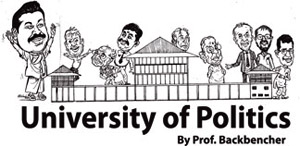 Opposition leader Ranil Wickremesinghe has tried almost everything under the sun to become the country's Head of State.
Despite serving as the county's Prime Minister on two occasions, it seems that advancing beyond that is a distant dream for Ranil.
He changed his customary national top and trouser to formal European dress when he unsuccessfully contested the 2005 Presidential elections. It was said that Ranil had hired a top public relations firm from abroad.
He evaded the hassle of contesting another Presidential election by endorsing Sarath Fonseka's candidacy at the 2010 Presidential election. Yet, only Ranil could tell whether the UNP had thrown its full weight behind Fonseka who eventually cut a sorry figure as President Mahinda Rajapaksa won his second successive Presidential election with a thumping majority.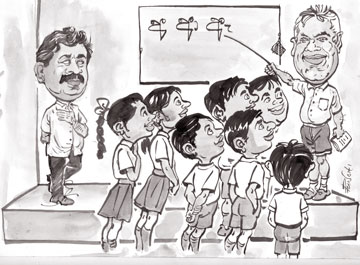 Taking a leaf of President Rajapaksa's book of becoming closer to the masses, Ranil who made another unsuccessful bid at the 2010 general elections. He has made it a habit to visit Sunday fairs to share a word or two with vendors and customers which appeared to be artificial.
With the speculation of an early Presidential election, Ranil would have already consulted a top notch international PR company to become third time lucky. Perhaps, on the instructions of his new advisers, Ranil embarked on another drama last week, this time visiting a tuition class.
This is the time most Advanced Level tutors are busy, trying to cover the syllabuses and doing revision papers with their students.
But the tutor of a popular Advanced Level tuition class for Sinhala language got a chance to 'exhibit' the political leader he worships the most. But he kept it a secret until Ranil arrived at his full house class on Monday.
Initially, the tutor had told students that the winner of Derana Dream Star M.G. Dhanushka will visit them and the students were armed with their autographs and cameras. But must to their disappointment, it was not the Dream Star but a losing political star who ultimately made the guest appearance at the class.
It appeared to be the blind leading the blind, when Ranil, under whose leadership the UNP has suffered 30 elections, advised the students. "Study well, master your patience. Use your brains, that would help you to progress," he told the students. Their tutor too made a political speech in an obvious attempt to brainwash the students. Ranil urged students and their tuition masters to join in efforts to change Sri Lankan society.
"Let all of you together with your master sir, change society and secure a bright future for yourselves," he said.
JVP leader in hospital
Janatha Vimukthi Peramua (JVP) Leader Anura Kumara Dissanayake was admitted to the Ratnapura Hospital on Monday following a motor accident at Kiriella.
The JVP leader's vehicle had collided with a tipper coming in the opposite direction when the driver had attempted to overtake the vehicle in front on the Ratnapura-Panadura Main Road.
Anura Kumara was later transferred to the Colombo National Hospital. The driver was also injured and admitted to the hospital.
They were heading to Badulla to participate in the election campaign. Party sources said Anura Kumara would be back in the election campaign within a few days. JVP MP Sunil Handunnetti had confirmed that Anura Kumara's health condition was stable since leaving hospital on Tuesday and that his injuries were of a minor nature.
Opposition Leader Ranil Wickremesinghe was among the first who visited the JVP leader at the National Hospital. Anura Kumara had a cordial chat with Ranil, explaining the ordeal he had in Ratnapura on Monday evening. Democratic Party leader Sarath Fonseka also visited the JVP leader who spent an overnight stay at the Merchant Ward of the National Hospital in Colombo. Anura Kumara's driver was arrested on charges of reckless driving, following the accident.
The driver was produced in the Ratnapura Magistrate's Court and was released on a surety bail of Rs.50,000 by the Ratnapura Magistrate Court. The next date of the hearing will be on August 4.
Uva PC polls, decisive for UNP
Political activities of all major parties in the Badulla and Moneragala districts are gradually catching up as interest on the upcoming Uva Provincial Council (UPC) elections is increasing.
Both major parties, the SLFP-led UPFA and the UNP have already named their chief ministerial candidates. But political observers said that UNP's Badulla district parliamentarian Harin Fernando would be a no match to former Chief Minister Shashendra Rajapaksa. They were of the view that the UPC polls are more important to UNP as it could be a turning point in the main Opposition's history.
Making a desperate attempt to avert the party's 30th successive election defeat, the UNP said that it would abide with the request made by the election monitoring body People's Action for Free and Fair Election (PAFFREL) and put forward a set of candidates with clean hands.
"No one would be able to point his or her finger at our candidates as we will put forward a clean team of candidates for the two districts in the Uva Province," party spokesman Gayantha Karunatilleke told a media briefing last week.
Nominations for Elections to the Uva provincial council elections will closed on August 6 at the nomination centres in the respective District Secretariats, the Election Department said. Uva Provincial Council was dissolved with effect from midnight July 11. A total of 600,966 voters from the Badulla district and 332,764 voters from the Moneragala district will form the voting strength of the Uva Province, which will elect 32 members plus two bonus seats.
UNP to move Nadeesha to Ambalangoda
Popular actress Nadeesha Hemamali who unsuccessfully contested the Southern Provincial Council elections on the UNP ticket earlier this year is set to be appointed the party's co-orgniser for the Ambalangoda electorate.
Though Nadeesha contested the last Southern Provincial Council elections from the Matara District, the UNP plans to move her to the Galle district, giving her a better chance of resurrecting her political career.
The UNP already has a chief organiser for Ambalangoda in Janith Wickrematillake. However, Nadeesha is tipped to be appointed a co-organiser to share the UNP's responsibilities in the electorate with Janith.
It was reported that the UNP leadership is keen to give Nadeesha another chance to strengthen her vote base by the next parliamentary general election likely to be held next year. Actresses Nadeesha (UNP) and Anarkali Aakarsha (UPFA) contested the SPC elections from Matara district and failed to secure seats.
But veteran actress Geetha Kumarasinghe, after failing to secure a seat at the 2010 general elections, entered the Southern PC earlier this year.
Bandula plans to report don to CID
Education Minister Bandula Gunawardene said last week that he would complain to the CID over a false allegation made by a Ruhunu University Professor that he had provided an answer to a question in the Economic Administration paper at the GCE Advanced Level examination held in 2012.
When questioned whether he had sent a facsimile message to the Examinations Department giving the answer to a question in the A/L Economic Administration Paper and whether a department official had taken the fax message to a leading Colombo school as alleged by the Ruhunu University Professor, the minister said he had not sent any fax messages during the past four years. "It is a false allegation. There is no truth whatsoever. I have never sent a fax in the past four years. I will complain to the CID if the professor does not prove his allegation.
"There should be some hidden force behind this because he is making the allegation after several years. I will ask the CID and the IGP to conduct a full-scale investigation," he said.
JHU questions Pillay's double standards
Jathika Hela Urumaya (JHU) said that the UNHRC chief Navi Pillay should reveal her stance regarding the violation of international military law and international human rights in Palestine.
"We ask Navi Pillay what her stance is on the genocide in Palestine. She should declare her stance to the world regarding that.
But she seems to be silent when the international military law and international human rights were being violated in Palestine," JHU national organiser and Western Provincial Council member Nishantha Sri Warnasinghe said.
Warnasinghe accused the UN Human Rights Commissioner of pursuing double standards and added that her silence on the Palestine genocide implies that her approach had been different in some countries of the world.
"She termed it a war crime when a Malaysian Airlines plane was shot down in Ukraine.
"But she keeps mum on the Palatine genocide and regarding the abduction of 200 students by Boko Haram militants in Nigeria." Warnasinghe told a news conference in Colombo.
Dr. Seshadri rejects agency report
National Convener of Foreign Policy Cell of the Bharatiya Janata Party (BJP), Dr. Seshadri Chari has rejected the news item carried in the Indian news Agency – PTI quoting him as saying that Sri Lanka should resolve the Tamil issue if trade ties between the two countries are to improve.
Dr. Chari who rejected the contents that appeared in the PTI news item that has quoted him as saying, 'We have told them (Sri Lanka) that you should resolve the Tamil issue if you want trade and commerce between Colombo and New Delhi (to progress),' has pointed out in his letter to the PTI News Editor that the news item is 'wrong and malicious' and has caused great damage to his reputation besides causing damage to Indo-Sri Lanka relations.
"I never spoke these words in the seminar in Singapore as has been mentioned.
"Besides me there were other dignitaries from India and surprisingly your report does not mention any of them," he has written.
Furthermore, he has pointed out that during his participation in the seminar in Colombo on 'India under Modi' organised by the Bandaranaike Center for International Studies (BCIS) and in the interviews he gave, he has clearly suggested that the Tamil issue is an internal matter of Sri Lanka and should not be internationalised.
Sudharshani disagrees with Maithripla's wish
SLFP general secretary and Minister Maithripala Sirisena, addressing the Polonnaruwa Sri Lanka Freedom Party Women's Federation meeting at the Mahaweli Prathibha Hall in Manampitiya made a strange wish last week. "May all women reborn as men in their next incarnation," said SLFP general secretary much to the surprise of those present at the meeting.
"The dominance of women is visible everywhere today, women constitute 53% of the country's population and 80 percent of government servants. The village society and the whole country depends on a mother's strength, and her strength is immense and of great importance. Whenever I leave home my wife kneels and bows, and as Buddhist I wish her to be reborn as a man," he said.
But when he noticed the shock on the faces of most of those who were present, he request them to raise their hands of they don't like his wish. Four of them, including Gampaha District MP Sudharshini Fernandopulle responded.
The minister said that, as a representative elected by the people he had done his part for the benefit of the people.
"From the beginning of next year cigarettes packets will carry a pictorial health warning which would compel smokers to rethink their smoking habit," he said.
He said he would take steps to use similar methods to discourage liquor consumption next year. He said that as a responsible minister he would work to create a society free of arrack, cigarettes and drugs.
At the team party which followed the event, Maithripala casually asked Dr. Sudharshini why she did not agree with her wish. "I am proud with the role that I play as a mother. Motherhood is the most important thing one could ever dream of and I wish to remain as a responsible mother," she explained.
Australia closes doors to Tamil migrants
Australia was working with India for the return of Tamil migrants among 157 asylum seekers are being held at a detention centre in the country, Immigration Minister Scott Morrison has said.
The group of Tamil asylum-seekers, including at least 37 children, are held in the Curtin Detention Centre after being on sea for several days.
The group was said to be from Puducherry. "People who are Tamils in India are not subject to persecution as a result of their Tamil ethnicity, and that is, I think, widely understood," said Morrison.
"People have left India and the suggestion was that people were being persecuted in India, and my simple statement was is that's obviously a nonsense," Morrison told a radio interview on Thursday. He was responding to a criticism by a Green Senator on the return of the detained group to India.
"And that's why I have been working with the Indian Government to come to an arrangement where many of them who have been resident in India for a very long time could be considered for return," he said.
"Now, they may well have wished to return to India rather than the other options that are on the table here, which is obviously offshore processing," the minister said.
Morrison said negotiations were underway with Indian officials to deal with the issue and the first step was to allow the consular officials to meet the group.
"Now, if they choose not to do that, then that's a matter for them, and it could be possible that all of them may choose not to speak to Indian consular officials, and in so doing, they will pass up an opportunity to potentially to be reunited with their families in India."
Morrison said three options were being currently worked out with India.
"One was that they could be taken to India where that process which I have talked about, their identity and so on, could be assessed," he said adding that the option was not accepted by India.
"They will never, ever be resettled in Australia and that will be the outcome and nor will they ever be able to probably ever go back to India again," Morrison said adding that there was no discussion with the Sri Lanka government about taking back the people on the boat.
President discusses arrangements for ICAPP
President Mahinda Rajapaksa met a high-profile team of officials at Temple Trees on Friday to discuss arrangements for the next meeting of the International Conference of Asian Political Parties (ICAPP).
ICAPP will take place in Colombo from September 18 to 21, 2014, under the theme 'Building an Asian Community'. The eighth General Assembly of ICAPP will be co-hosted by the Sri Lanka Freedom Party (SLFP) and the United National Party (UNP).
Thus far, participants from 33 countries have confirmed participation at the meeting, which will bring together numerous political parties from the Asian region. President Rajapaksa also addressed a special conference of ICAPP in Shaanxi Province during his state visit to China in May 2013. At that meeting as well, there was a focus placed on the need to strengthen the relationships between and among Asian nations.
ICAPP was launched in Manila in September 2000 to promote exchanges and cooperation between political parties from different Asian countries and with various ideologies. Since its inception, ICAPP has grown steadily in both membership and influence. Minister of Health and the Secretary General of the Sri Lanka Freedom Party (SLFP) Maithreepala Sirisena, Minister of Economic Development Basil Rajapaksa, Minister of Youth Affairs and Skills Development Dullas Alahapperuma, Deputy Speaker Chandima Weerakkody, Deputy Minister of External Affairs Neomal Perera, Secretary to the President Lalith Weeratunga and secretaries of several ministries were also present at the discussion.