Kennedy's widow Ethel challenges Obama:
Ice Bucket Challenge storms the world
Sri Lankan version of the new world trend - The Ice Bucket Challenge, came to light after Western Provincial Councillor Malsha Kumaratunga, fashion icon Otara Gunewardene and popular vocalist Iraj Weeraratne took the challenge.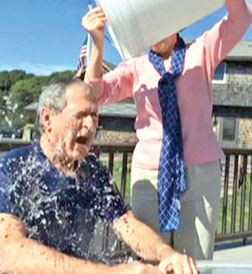 George W. Bush gets a bucketful.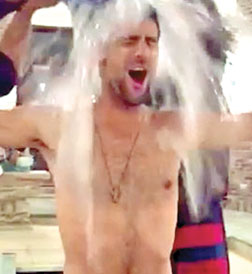 Novak Djokovic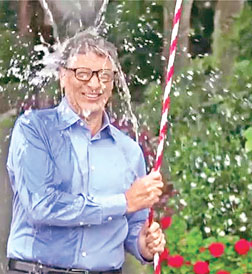 Bill Gates enjoying the thrill.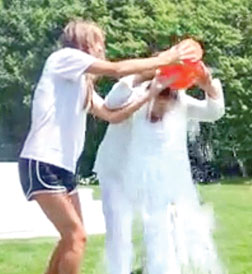 Ethel Kennedy, the challenger.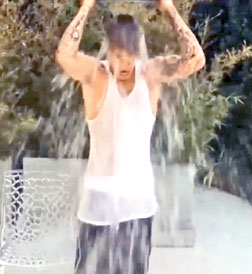 Justin Bieber feels the cold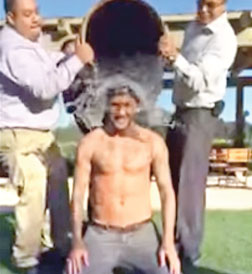 David Beckam in all smiles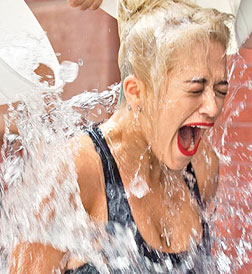 Rita Ora
The Ice Bucket Challenge, also known as ALS Ice Bucket Challenge, is an activity involving dumping a bucket of ice cold water on one's head or donating to ALS research. The online world was hit with the Ice Bucket Challenge (IBC) this month, a playful competition that encouraged netizens to douse themselves with buckets of ice water, and challenge others to do the same.
It may seem like a goofy social media gimmick, but it's hard to deny that the ice bucket challenge has turned out to be a highly effective fundraising force and the money's still rolling in. The viral fundraiser in which people, including a growing list of celebrities and politicians, dump buckets of frigid water over their heads in the name of ALS awareness - has raised USD 15.7 million for the ALS Association in the US in a little under three weeks, up from just USD 1.9 million during the same time period last year.
Origin of IBC
It originated as a method of raising awareness and donations for the ALS Association (ALSA) - a non-profit organisation that provides services to persons with ALS (amyotrophic lateral sclerosis, also known as Lou Gehrig's Disease) and helps to fund research into the disease. As of mid-this month, the ALSA was reporting it had surpassed USD 10 million in 'Ice Bucket' donations.
The challenge dares nominated participants to be filmed having a bucket full of ice water poured on their heads. A common stipulation is that nominated people have 24 hours to comply or forfeit by way of a charitable financial donation USD 10 or USD 100.
The origins of the idea of dumping cold water on one's head to raise money for charity are unclear and have been attributed to multiple sources.
From mid 2013 to early 2014, a challenge of unknown origin often called the 'Cold Water Challenge' became popular on social media in areas of the Northern United States. The task usually involved the option of either donating money to cancer research or having to jump into cold water.
The challenge first received increased media attention in the United States on June 30, 2014, when personalities of the program 'Morning Drive', which airs weekdays on Golf Channel, televised the social-media phenomenon, and performed a live, on-air Ice Bucket Challenge.
The challenge was brought to mainstream audiences soon after when television anchor Matt Lauer did the IBC on July 15, 2014 on NBC's The Today Show at Greg Norman's request.
Golfer Chris Kennedy did the challenge and then challenged his cousin Jeanette Senerchia of Pelham, New York on the same day. Senerchia's husband, Anthony, has had ALS for 11 years.
US President Barack Obama, was challenged by Ethel Kennedy, the widow of Senator Robert F. Kennedy, but declined, opting to contribute to the campaign with a donation of USD 100. World renowned singer Justin Bieber, along with LeBron James and "Weird" Al Yankovic also challenged President Obama after completing the Ice Bucket Challenge. Former president George W. Bush completed the challenge and nominated Bill Clinton.
Within 24 hours of being challenged, participants are to video record themselves in continuous footage. First, they are to announce their acceptance of the challenge followed by pouring ice into a bucket of water. The bucket is then to be lifted overhead and poured over the participant's head. Then the participant can call out a challenge to other people. Whether people choose to donate, perform the challenge, or do both varies. In one version of the challenge, the participant is expected to donate USD 10 if they have poured the ice water over their head or donate USD 100 if they have not.
In another version, dumping the ice water over the participant's head is done in lieu of any donation, which has led to some criticisms of the challenge being a form of slacktivism. Many individual videos include the participant saying that they will be making a donation as well as performing the challenge.
The IBC went viral on social media and became a pop culture phenomenon, particularly in the United States, with numerous celebrities, politicians, athletes, and everyday Americans posting videos of themselves online and on TV participating in the event during the last couple of weeks.
People shared more than 1.5 million videos on Facebook between June 1 and August 20 and mentioned the phenomenon more than 2.4 million times on Twitter since July 29. Mashable called the phenomenon "the Harlem Shake of the summer".
Pamela Anderson's refusal
More than 739,000 new donors have given money to the association, which is more than double the USD 19.4 million in total contributions the association received during the year that ended January 31, 2013. Similarly, the ALS Therapy Development Institute reported a ten-fold increase in donations relative to the same period in 2014, with over 2,000 donations made in a single day on August 20, while Project ALS reported a 50-fold increase.
In the United Kingdom, people have also been doing the challenge for the Motor Neurone Disease Association. The Motor Neurone Disease (MND) Association is the only national charity in England, Wales and Northern Ireland focused on MND care, research and campaigning. MND Scotland provides care and support to everyone affected by Motor Neurone Disease in Scotland.
A number of criticisms arose relating to the campaign, accusing it of being self-congratulatory, focusing primarily on fun rather than donating money to charity, and as an example of substituting a trivial activity for more genuine involvement in charitable activities.
William MacAskill suggested that the challenge encouraged moral licensing, meaning that some people might use taking part in the challenge as a substitute for other charitable acts. He also proposed that by attracting donations for ALS, the challenge was 'cannibalizing' potential donations that otherwise would have gone to other charities instead.
Steve-O questioned the campaign, suggesting that celebrities' videos generally forgot to share donation information for ALS charities, and that the initial $15 million dollars in funds was insignificant, given the star power of the celebrities participating. He noted that, of the videos he viewed, only Charlie Sheen and Bill Gates noted that the point is to donate money.
Pamela Anderson refused to take part in the challenge because the use of animal experimentation in ALS research. Members of the pro-life movement criticised the campaign because of the connection between embryonic stem cell research and ALS research.
Otara's example with sea water
The worldwide criticism also targeted the waste of water. But Sri Lankan entrepreneur, philanthropist, designer and fashion icon Otara Gunewardene gave a solution to that when she took the local Ice Bucket Challenge to raise funds for PAW charity, using sea water. She has challenged veteran Sri Lanka cricketers Mahela Jayawardene and Kumar Sangakkara.
Western Provincial Council member, Malsha Kumaratunga, daughter of Minister of Posts and popular actor Jeewan Kumaratunga, too faced the IBC challenge thrown upon by popular singer Iraj Weeraratne. She proposed fellow WPC member Hirunika Premachandra and Minister Mervyn Silva among her challengers.
Accordingly, Hirunika had a bath of bucket full of ice water and named three politicians from different parties as her challengers - her close friends former parliamentarian Harin Fernando (UNP's chief ministerial candidate for next month's Uva Provincial Council election), fellow Western PC member Senal Welgama (son of Minister Kumara Welgama) and former JVP parliamentarian K.D. Lalkantha.
Malsha who had uploaded a video to her Facebook fan page getting drenched from three buckets of water thrown at her had asked the others also to do so and upload the video while making a contribution to a charity fund. "I was challenged by Iraj Weeraratne, who is also my friend. Hence I took up the challenge," she was quoted as saying after the bath. The rules of the challenge permits the person who takes up the challenge to nominate three people. "I nominated President Mahinda Rajapaksa, Minister Mervyn Silva and my colleague Hirunika as I know they would take up the challenge. Even if they do not they would still join for a good cause," she said, adding that her motive was to raise funds for ARANYANI, an animal welfare trust.
The original ice bucket challenge was to raise funds for amyotrophic lateral sclerosis (ALS), which is also known as Lou Gehrig's disease. Since the ALS is not operational here, Malsha has decided to raise funds for ARYANI, which looks after street pooch.
"There is no point in raising funds for ALS as that is not a disease in Sri Lanka. Therefore I decided to use the challenge for a cause which our country would benefit," she said. Lady Gaga, Tom Cruise, Bill Gates, George W. Bush, and Mark Zuckerberg are some of the personalities who took up the Ice Bucket challenge. Australian Prime Minister Tony Abbott may become the first political leader to take up the challenge after he was nominated by his Parliamentary Secretary and member for Kooyong Josh Frydenberg, who completed the task on Wednesday. Good Morning Britain presenters Susanna Reid and Ben Shephard have jumped on the bandwagon, performing the charity ALS ice bucket challenge live on air on Monday morning. Tennis star Novak Djokovic too had taken part in the IBC.
In Bollywood, Riteish Deshmukh led the way among BTown biggies and nominated Akshay Kumar, Sidharth Malhotra, Abhishek Bachchan among others to take the challenge.
- Rasika