Vogue Jewellers extends bangles offer
Having offered 22 karat gold necklaces at Rs. 37,500 a sovereign during July, Vogue Jewellers has extended the offer for bangles up to August 30.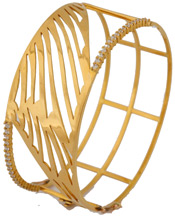 This offer is for over 700 handcrafted 22 karat gold bangles with cubic zirconias. Vogue also offers a matching necklace with cubic zirconias.
Among the bangles are trendy lock type bangles for evening wear or any type of special occasion. Cubin zirconia is a white stone that adds sparkle, making any item made with it look attractive.
White stones have been an all time favourite due to its versatility and easy matching with any attire, adding a sophisticated look to the wearer.
Convenient to use lock type, broad bangles are now in fashion and one bangle creates an impact of several bangles due to its broadness.
The broad, lock type bangle snugs well, without sliding up and down or turning around.
The collection of handcrafted bangles with cubic zirconia come in Sri Lankan traditional concepts and contemporary Western designs, ranging from 1 3/4 sovereigns to 10 sovereigns.
Every bangle in this offer has been designed by team of designers and master craftsmen passionate about producing only the best. Quality in designs, raw material, craftsmanship and customer service are paramount values at Vogue Jewellers that keeps it at the helm of the Sri Lankan jewellery industry, winning the trust of many generations for over five decades, a company spokesman said.
Being the first jeweller in Asia to have been awarded the ISO international certificate and retaining it for five consecutive years, stands as a testament to the stringent quality standards that Vogue Jewellers continually adheres to, he said.