Cover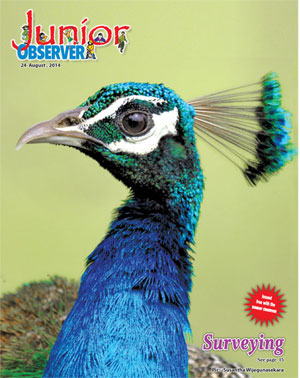 Surveying
Our staff photographer Susantha Wijegunasekera was at hand to capture this beautiful sight of a peacock in all its beauty, surveying the area around in the Wildlife Reserve in Wasgamuwa. The peacock, largest of the pheasants, is native to Sri Lanka and India. It is often the male of the species that is shown in photographs, showing the beautiful plumage. Hence the simile "proud as a peacock".
The female (pea hen) lacks the beautiful ornamental feathers or the bright colouring.
Although native to Sri Lanka, the peacock population has gone down considerably, for, at one time it was considered a delicacy and peafowl were hunted down indiscriminately. Pea fowl are tamed quite readily and sometimes can be seen in the lawns of some of the hotels, and wealthy private residences.
For Hindus in Sri Lanka, peacock holds a special place too, for Skanda, the God of Kataragama sits with his wives astride a peacock. Lord Vishnu, one of the major Gods, is also often shown with a peacock in the background.
- Internet