Short Story
The mysterious girl
It was a dusky November evening. I was relaxing in the spacious well-maintained garden of a boys' hostel in Batticaloa. The atmosphere was too serene inviting me to relish each moment of it. The lagoon breeze with a tinge of a brackish smell was soothing.
I was on an official undertaking to the Eastern capital and was scheduled to conduct a program for a group of community leaders the following day. My journey from Colombo was quicker; hence I had arrived earlier than expected.
The garden was alluring, with flowerbeds of varied hues laid between shapely pruned bushes. The dry zone weather was unusually comforting. Unable to resist the temptation, I had perched myself on a bench with the latest 'Danielle Steel'. Asha, my colleague, too was seated on the other end of the same bench. She was working on her university thesis which according to her was long overdue.
In the midst of my reading I noticed the shadow of a young girl wandering around. I dismissed her presence in the urgency to catch-up on my reading; a luxury I rarely got in my busy life in Colombo. The girl kept strolling, pulling and breaking twigs from the bushes in a careless manner. Her presence disturbed my concentration.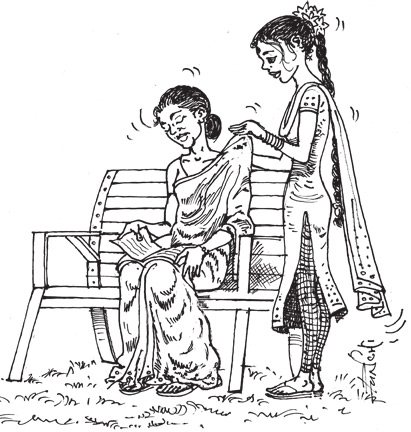 In a flash of a moment I caught her subtle attempt to draw our attention. I looked directly at her. She took a hesitant step towards me, very cautiously, like a timid cat aiming at its prey. I gave her a reluctant nod, beckoning her to come closer to me. I looked at Asha who was in a thoughtful somber mood.
"That girl is trying to tell us something," I told Asha.
"I don't think so…" said Asha in her usual dismissal manner. "I feel so…" I, said in an adamant tone.
"You have some sort of a malfunctioning machine within you Indu…" she said in an annoyed voice. "I had better pack up and leave or else I too will end up in a controversy…you have such wild imaginations," she said and walked away carrying her books and the laptop. I was left to myself to deal with the girl.
I focused my attention back on the girl who now was approaching me.
Floral frock
She walked slowly towards me, with one hand clutching her 'not so fitting' floral frock. When she got closer, I looked at her, my gaze prompting a question. She retreated for a moment and looked around. I felt a sudden fear that she might attempt to walk away.
I gave her a warm smile to ease her discomfort and make her feel welcome. I saw her stance mellowing. She tried to return my smile, and I noticed it being barred by a mysterious quiver in her lips. She got closer, and halted near my bench.
I beckoned her to sit. She didn't… instead she touched my pastel-shaded cotton sari. "Your sari is beautiful" I heard her say. It was a whisper, I wasn't sure whether she wanted me to hear it or not.
"The sari is beautiful" she repeated with a decibel higher than before. I nodded in agreement. She drew herself much closer to me but refused to sit on the bench.
She slowly stretched her hand and touched my forearm. Her soft palm was very gentle on me. I saw caution in her eyes. Yet the look was too direct. I got interested and set aside my book, turning my sitting stance towards her while crossing my legs.
Smile
I flashed a friendly smile with much effort to make her feel comfortable. She felt at ease, repeated her touch "you are beautiful" she said with much emphasis. A mystique quick laughter escaped my lips effortlessly. I transformed it to a very appreciative expression. It indeed was a statement that my soul had starved for quite some time.
I hadn't the slightest memory of being complimented on my looks for a long spell of time during those days. I was newly wedded and had gained much weight. The mirror had not approved my appearance, nor had my dearly beloved.
I offered her the best smile I possessed. 'You are very beautiful' she added an adjective. I gave her a deeper look… and then…. it was only then that I caught the pain in her eyes...her face… written all over her… a shattering pain…
I clutched her arm. I sensed her troubled self. I extended my touch and drew her close to me, wrapping my arm around her hip.
Her budding breasts rubbed against my shoulder. Scent of fresh flora mingled with a smell of dust filled my nostrils. Her palms carried stains of crushed fresh leaves indicating her to have rummaged through the garden for a considerable time.
All of a sudden she became too real for me. Her rich tan complexion, the few pimples on her forehead that were about to rupture, her platted curly hair, an unruly stand decorating her earlobe, the well-carved eyebrow, the lovely long eyes…….. I looked at her tiny frame and tried to guage her age, late teens I assumed…her appearance…looked worn-out in my sight.
She took the liberty, sat next to me, and leaned slowly on to me hiding her face behind my nape. I sensed her need… her need to let go of her pain… I tried not to let my emotions take a toll. Her silent self had already broken me into smithereens… I turned her face towards me and gently queried whether she had something to tell me. She nodded in affirmation and without a second's delay the sobs burst.
My grip got tight over her fragile body. I do not know for how long it lasted. But time stood still for me, so it may have been to the young lass.
After which seemed 'forever' the girl released herself from my grip and walked away, without even giving me a glance…or a whisper of some sort…Her pace was too quick, within split seconds she vanished from my sight, leaving me aghast.
The sun had begun its journey of hiding itself into the horizon. Darkness had already set in.
Mysterious
The incident too mysterious to be true left me sleepless the whole night. I shared the incident with Asha prior to my retiring to bed... I do not know how much of my revelation was accepted by her. Yet she acknowledged my statement without negating any of my imaginative conclusions. "You have some telepathy Indu… I of course never felt that there was anything but curiosity in that girl. So, I was wrong…" admitted Asha. "You were not wrong, it's just that you didn't see what I saw in her…" I said in a pacifying tone.
My revelations sounded incredible to my own self.
My imagination was taking a toll on me… Do I, by some manner resemble her mother…? Is the mother dead? Or is the mother ailing? Has my presence and appearance stirred her memory of a bad experience? Some sort of a cruel and painful incident?
My mind was in a whirlpool… one thought after another raising within me … a single thought that gathered momentum was instantly swallowed easily by another.
I had breakfast the next day in the company of my colleagues. The pittu served with the prawn curry, fried aubergine and the coconut sambol was extremely delicious.
Joseph, Ravi and Sextus were seated at my table.
I casually began the conversation with them with an aim to get some information about the mysterious girl. I inquired about the work in the area; the administration of the hostel ….and slowly gathered the courage to ask sheepishly whether there were any girls in the hotel. Joseph laughed loud.
"This is a boys' hostel madam". Joseph's voice belittled me.
"Yea... I know…but I think I saw a girl in the garden" I said very lightly…not emphasising on any of my words, so as to make me sound my observation insignificant, while taking extra care of my tone.
"Oh, that must be Radha…the cook's daughter. 'Aiyo' (an expression of despair) madam that is a pathetic story… very sad story …" Joseph became colloquial.
Conflict
The story was heart-breaking indeed. An incident of a teenager's love…, the girl, a soldier, and ultimately an untimely death. This was a story of a single soldier's death among hundreds that took place during the height of terrorism. One among a million inter-race love affairs….Yet this story had life and emotions…this story had flesh, blood and breath it had two lives entwined into one.
The story had an end that this young girl did not deserve to experience.
The love of her life at a tender age being snatched forever in a cruel manner was not what she dreamed for her future…
She is now forced to clutch in her heart a life sentence of gripping pain for which she was not responsible. An action no 'right thinking human being' was responsible.
I could not absorb the total magnitude of the ordeal of the young girl nor could I fathom her suffering…seeing her own lover being killed right in front of her own eyes.
My pet subject that has always been close to my heart on which I was conducting community awareness on that day did not sound the same. Despite my eloquence on the chosen subject I stuttered in many of my statements during facilitation.
Radha was appearing on all objects I was seeing and touching… I could see her on the wall, the white board and all over the faces in the audience.
Though I tried to trace Radha during the intervals of my program, my efforts failed. Since my mission in Batticaloa ended that evening, I rushed back to Colombo.
Encounter
Though it is more than a decade since I met Radha, the encounter remains afresh in my mind and her memory renews each day. Her fragile frame haunts me now and then.
Many a solitary moments of my life is engulfed in the thoughts of this strange girl, whose pains I try to share and will carry with me to my grave.
I am left with two mysteries of my own-self to be solved within me. I am puzzled as to why I, so very desperately searched for Radha the next day of meeting her. I do not remember having neither any proactive plan nor a part of a solution to ease Radha of her pain. Yet, I searched earnestly for a glimpse of her.
Secondly, I do not know why, I never made any attempt to inquire about her though I frequent Batticaloa often and meet Joseph so regularly.
At times, I am tempted to patiently unpack my thoughts and analyse for myself of the consequences of an encounter with Radha.
Ever since that fateful event, my visits to Batticaloa have been a challenge. Days prior to my schedule, I vouch for myself to break my heart's barrier and try to visit Radha…but I have failed miserably to convince myself to be a woman of valour to my own soul.
I am again on a visit to Batticaloa today…I am sitting on the bench at the Riviera Hotel, facing the Kallady bridge.
While watching the bright scarlet sunset, I look forward to the unknown tomorrow … another new day… a day with a difference …. A day that would upsurge some hidden courage within me to make a difference in the lives of many in the predicament of Radha.
But for the moment I shall not torment my soul to search for the obvious truth.
I walk back to the cottage accompanied by the dimming dusk.
I fear for my heart!
[Names are fictitious]