Going back to the roots
Farewell to My Village
Author: Wickrema Ratnayake
A Godage Publication
Wickrema Ratnayake's, Farewell to My Village contains some reminiscences of his early growing years, in a village called Hewapola in the Kurunegala district, in the 1940s. Ratnayake is an agriculturist and environmentalist who, after a successful career in agriculture, has retired to his property in Kurunegala. It is a sort of coming home.
The book contains many anecdotes of incidents and events in that village. It also focuses on certain unforgettable characters that Ratnayake remembers vividly.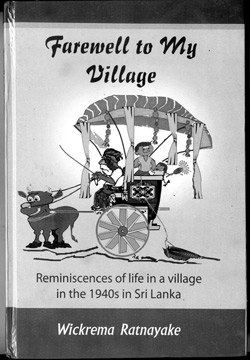 A little more detail of the customs, practices and activities in the village would have enlightened the reader who has no connection with village life.
Glossary
I used to spend my school holidays during my pre teen and early teenage years at my grandfather's place at Kuliyapitiya. Over time I became a part of the village life there.
I can therefore empathise with Ratnayake when he talks with nostalgia of his early village life in Hewapola. This is an era that is now long gone and will never return because of the march of development and subsequent urbanisation.
There is a very comprehensive glossary of the Sinhala words used in the text. It covers food, trees, plants, herbs, birds, animals, sports and games, agricultural tools and farming. I think a glossary at the end of the book is better than the use of footnotes as practised by some authors. The book is interspersed with colour illustrations done by the author himself. This is a book well worth reading.
Bygone era
A record of a bygone era, which this book is about, is very important in that most of the readers would not have experienced this lifestyle. Certainly the present generation would find it hard to now find a village such as Hewapola was then. Time marches on making many changes in our villages and society in its wake. It is, therefore, important that the life that was in an age that is past, be available on record for future generations to be informed of what it was like in the past.
I will end this review with a quote from Terry Pratchett in his A Hat Full of Sky, "Why do you go away? So that you can come back. So that you can see the place you came from with new eyes and extra colours. And the people there see you differently too. Coming back to where you started is not the same as never leaving."