No price revision in the near future, assures Minister:
Sri Lanka's gasoline prices, lowest in South East Asia
Sri Lanka has the lowest gasoline prices in the whole of South East Asia, Petroleum Industries Minister Anura Priyadharshana Yapa said refuting claims that a revision in fuel prices will be effected in the near future.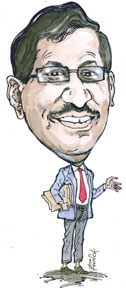 "The Ministry is still not in a position to sanction a reduction in fuel prices at this stage. We assure that prices will not go up if the price of a crude oil barrel in the world market remains between US $ 100 to 110.
He said the Ceylon Petroleum Corporation (CPC) and its officials should be commended as the country did not face a fuel shortage due to the two damaged pipes and were unable to unload crude oil to Sri Lanka for a full one month.
Fuel prices were last revised in February 2013.
In response to the Opposition's allegation that the Government is not passing on the benefit of low prices in the world oil market to the consumers, Minister Yapa said it was not factually correct to say that the CPC benefited by the price reduction in the world market.
"We can give oil to consumers at the rate proposed by the Opposition if the petrol shed is within the Port. The oil needs to be tested, unloaded and distributed."
He said the CPC has to bear Rs. 12 as handling costs per litre up to the point it reaches the petrol sheds. This includes LC charges, port tax, NBT, loan interest, storage and transport expenses, salaries and wages for workers in dealer centres.
To cut down losses, the CPC has also moved away from spot tenders which demand high premia to long term tenders. As a result of these measures, the latest COPE report said that the CPC has brought down their losses from Rs. 97,000 million in 2012 to Rs. 7,900 in 2013.