U.L.M. Farook, an exemplary politician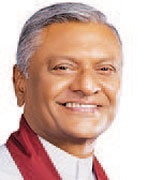 A book titled, Yuga Peraliyaka Thunkorala Abhimanaya authored by retired educationist K. Premadasa on the public life of former State Minister U.L.M. Farook was launched at the BMICH last Wednesday.
The chief guest the occasion Speaker of Parliament Chamal Rajapaksa said that U.L.M. Farook was an exemplary politician who rendered a great service to the nation during his tenure of office as the State Minister of transport and as an Opposition member of parliament.
The speaker said that Farook started his political career as a member of the village council in his hometown and due to his admirable qualities in life, he climbed up the political ladder to become a minister.
As a Member of Parliament he rubbed shoulders with all members irrespective of differences.
The Speaker said that this is the time the country needs people of the calibre of Farook to maintain inter communal harmoney and co-habitation among communities.
Opposition Leader and the National Leader of the United National Party, Ranil Wickremesinghe profusely thanked U.L.M. Farook for his commitment and dedication for the betterment of the party for over four decades.
Minister Rauff Hakeem and former Minister Imthiaz Bakeer Markar also addressed the large gathering which comprised a number of Ministers, former ministers, parliamentarians (present and former) members of the clergy, state officials and some invitees.