Emergency program intensified to control dengue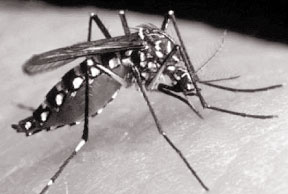 The Health Ministry is intensifying its Emergency Control program now under way in high risk regions in the country, to control the spread of dengue.
"We have already completed phase 2 of this programme in July in which we focussed on 'non traditional' areas which we also considered ' high risk' breeding sites for the dengue carrying vector. They included railway stations and yards, railway lines , and religious places of worship. Out of 100,000 places we visited, nearly 3,000 were breeding sites for mosquitoes", Health officials told the Sunday Observer.
The Government Epidemiology Unit ( GEU) has reported that in the past eight months of the year, the accumulated number of suspected cases of dengue was 2748 upto August 26, of which 57.49 percent were from the Western Province which has held the record as the province with the highest number of dengue cases for the past few years.
"Our surveillance program in high risk provinces will continue indefinitely", Epidemiology Chief Dr Paba Pallihawadana said.
Consultant community physician, Dengue Control Unit of the GEU, Dr Nayana de Alwis said the Unit had on line data access to over fifty government hospitals islandwide. " Based on this data we see a slight decline in numbers compared to the corresponding period last year. But we need wholehearted support from the public.
The Ministry alone can't tackle the dengue issue which is an environmental issue. Although the response to our programme has been good, it must be sustained," she stressed.
Dr. Palihawadana said that the program, conducted with the help of the Health Ministry, Tri Forces and health volunteers and PHI's had been successful so far.