No charismatic candidate in UNP:
No rationale to abolish Executive Presidency – Nimal Siripala de Silva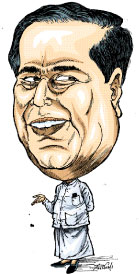 Irrigation and Water Resources Management Minister Nimal Siripala de Silva said that there is no rationale behind the UNP's demand to abolish the Executive Presidency.
It was the UNP that introduced the Executive Presidency, proportional representation and preferential voting system in the country.
As the popular saying goes it is a "Dose of their own medicine". This is because the Executive Presidency was a UNP creation, not ours. If they realised that the Executive Presidency is not suitable for the country, how can they do away with it?, the Minister told the Sunday Observer yesterday.
The UNP is fully aware that they are not in a position to defeat President Mahinda Rajapaksa. Therefore, they are trying to destroy a system which we don't agree to. It is not on a rationale basis.
The UNP does not have a charismatic candidate to defeat President Rajapaksa. Neither do they have a candidate who is loved by the people and are now attempting to destroy the system.
I don't think they are seriously considering to abolish the Executive Presidency as it is their own creation, the Minister said.
The Minister said abolishing the Executive Presidency is a decision that the people should take. Because it cannot be done away with as claimed by the UNP. It needs a two-thirds majority in Parliament and a Referendum as well as it changes the entire system. We need to go before the people and see whether they like it or not. The Constitution reflects the people's wish. People can express various ideas, good or bad. We have to go before the people and get their endorsement, the Minister said.