Ranil will have a good 'political bath' at Uva PC polls :
Ice Bucket Challenge enters local politics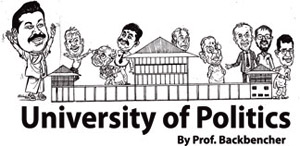 It seems that the latest world trend - the Ice Bucket Challenge (IBC) has invaded Sri Lanka politics.
The global phenomenon reached top gear last week, challenging many world leaders including US President Barrack Obama.
But some reformist group members of the UNP said that Opposition Leader Ranil Wickremesinghe does not need any IBC to have an iced water bath as in any case, he will have a 'wholesale bath' after an imminent election defeat at next month's Uva Provincial Council (UPC) elections.
Interestingly, UNP's chief ministerial candidate and former Badulla district MP Harin Fernando too has been thrown a Ice Bucket Challenge by his close friend and UPFA Western Provincial Council member Hirunika Premachandra. The UNP reformists said Hirunika has compelled Harin to have an iced water bath before he faces a 'political bath', shattering his dreams of becoming the Chief Minister of Uva.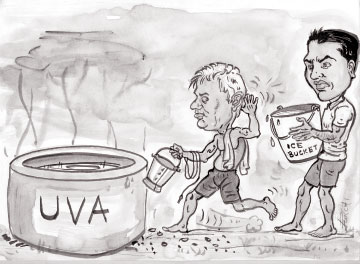 Hirunika had a bath of a bucket full of iced water and named three politicians from different parties as her challengers - her close friends Harin, fellow Western PC member Senal Welgama (son of Minister Kumara Welgama) and former JVP parliamentarian K.D. Lalkantha.
Western Provincial Councillor, Malsha Kumaratunga, daughter of Minister of Posts and actor Jeewan Kumaratunga, first faced the IBC challenge thrown upon by popular singer Iraj Weeraratne. She later named fellow WPC member Hirunika Premachandra and Minister Mervyn Silva among her challengers.
Malsha who had uploaded a video to her Facebook fan page getting drenched from three buckets of water thrown at her had asked the others also to do so and uploaded the video while making a contribution to a charity fund.
"I was challenged by Iraj Weeraratne, who is also my friend. Hence I took up the challenge," she was quoted as saying after the bath. The rules of the challenge permits the person who takes up the challenge to nominate three people.
"I nominated President Mahinda Rajapaksa, Minister Mervyn Silva and my colleague Hirunika as I know they would take up the challenge. Even if they do not they would still join for a good cause," said Malsha, adding that her motive was to raise funds for Aranyani, an animal welfare trust.
The original ice bucket challenge was to raise funds for amyotrophic lateral sclerosis (ALS), which is also known as Lou Gehrig's disease. Since the ALS is not operational here, Malsha has decided to raise funds for Aryani, which looks after street pooches.
"There is no point in raising funds for ALS as that is not a disease in Sri Lanka. Therefore, I decided to use the challenge for a cause which would benefit our country," she said.
Aranyani, a local animal welfare trust, to which the funds raised Malsha's Ice Bucket challenge were to be donated, has declined the donation.The Aranyani Executive Committee has said the funds were declined on ethical grounds.
Popular vocalist Bhathiya Jayakody of B n S fame faced the ice bucket challenge on Friday and challenged his colleague Santhush Weeraman,
Lankan Bollywood actress Jacqueline Fernandez challenged parliamentarian Namal Rajapaksa. Bhathiya used rain water for the purpose and made a donation of bottled water for the people in the areas affected by the recent drought. He appealed to make similar donations to the victims in the drought-hit areas.
Former US President George W. Bush, Lady Gaga, Tom Cruise, founder of Microsoft, Bill Gates and facebook founder Mark Zuckerberg are some of the world renowned personalities who took up the Ice Bucket challenge.
Bill Gates commends President Rajapaksa
Founder of Microsoft, Bill Gates has said President Mahinda Rajapaksa who took effective steps to invest in Information Technology to empower the people with IT knowledge 'to ensure speedy socio-economic progress of the country', is an example for other world leaders to emulate.
The Chairman of the Bill and Melinda Gates Foundation said the presenting the award for the most outstanding rural-based Information Technology program - to Nanasela of Sri Lanka - President Mahinda Rajapaksa's concept.
Gates made this presentation at the International Librarians and Intellectuals Conference in Leon, France last Monday.
"President Rajapaksa, and his government recognised the extraordinary potential that Information Technology has, to dramatically improve people's lives in the country, and succeeded in overcoming challenges faced during adaptation of IT for development", Gates was quoted as saying.
Gates expressed appreciation of the Lankan leader's commitment and dedication to transform the lives of underprivileged people by making use the tools of Information Technology, and emphasised his good leadership in this important field as an example for other world leaders to emulate.
President meets foreign correspondents
President Mahinda Rajapaksa hosted the Colombo-based foreign correspondents at Temple Trees on Tuesday. The electronic and print media representatives for international and foreign media fired many questions at the President who frankly answered all.
The Indian foreign correspondents in Colombo were keen to find out about the long-awaited visit here by Indian Prime Minister Narendra Modi. The President said the Indian premier should visit here because Lankans are eager to host him.
"People want him to come here. If the Japanese Prime Minister and the Chinese President can come here, why the Indian Prime Minister can't come, people ask," Rajapaksa told the members of the Foreign Correspondents' Association.
"I had invited him when I met him last. And I will be meeting him at the next SAARC summit in November. Modi is keen on strengthening ties with SAARC countries," the Lankan President said. Asked if he was troubled by Tamil Nadu leaders' opposition to any dealings with the Lankan government, he said: "It's all politics. I don't take it seriously."
When questioned about the allegations that the panel of advisers may be biased in favour of the government, President Rajapaksa said that such allegations will be there against any step taken by the government. "There are loads of allegations against the advisers on the UN investigation panel too," he said, adding that the commission had requested the appointment of advisers because it was lacking in expertise in certain aspects of international law.
Criticizing the UN panel, he said that government will not allow it to come to Lanka as it does not think it has jurisdiction over Sri Lanka. Furthermore, the UN Human Rights Commissioner had said it is not necessary to go to Lanka to collect evidence. "I am committed to finding the truth. I want to have the allegations of forced disappearances investigated," he said.
Responding to a question whether Sri Lanka is ready to face possible Western sanctions, the President said that no Western country has threatened to impose sanctions. "Britain and the US have explicitly stated that they do not intend to impose sanctions," he said.
The President said that the TNA is behaving as a "proxy of the LTTE" in clamouring for an international investigation. It is also not utilising the powers under the 13th amendment to improve conditions in the Northern Province because it wants to get more powers through international interventions. He categorically rejected demands for grant of police powers to the provinces saying that there is still a threat of the revival of the LTTE. "National security cannot be compromised," he said.
President expands advisory panel
President Rajapaksa has appointed two more international experts to the international panel of experts advising the Presidential Commission to Investigate into Complaints Regarding Missing Persons in Sri Lanka.Accordingly, an Indian human rights activist, Prof. Avdhash Kaushal and Pakistan Law expert Ahmer B. Soofi have been appointed to the panel, the President tweeted.
In July, the President appointed three eminent persons of international repute-British lawyers Desmond de Silva and Geoffrey Nice and U.S. law professor David Crane-to serve on the Advisory Council.
The Advisory Council will advise the Commission, at their request, and may include other experts appointed by the President as and when necessary.
Prof. Kaushal is the Chairperson of Dehradun-based non-governmental organization (NGO), Rural Litigation and Entitlement Kendra (RLEK).
President Rajapaksa expanded the mandate of the Commission - originally set up to look into complaints of enforced disappearances, directing it in July to probe the roles of Sri Lankan army and the rebel Tigers during the battle against terrorism.
Sri Lanka will not grant visas to UN investigators probing war crimes allegedly committed during the island's decades-long LTTE terror, the President said.
Modi to visit SL next year
Indian Prime Minister Narendra Modi may visit Sri Lanka early next year, according to Dr. Subramanian Swamy, head of the Bharatiya Janata Party's Strategic Action Committee.
Swamy told select journalists on the sidelines of the Sri Lankan Army's Defence Seminar in Colombo on Monday, that India's policy on Lanka is being decided by the Government of India, and not the states, though the latter may be consulted.
Elaborating, Swamy said that he is in Lanka attending the army seminar, despite protests by certain sections in Tamil Nadu, because both Prime Minister Modi and BJP chief Amit Shah had given him the green signal to attend.
"In November this year, the Indian National Security Advisor will visit Sri Lanka and Prime Minister Modi may come early next year," Swamy said. The BJP has a majority in parliament. We will not surrender to the States. There will be no knee jerk reactions as a result of protests in Tamil Nadu," he said.
Asked if Lankan military personnel will be trained in Indian military establishments in TN, Swamy said: "in due time they will be." On the TN government's demand for the retrieval of Kachchativu from Lanka, the BJP leader said that the matter has been settled.
"It is not true that Tamil Nadu was not consulted before the agreement on the island was signed. Indira Gandhi had consulted Karunanidhi," he said.
Asked how the Modi government can resist pressure from Tamil Nadu Chief Minister Jayalalithaa on the Lankan issue, Swamy said that Jayalalithaa is a patriot who will uphold the national interest.
"I had addressed meetings in Coimbatore and Madurai and the Tamil Nadu Government had given me full security," he said.
Fonny tries to grab common title
Defeated presidential election candidate in 2010, Sarath Fonseka appears to become the self-appointed 'common candidate' at the next Presidential elections likely to be held next year.
The UNP has categorically stated that its leader and the Opposition leader Ranil Wickremesinghe will be their candidate for the next Presidential election. In response, the JVP too has claimed that it would field its own candidate for the next Presidential polls if the UNP deviates from the common candidate platform to field Rani.
In this scenario, Fonseka seems to be the trying to grab the common candidate title abandoned by the main opposition UNP and the JVP. Last week, Fonseka said the common candidate should not be limited to its title but he or she should come forward from the aspirations of the people.
"Anyone can nominate a common candidate but if he is to be accepted by the people, he should come from the aspirations of the people. He should not be just a for the namesake," Fonseka was quoted as saying. Asked whether he was ready to support a common candidate nominated from the opposition, Fonseka said his party would support such a candidate, only if he was prepared to serve the needs of the people with a clear objective.
That was a signal that Fonseka would not settle for any common candidate other than him.
"He must be daydreaming still, even five years after his humiliating defeat. He still lives in the political fantasy. He cut a sorry figure even with the backing of the UNP and the JVP and was convincingly defeated by the President. How come he makes a lone battle and show any impact?," Trade Minister Johnston Fernando queried.
President goes to SSC to greet Mahela
President Rajapaksa made a surprise appearance on the fifth and final day morning session of the second cricket Test between Sri Lanka and Pakistan to greet veteran star batsman Mahela Jayawardene who announced his retirement from Test cricket.
The Sri Lanka Cricket produced a fitting souvenir - a golden bat worth Rs. 2.5 million, which was presented to Mahela by the President during the awards ceremony while chairman of selectors - Deputy Minister Sanath Jayasuriya and parliamentarian Namal Rajapaksa watched in front of the presentation podium. President had personally gone to SSC to greet Mahela, especially as an Old Nalandian as thousands of old boys of Mahela's alma mater gathered to greet Mahela in his final day in Test cricket. Mahela had ruled out any possibility of following former captains Arjuna Ranatunga, Jayasuriya or Hashan Tillakaratne by taking to politics.
Several politicians from both the ruling party as well as the Opposition were present to bid adieu to the former Sri Lanka captain who made a half century even in his final Test inning. His team mates gave a fitting farewell to Mahela by winning the second Test with spinner Rangana Herath capturing a match bag of 14 wickets. Claiming that next year's ICC World Cup would be his last international tournament, star cricketer Mahela Jayawardane, who retired from the international Test Cricket, has ruled out entering politics and being a cricket coach.
"I will have to go out from home if I enter politics)," Jayawardane said at the post-match press conference.
Vietnamese legislators visit Parliament
A delegation of members of the National Assembly of Vietnam led by the head of Justice Committee Nguyen Van Hien visited Parliament and held bilateral talks with Deputy Speaker Chandima Weerakkody at the Parliament complex last week.
Van Hien said that his government hoped to expand the bilateral trade and commerce relations between Sri Lanka and Vietnam. The delegation also expected to share the Sri Lankan experiences in legal and parliament methodologies and mechanisms.
Van Hien also mentioned that his government was extremely satisfied and happy with Sri Lankan President Mahinda Rajapaksa's visit to his country and that visit had strengthened the relationships between the two nations.
The Vietnamese delegation comprised of Mr Van Hien, Nguyen Dinh Quyen, Nguyen Manh Chong, Nguyen Van Hien, Luon Van Thanh and staff members Cao Man Linh, Phung Thanh Ha and Dao Duy Trung.
NFF suggests new Constitution
National Freedom Front (NFF) said last week that the country's current Constitution, introduced in 1978 under President J.R. Jayawardene government, should be replaced, instead of amending it following the compromise it had reached with the Sri Lanka Freedom Party (SLFP) on NFF's 12-point action plan. NFF spokesman Mohamed Muzammil told a news conference that there should be a new Constitution as well as a new economy to develop the country. "Our present constitution is 36 years old. It had been criticized by government and opposition political parties.
The entire society anticipates a new Constitution. Some suggest that the Constitution should be amended but our opinion is that the entire constitution should be changed by replacing it with a new one," he was quoted as saying. Muzammil said the NFF would launch a house to house campaign, informing people on their 12-proposals and the proposed Constitution.
Commenting on the party's proposed new economic system, he said the economy should be changed giving prominence to agriculture and industries.
Muzammil said President Mahinda Rajapaksa and the SLFP had given their approval to the 12 proposals submitted by the NFF.