Defence Seminar 2014:
'Strengthening the nexus between peace and development'
Themed on 'Sri Lanka: Challenges to a rising nation' the meticulously organised Defence Seminar 2014 was held last week for a full three days. It was a forum of eminent scholars, intellectuals, policy-makers, security chiefs, think-tanks of different spheres. The Defence Seminar took its roots four years ago and is the brainchild of Secretary to the Ministry of Defence and Urban Development Gotabaya Rajapaksa.
Transforming from a military perspective to a more civil, development oriented perspective the Defence Seminar today has found its own niche in the international setting as a marked gathering of intellectuals and think tanks posing a significant impact on decisions made by Governments.
A wide gamut of issues related to Sri Lanka's post-terrorism recovery and diverse challenges the Nation faces in its march to be the Wonder of Asia were discussed going beyond the island mentality.
Present phase
Secretary to the Treasury and Ministry of Finance and Planning, Dr P.B. Jayasundera, delivering the keynote address at the inaugural session of the Defence Seminar – 2014, said that "the transition from a middle income economy involves targeting to achieve US $ 7,500 per capita by 2020, like we have already raised our per capita from US dollars 1,200 in 2005 to US $ 2,400 in 2009, and from there towards US $ 4,000 in 2015 - in an extremely challenging environment."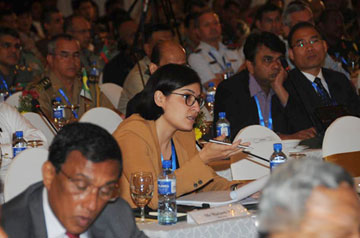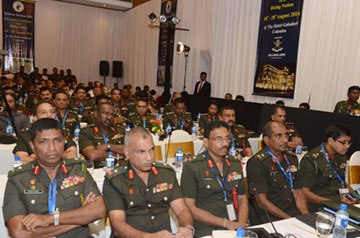 A cross section of the delegation during the sessions.
Dr. Jayasundara focused on how the post independent events pushed this nation towards becoming a marginalised nation by 2004, followed by the underlying strategic shift in 2005 through the adoption of Mahinda Chinthana : the national vision of Sri Lanka, giving an overview of the current phase of development in a globally challenging environment.
He said that if Sri Lanka is to emerge on its own comparative advantage and strengths within the framework of an integrated global economy, the challenge is to restore the security of the five pillars - namely, food, national, macroeconomic, environment and human resource security.
"Managing this task is the underlying story of development since 2005," he said.
"On the economic front, the US and UK financial fallout in 2008-09, the sharp rise in oil prices, the US fiscal crisis and the Eurozone economic crisis, and the global economic slowdown placed the already weaned Sri Lanka on another wave of economic challenges.
While many countries differed responses, Sri Lanka was able to take bold corrective economic measures such as allowing greater flexibility in exchange rate regime, adjustment of fuel, electricity and water tariffs, monetary policy tightening to manage excessive credit expansion and several reform initiatives such as reorienting the taxation strategy towards broadening its base and improved debt management strategies," he said.
Among top 10
He highlighted that the country is well placed in the World Rule of Law Index and the Global Peace Index, being on top in South Asia. It is also placed high in the region as per the Global Infrastructure Index, Economic Freedom Index, Ease of Doing business index and Global Competitiveness Index.
"The Human Development Index ranks Sri Lanka among the top 10 in the Asian region, while presently commanding the second highest number of Chartered Accountant students in the world, only next to UK.
With the high rate of enrollment for medicine, engineering, commerce, law, nursing, teaching and technical fields, the country is well positioned to attract professional services and related industries - and move from unskilled labour intensive industries to skilled and technology based industries.
Sri Lanka is among the top 50 leading service locations in the world in the delivery of IT-BPO and other knowledge services, having advanced to the 21st place," Dr. Jayasundara said.
Explaining on the Government's ambitious development goals Dr. Jayasundara elaborated on each goal.
"Surpassing US $ 7,500 per capita income in 2020 remains our income goal.
Maintaining a 97 percent employment level with an increased number in the skilled categories of the workforce remains our employment objective.
A zero maternal and child mortality and longer life expectancy of near 80 years along with 100 percent secondary school enrollment and higher computer literacy, form our human development foundation targets.
All districts to be made poverty free in terms of the poverty headcount, while also freeing them from communicable and non-communicable deceases and malnutrition are the poverty reduction goals.
Stability
A lower single digit inflation being the price stability goal, will improve financial management and supply side in the real economy. In this context, the underlying economic growth rate needs to be accelerated beyond 8 percent. This scale of economic growth depends on the level of investments, productivity, improvements in the policy environment and the institutional setup to do business efficiently, application of research, technology and innovation, macroeconomic stability, national security and law and order."
"Complementing the thrust of the social responsibility of the Government, public spending on social security needs to be protected with special emphasis on the elderly and vulnerable groups. Channeling enhanced public expenditure to rural centric development initiatives and agriculture, fisheries and livestock is the core of the all-inclusive development strategy of ' Mahinda Chintana : Vision for a new Sri Lanka' to further strengthen food security. All these are viable only if the nation is capable of providing resources for national security, which is a primary responsibility of the Government. Our challenge in the years ahead while moving ahead in this journey towards success, is to engineer the national Budget in line with these considerations," he added.
New order
"The lead taken by the Asia Pacific region in the global economy, signals of a new economic order," he said progressing in his speech. According to Dr. Jayasundara, managing all these require us to be vigilant at all times in relation to all aspects of our respective responsibilities in public life. The country needs to be vigilant of possible national security risks as well as economic and environment risks.
"I believe that success comes by following, as I have seen in every aspect of management of our President, start by doing what is necessary; then do what is possible; and suddenly you are doting the impossible," he said.
Secretary to the President Lalith Weeratunga said, "Reaching seventy third position in the United Nations Human Development Index (HDI) – 2013 itself, asserts that Sri Lanka has performed well, and this rise means economic development.
This undoubtedly encourages us to do better, strengthening the nexus between peace and development which emanates from security and safety."
Delivering his observations on the theme 'Peace and Rise of Sri Lanka: an Inseparable Partnership', in the Session one Weerathunga recalled how brief 'peace processes' in the past, fortified LTTE violence and disrupted the possibilities for durable peace.
Quoting a few world class social strategists, Weerathunga reminded that positive peace is more than the absence of war and people are not only killed by bullets and mines alone. "They also die of poverty, starvation, disease and other social factors. So we have to make our social fabric stronger and thereby restoring trust in our beneficiaries. Individual efforts should come down to collective efforts under the policy paradigm, Mahinda Chinthana which has set out clear guidelines in our march to social and economic prosperity," Weerathunga pointed out.
Confidence
In response to some queries, raised by a few participants, Weerathunga said that the Sri Lanka Army has created a model for the rest of the world to follow.
"It is the very Army that crushed terrorism that has made this change under the guidance of Gotabaya Rajapaksa, Secretary to Ministry of Defence and Urban Development.
"We are moving forward with confidence in all sectors and when the social stability returns most of our problems would settle. When you look at closely how the numbers of schools alone, have increased in the aftermath of the war, this is significantly proven what the peacetime can achieve," Weerathunga said.
Director at the Indian Institute of Peace and Conflict Studies, Dr D. Suba Chandran, Member of Parliament and President of the Janatha Party of India, Dr Subramanian Swamy, Founding Director of the Afghanistan's Organisation for Policy Research and Development Studies, Mariam Safi, President of the Institute of Regional Studies in Islamabad, Ambassador (Retd) Arif Ayub, Analyst at the International Economic Relations and Global Issues Program at the Polish Institute of International Affairs, Patryk Kugiel, President of the African Association of Political Science in Tanzania, Prof. Rwekaza S Mukandala, Director, Foreign Policy and Security Studies at the Institute of Strategic and International Studies of Malaysia, Dr. Tang Siew Mun, Assistant Director of the Chinese Institute for Foreign Policy Studies, Dr. Wang Weihua and Director of the European Union Centre in Singapore, Dr. Yeo Lay Hwee,also submitted presentations.
Development
Chairing the final session of the Defence Seminar, Ambassador Ravinatha Aryasinha who is also Sri Lanka's Permanent Representative to the UN in Geneva said that this forum not only helps remember the suffering the Sri Lankan people endured with resilience for over 30 years and overcame following the defeat of terrorism on 19 May 2009, but also provides an opportunity to reflect on facets of development in Sri Lanka that have been made possible, essentially due to this very defeat of terrorism.
"….I see three sets of global challenge Sri Lanka would face as a rising nation. First the actions of some states in the international system, second those arising from the actions of sections of the Sri Lankan Tamil Diaspora and third the challenges emanating more specifically from the hardcore LTTE remnants presently spread across various parts of the world," he said.
Critically analysing thoughts about Sri Lanka by several western countries Ambassador Ariyasinha said that there are many theories as to why some of these countries might be doing so, but none of them sufficiently explains the double standards, the disproportionate focus and in some instances the almost obsessive manner in which some of the key drivers of action against Sri Lanka operate.
"This has more often been done in tandem with extremist sections of the Sri Lanka Tamil diaspora, as well as certain NGOs and a few media personalities with a vested interest.
It has resulted in the highly politicised recent resolutions before the Human Rights Council, as well as the ongoing OHCHR investigation - which has from its inceptionexceeded its mandate and is being conducted in an arbitrary manner," he added.
Funds
He said that the recently released EU Terrorism Situation and Trend Report 2014 (TE-SAT 2014) of the EUROPOL observes that "LTTE networks remain in numerous countries, and continue to attempt to rebuild their structures and operating abilities, especially via fund-raising and money laundering".
It notes that "in Switzerland, for instance, police continued to investigate the activities of a number of former LTTE members. The investigation focused primarily on operations aimed at channelling funds collected on Swiss territory to Sri Lanka", he said.
"Sri Lanka's long standing plea is that all countries not provide any political or symbolic support to the abuse of their liberal systems using various pretences by those pursuing separatism in Sri Lanka, that they proscribe all LTTE front organisations and maintain strict vigil over the activities of their operatives, and continue to bring to justice those violating the law," he added.
Whether countries at the political level choose to do so and abide by the conventions they signed up to defeat terrorism particularly in the aftermath of 9/11, or else will continue to allow such persons to exploit liberal systems is a question those countries must answer to.
"Acting on such groups is imperative, because today a threat to another country, would tomorrow be a threat to oneself," Ambassador Ariyasinha said adding that it is important that we learn the lessons from history and do not let history repeat itself.