SLR makes progress, cuts delays
Sri Lanka Railways (SLR) has increased revenue, the number of passengers, trains, improved rail tracks and reduced the delay time, according to a senior official of the Ministry of Defence and Urban Development. However, he said there is room to improve the standard of comfort and increasing the per passenger kilometre revenue which is low at present.
The Ministry of Defence and Urban Development Director (Technical) Palitha Samarasinghe said that there is a considerable reduction in delay and added that there is still room to improve the service.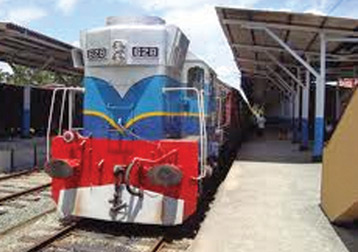 SLR formerly known as the Ceylon Government Railway (CGR), the State-run transportation entity, was launched during the colonial era in 1858 as a mode of transporting tea and coffee from the hill country to Colombo.The railway network comprises 1, 508 kilometres with a gauge of 5 feet 6 inches (1,667 mm).
Sri Lanka has a disadvantage due to the short distance of travel unlike India and China which have long-distance train services that brings in more revenue.
The Maglev high speed train that operates from Shanghai Station to the Shanghai airport travels at a speed of 430 km per hour and takes around three minutes to reach its destination. Travelling by train in Sri Lanka could be a hassle due to the poor signalling system and single track lines.
"We need to modernise our railway transportation to be efficient and reduce cost. We need to improve the standard of comfort.
SLR has to grapple with morning and evening services which are not lucrative unlike the long distance service," Samarasinghe said.
He said that SLR should be given the autonomy to decide on ticket pricing and a separate unit should be set up for long-distance and the sub-urban sector to improve services.
There should be a proper monitoring system for morning and evening services and effective marketing of the long distance service.
The revenue per passenger kilometre is Rs. 3.25 and the cost is Rs.0.80. In the CTB it is Rs. 0.92 and the cost is Rs. 0.86, while private buses revenue per passenger km is Rs. 1.06 and the cost is Rs.0.66.
A transportation expert said that SLR spends more on importing paper for tickets and added that an alternative source should belooked into to save expenditure.
He said that SLR should focus on improving facilities in trains such as sanitation and and comfortable seats.
Steps should be taken to regularise the train service and minimise delays. There should be a double track from Polgahawela to Jaffna on the Northern line.
The upcountry line from Rambukkana toBadulla also should be made double line for effective transportation.
A massive discount on rail fares are granted to public servants and schoolchildren. The key revenue earning stations are Colombo-Fort, Gampaha, Kandy and Anuradhapura.
The number of trains has been increased during the past 10 years. The SLR runs through 30 commercially vital cities, 26 other cities, 189 small towns and 118 villages.