Happy Teachers' Day
Teacher appreciation makes the world of education go around." -Helen Peters
A teacher is a person who provides education for students. The role of a teacher is to teach students. Teachers should be respected and honoured. We should be grateful to teachers. They dedicate their time and energy to teach students and to guide them in the right path. They are considered as our second parents.
You can make teachers happy by giving them a small gift or a bouquet of flowers. You should make the teachers happy on Teachers' Day which falls tomorrow.
Teachers should not only be honoured on this particular day but show love and respect everyday. Children should respect and listen to teachers.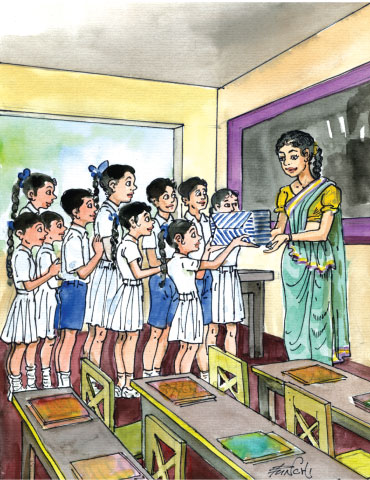 In many countries Teachers' Day is intended to be a special day to appreciate teachers. They include celebrations to honour them for their special contribution in education or the community in general.
The date on which Teachers' Day-ay is distinct from World Teachers' Day which is officially celebrated across the world today. In Sri Lanka Teachers' Day is celebrated on October 6. Every school celebrates the special day.
The idea of celebrating Teachers' Day took place in many countries during the 20th century. In most cases, they celebrate a local educator or an important milestone in education for example, Argentina commemorates Domingo Faustino Sarmiento's death on September 11 since 1915. India celebrates Dr. Sarvapalli Radhakrishnan's birthday on September 5 since 1962. This is the primary reason why countries celebrate this day on different dates, unlike many other international days.
World Teachers' Day was inaugurated on October 5, 1994 by the United Nations Education Scientific and Cultural Organisation (UNESCO) to mark the 1966 joint signing of the UNESCO/ International Labour Organisation (ILO) recommendation concerni ng the status of teachers. Internationally, World Teachers' Day is celebrated on the first Friday in October.
Celebrated in over 100 countries, World Teachers' Day acknowledges the efforts of teachers in an increasingly complex, multicultural and technological society.
It is a day on which students, parents and community members can demonstrate their appreciation for the contributions that teachers have made to their community.Teachers' Day is not just a day for fun and change of roles.
It is also a day to remember how much of hard work and time goes in before a teacher walks into the classroom and teaches you that chapter. It is a day to show gratitude to the person who has patiently heard you out when you asked the same question a hundred times. It is also a day to thank the person who guided you in matters more than academic.
A person like that truly deserves a special day.
They teach us, guide us, love us and scold us when we leave school and they never forget us.
So, show your gratitude, love and respect to your teachers who try hard to make you a better citizen.