Over 50,000 teacher assistants soon
Education Minister Bandula Gunawardana opened the first Mahindodaya Technical Laboratory in Teldeniya National School under the program to set up Mahindodaya Technical Laboratories to develop 1,000 secondary schools recently.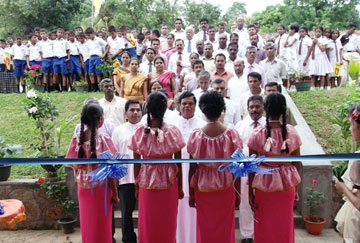 The new Technical Laboratory constructed at a cost of Rs. 20 million includes a chemistry laboratory, a mathematics laboratory a Language laboratory and Information Technology laboratory equipped with 65 computers.
The language laboratory consists of a Nenasa centre for distance education Which is telecast on two Rupavahini educational channels.
After opening the laboratory the Minister said the Teldeniya National School will become a super school out of 251 Super schools in the island. He outlined how the schools benefited with technical education in the past and gradually diminished in the country.
The government under the leadership of President Mahinda Rajapaksa re-established technical education and children will gain this opportunity again.
The Minister said the compulsory age to go to school was 14 in the past but now it is 17 as the government encourages children to study in the A/L classes without mathematics.
The Minister said that all problems such as salary anomalies, teacher promotions and principals will be solved before December 31 this year. The Minister said that the Government will recruit 50,000 teacher assistants who passed the GCE (A/L) examination and provide teaching appointments four years later after they graduate.