'Govt can go before the masses with confidence':
Sri Lanka made vast strides under UPFA
Higher Education Minister S.B. Dissanayake said that Sri Lanka which was designated as a developing country is rapidly moving towards the level of a developed country after about hundred years and this achievement should be attributed to President Mahinda Rajapaksa and the UPFA Government. Therefore, the Government could surely go before the masses with such confidence to seek their mandate in any future election.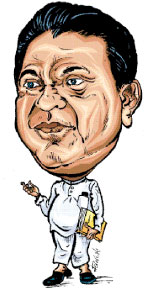 In a scenario where the world economic giants collapsed due to the adverse impact of the economic recession from 2007 to 2009 Sri Lanka remained unaffected and won all these significant achievements having boldly faced the global impact and also waged a protracted war against terrorism. People have a great deal of affection for the President as he liberated the country from the clutches of LTTE terrorism and developed it, the Minister told the Sunday Observer yesterday.
During the tenure of Presidents Ranasinghe Premadasa and Chandrika Bandaranaike Kumaratunga, the World Bank and other international monetary agencies in their annual reports described Sri Lanka as a failed state. At present, they are commending the significant achievements of the Sri Lankan economy.
Even though the late Prime Ministers S.W.R.D. Bandaranaike, Sirimavo Bandaranaike and SLFP Governments launched far-reaching changes to develop the economy, it did not have the desired results. President J.R. Jayewardene's liberalisation of the economy was not a success.
During the tenure of former President Chandrika Bandaranaike Kumaratunga, Sri Lanka's rate of development reached the minus 1.4 percent level in 2000, the Minister said.
President, Rajapaksa won the war against terrorism and developed the country. At present Sri Lanka's GDP had increased from US$ 18 billion to US$ 70 billion.
The four percent economic growth recorded in 2005 has reached 8 percent - the world's second fastest growing economy.
The financial strength of the banking sector which was around Rs.3,000 billion from 2004 - 2005 had increased to Rs.7,000 billion today, he said.
Minister Dissanayake said the inflation rate was 10 to 12 percent from 2004-2005. It has now dropped to four percent.
The 15 percent unemployment rate in 2005 had dropped to 4.6 percent while the poverty level had come down from 18 percent to 4.5 percent. The depreciation of the Sri Lankan rupee which was about 12 percent in 2005 had dropped to 2-3 percent. Electricity has been provided to 98 percent of the people. All these significant changes had been effected during President Rajapaksa's tenure.