Today is World Teacher's Day:
'Invest in future, invest in teachers'
"Teacher is a maker of man. He is the foundation of all education, and thus of the whole civilisation of mankind, present and future. No nation reconstruction is possible without the active cooperation of the teacher." - John Adams
"Teacher is the maker of nation." - Chanakya
Professions in the current world are diverse. Among them, there are reputed professions. Some professions are more attractive since they are highly remunerated. Some are respected and privileged. If someone asked me to name the noblest profession, in the world, I dare say "It is teaching." Teaching creates and builds all other professionals. Doctors, engineers, vocalists, dancers, artists, accountants, technicians and all kinds of professionals initiate in the hands of a teacher.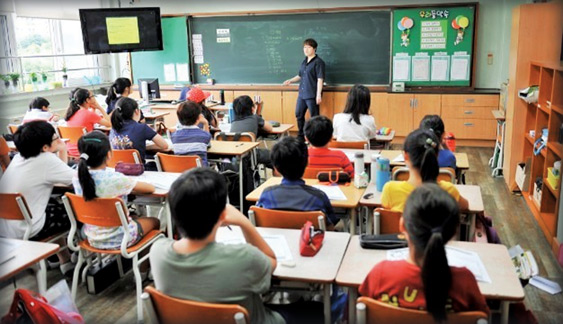 It is the teacher who holds the prime responsibility of building the future of nation through imparting knowledge. Teachers not only impart knowledge but also they nurture the children with spiritual qualities to become disciplined members of civil society and develop skills required to become productive contributors of the economy.
Teachers are the second parents of children. At the very young age of three years, child is handed over to the teacher with great enthusiasm. Parents have high expectations about the great ability of teacher in shaping the future of children making them economically productive, socially disciplined and culturally sensitive. Parents assure that their children receive affection, and attention throughout the period of study in the teacher's association.
Meritorious deed
Mother and father sometimes complain when their children are mischievous at home. Teachers gladly undertake and manage to teach 30 to 35 students in a class with diverse behaviours, attitudes, cultural backgrounds and learning capacities, showing no resentment. This is the true nature of our teachers.
Teaching is a meritorious deed rather than a profession. Apart from knowledge, children receive parental affection, physical and psychological safety, consoling words, encouragement to learn and guidance to solve problems at school. The teacher shows these constructive attitudes towards their children. They treat children in an indiscriminate manner, irrespective of social, cultural and family differences.
The child becomes productive to society if he develops intellectual abilities with good human values. The Teacher makes untiring efforts to produce a disciplined person augmented with knowledge and social values. Other professions do not involve such a vast range of responsibilities and parental feelings towards their clients. Teachers are silent about overloading, salary increments, and bureaucratic harassment and not rewarding for good performance. They are unvoiced on issues in their career.
We rarely hear teachers holding organised strikes and fighting against employers to win their demands. It is not the teachers who take such initiatives at the expense of students. Hearts and minds of teachers are soft and delicate towards children. These are the characteristics of a noble profession. Teaching is venerated and esteemed.
Great teacher
The teaching profession had its roots in the period before Christ. Confucius, a Chinese philosopher, (861 BC) is considered to be the first private teacher in the world. However, according to Asian history, The Buddha is treated as the first great teacher and the philosopher to appear in the world (620 BC).
Even before that there is evidence for the existence of teaching profession in India. In the Vedic era there were teachers to teach Vedic literature. The Buddha, before enlightenment received education from Sarvamithra.
In the Jathaka stories, the Buddha referred to a prominent and reputed teacher - Disapamok from whom the children of elite families in India received education. These stories give evidence for the existence of teaching profession having its roots in the very distant history of the mankind.
During these days the pupil stayed with the teacher in his residence and learned. The teaching was limited to the primary function of passing knowledge acquired by teacher to the pupil.
There was no fee levied for teaching and the pupil had to work for the teacher respectfully. However, the teaching profession has earned dignity and nobility since these olden days in the Asian culture.
Teacher's Day
The role of the teacher in building society is multi-dimensional, as a teacher, a role model, a mentor, a facilitator, and a problem solver. The United Nations Educational, Scientific and Cultural Organization (UNESCO) has declared the World Teachers' Day to celebrate and highlight the priceless profession of teaching worldwide.
Accordingly, The World Teacher's Day falls on October 5 annually. The first World Teacher's Day was celebrated on the fifth of October 1994. The theme of year 2014 is "Invest in future, Invest in Teachers". Countries around the world will mark the day through organising various events and programs to appreciate and salute the unparallel service offered by teachers to their communities.
The UNESCO calls upon students, parents and community members to get together and to demonstrate their appreciation acknowledging the contributions that teachers make to build their nations.
The UNESCO declaration of World Teachers' Day opens the minds of governments and authorities concerned on the importance of professional development of teachers enabling them to undertake the challenges emerging in the education field in the 21st century. Secondly, the day is to highlight the issues around the teaching profession in the world and request governments to take appropriate courses of action that help mitigating such issues. Certain countries in sub Saharan region and Arabic countries do not invest adequate funds for education and improve the quality of education.
Education is a basic human right and a basis for development of all other fields. Some of these countries spend considerable amount of funds for weapon production rather than improving education.
In the globalised and technologically advanced world, countries with illiterate and uneducated young population will remain isolation in the darkness for ages. UNESCO invites such governments to open their eyes and minds to provide necessary support systems for universal education including development of teachers.
Prominent issue
At the global level, lack of teachers is seen as a prominent issue. UNESCO has estimated that global scarcity of teachers' amount to 1.6 million by 2015, to reach the goal of universal primary education. It is calculated that another 3.66 million teachers are required to replace teachers leaving the profession by 2030. There are 57 million school going age children that do not attend school owing to lack of access to education.
UNESCO draws the attention of the world to the need of increasing the number of teachers. Just increase the number of teachers would not serve the purpose of education. Teachers need to be equipped sufficiently, with updated knowledge on respective curricula, skills and new teaching techniques and understanding the students behaviour and mind sets to play the new role under emerging challenges in the field of education.
UNESCO is of the view that most of teachers in the world are lacking these skills, underpaid and have no adequate recognition for their service.
With the massive revolution of knowledge and development of technology, including IT, there is a dramatic transformation in education process as well. Education in the 21st century has developed with several important attributes. In place of fragmented curricula, formulation of integrated, interdisciplinary curricula which address students' diversity has emerged.
Textbooks based education has succeeded research oriented and project based education The curricula encourage students' creative thinking skills, multiple intelligences, technology and multimedia and multi literacy.
Students become active learners in place of passive listeners in the class room. Curriculum and skills are not taught but students have to learn them through application in projects in a real situation.
Students are self directed and working independently and interdependently as well within the classroom. Knowledge is no longer considered as memorisation of facts and figures, but is constructed through different information sources, students' research and application.
Knowledge is also developed connecting previous knowledge, personal experience, interests and talents of students. Students' assessments have moved from traditional measurement of memorizing facts and figures to demonstration of understanding through application in a variety of contexts.
Assessment is done through application of knowledge in world situations and students' ability to apply knowledge to solve problems in the real context.
Civilised society
The 21st century is considered to be the century of knowledge. The most valuable commodity a country can offer to its children is "Knowledge."
There are plenty of new tools including internet, email, television, radio, video and cellular phones for quick acquisition of information.
These information should be transferred into knowledge and knowledge into wisdom to broaden students' innovative thinking and understanding about surroundings and beyond.
More importantly, knowledge provides the basis for civilised society through wholesome development of individuals. Knowledge is the basic ingredient to find best careers.
The current situation requires knowledgeable generation who can apply knowledge practically in work situations. Teacher guides children to find information from various sources, turning information into knowledge, internalize knowledge and then to practice them in the real world situations.
This is a new way of understanding the concept of "knowledge". Along with these vital changes in the education system, there is a greater demand for better learning and teaching/learning techniques. These are said to be the characteristics of quality education The central factor for quality education is availability of quality teachers.
Professional Development of Teachers - Fulfillment of objectives of 21st century education can only be achieved, if appropriate teaching development programs consisting quality improvement components as against traditional teacher training programs are launched.
Teacher development programs must produce a constructive and a comprehensively equipped teacher with a broad understanding of his role in the modern day context. Teacher needs to know that the student produced in the classroom should be a blend of knowledge, skills, intelligences, and different literacies.
They need to be productive workers, effective communicators, creative thinkers, and masters of technology when they complete classroom education and step into society. This is the massive task that we set upon the shoulders of teachers.
Professional development program for teachers therefore, should aim at changing old attitudes and modifying their thinking into new vistas. Teachers development programs must take into account the following.
Teachers in the modern context need to be aware of the paradigm shift of education from traditional system to children centered, information rich and skills oriented education.
He needs to become masters of their subject matter. Teacher must understand and be fully aware of group dynamics and maintaining good rapport with his students in the classroom. S/he should be able to get children to acquire information from different sources and guide them for application of acquired knowledge in real situations through research and projects.
Teacher should be a good organiser to arrange the classroom and organise children in an appropriate manner so that all the students participate in discussions, written and oral assignments, presentation programs and team work. Teachers should engage students to look at issues in the actual world, analyse and solve them in a variety of ways.
Great teachers set high expectations for all students and they are smart to engage all students in classroom exercises and activities.
He applies appropriate teaching techniques with oral presentations, written communications, review civic and environmental issues, conduct research, understand concepts, and career opportunities so that learning process become interesting for children. Teachers need to have clear objectives to achieve in the end of the given time period.
Effective teachers are organised, prepared and present students a clear idea of what they will be learning. With all these new developments, we should not forget the responsibility of teacher as a character builder.
He still has to play a traditional role in nurturing children with human values. An educated person with no moral and cultural values is an empty person. Teachers need to be warm, accessible, showing affection and caring for students and cite examples of morally good characters.
Sufficient funds
Countries which do not have due priority for education must lay emphasis on the vital requirement of educating children providing sufficient funds.
Recruitment of qualified teachers, undertaking regular knowledge upgrading programs, strengthening teacher training institutions, development of standards for teachers, conducting research and generating knowledge on effective teaching and provision of conducive policy instruments are the important steps that should be taken from governments.
Teachers empower and enlighten children with knowledge and skills and produce the future workforce.
They build the characters of children with discipline and spiritual strength to become useful and peaceful citizens to society. Nobody can assess the value of teaching profession in monetary terms. Nothing can replace a quality teacher.
On the world Teacher's Day we determine to respect our teachers with dignity. We thank them for their untiring efforts to build the nation. "If a country is to be corruption free and become a nation of beautiful minds I strongly feel that there are three key societal members who can make a difference, They are the Mother, the Father and the Teacher" Abdul Kalam
The writer is the Deputy Minister of Education and Monitoring MP of the Ministry of Youth Affairs and Skills Development.