INCHEON ASIAN GAMES CONCLUDES WITH SPECTACULAR CLOSING CEREMONY
INCHEON, Oct. 4: The third Asian Games to be hosted by South Korea concluded with a spectacular closing ceremony at the Incheon Asiad Main Stadium today.
The Saturday night's ceremony which brought the curtain down of the 17th edition of the 45-nation games was a treat to watch. The excitement and creativity easily surpassed the standards of the two previous Asian Games hosted by South Korea in Seoul 1986 and Busan 2002.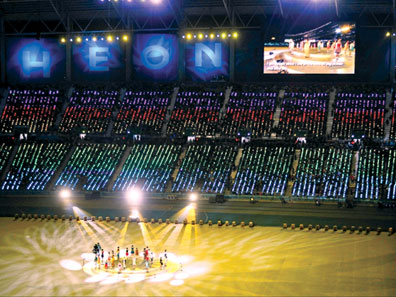 The three-hour colourful fiesta was a rich blend rich South Korean culture and the modern technology, mainly focusing on the rich traditions of Asia and the harmony among the Asians.
It was nice to cover my sixth successive Asian Games for the Sunday Observer and Daily News, after following the fortunes of Sri Lanka and Asian sporting starts in the last five Games in Hiroshima 1994, Bangkok 1998, Busan 2002, Doha 2006 and Guangzhou 2010.
From my first Asian Games coverage, I have been fortunate to follow the dazzling moments of Sri Lanka sportsmen and women and report them lively to millions of our readers. It was during my first Asian Games coverage in Hiroshima, Japan in 1994 that sprinter Susanthika Jayasinghe won her first Asian level medal – a silver in women's 200.
Her team mate Damayanthi Darsha won the bronze medal in the same event, making it the
first occasion that two Lankans have won medals in the same event.
In my next Asian Games, I had the rare opportunity of witnessing Sri Lanka winning an Asian Games gold medal after 24 years. Damayanthi Darsha (women's 200m and 400m) and Sugath Tillakaratne (w0men's 400) won gold medals for Sri Lanka at the 1998 Bangkok Asian Games.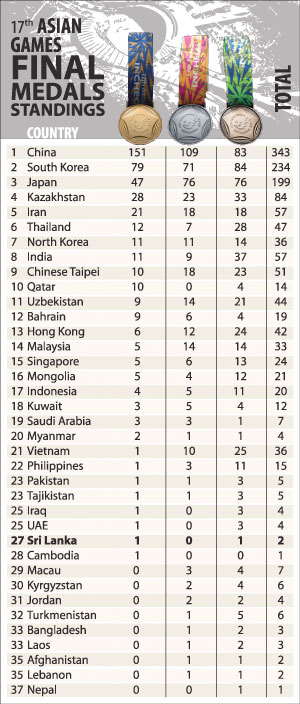 The last time Sri Lanka won an Asian Games gold before the T20 cricket gold here in Incheon was in Busan 2002 when Damayanthi Darsha won her second successive Asian Games gold medal in women's 400m with a new Games record. Darsha's record stood until Incheon 2014 before it was erased by Bahrain through an adopted Nigerian athlete.
The 17th Asian Games came to an end today after 16 days of tough competition by participating athletes and friendships shared by billions of sports fans on the continent but with familiar results: China placed first, South Korea second and Japan third in the medal standings.
Under the slogan of 'Diversity Shines Here', more than 14,000 athletes and official staff from 45 countries have competed for 439 gold medals in 36 sports. Fourteen new world records were established during the game - in archery, shooting and weightlifting, with many fresh Asian Games and continental records.
With all these hard-fought competitions coming to an end, the closing ceremony started at 6 pm at Incheon Asiad Main Stadium to celebrate athletes for their hard work as well as inspire them for future efforts.
The main theme of the ceremony was 'Our Cherished Memories of Incheon', directed by Jang Jin, a South Korean filmmaker who also managed the opening ceremony two weeks ago.
The grand fest began with fireworks woven with pop music and artistic performances, including a taekwondo demonstration by members of Kukkiwon, the global headquarters of the martial art. On the wide screens, video footage showed the highlights of the continent's biggest sporting event, recapturing sports stars and their competitors' excitement, joy, regret and lament.
Athletes entered the stadium freely, cheering and waving their hands and flags. Looking relaxed and free from burden, they took selfies with their colleagues and players from other countries. South Korean sprinter Yeo Hosua carried the national flag to lead the delegation on the final stage.
After the Organizing Committee for Incheon Asian Games Chairman Kim Young-soo and Olympic Council of Asia President Sheikh Ahmad Al-Fahad Al-Sabah announced the closing of the Incheon Asiad, the official organising flag was handed to the next host city: Jakarta, Indonesia.
"For the last 16 days, we have together enjoyed the festival of Asia while exercising our full potentials in fair competitions by representing each and every nation in Asia," Kim Young-soo said in his remarks. "During this journey, the eyes of the world have been upon us.
We have shared moments of joy, great happiness and tears of disappointment; but more than anything, we have confirmed the fact that we are one large family. Wishing for the 17th Asian Games to serve as a starting point of a new Asia, we lit the flame of the games together and now we have realized our dream," he added.
OCA President Sheikh Ahmad said the athletes should use what they've learned here to their best advantage. "The Asian Games are not only about medals.
They are about representing your country, trying your best and taking pride in your flag," he said. "They are about sportsmanship and fair play and about friendship and team spirit. So I hope the memories and the new friends you have made will last a lifetime and that Incheon 2014 will always be remembered as the starting point of a new chapter in your life."
Also in attendance at the ceremony were three high-ranking North Korean officials - Hwang Pyong-so, Choe Ryong-hae and Kim Yang-gon. Hwang, the director of the military's General Political Bureau, is largely viewed as the No. 2 man in the North. He is the highest North Korean official to visit the South in recent years. Their visit was seen in Seoul as an indication of Pyongyang's desire to improve frosty bilateral relationships.
The Asian Games cauldron, which had lit the city for the last 16 days, finally was put out with a promise to meet again in Jakarta four years later. South Korean boy band Big Bang had a mini-concert and attracted an enthusiastic response from the athletes, wrapping up the grand finale.
Tears came to everyone's eyes as they felt the bitter feeling of departing, but with new friendships, relationships and bonds they have built in this western port city of South Korea. "See you in Jakarta," were the last words they exchanged.