FDI inflow hits US $ 1b mark
Direct Foreign Investment inflow has past the US$ 1 billion mark by the third quarter of 2014.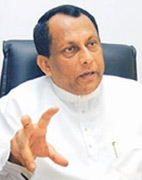 BOI enterprises exported goods and services worth US$ 4.844 billion and imported raw materials and project-related items worth US$ 3.184 billion, Investment Promotion Minister Lakshman Yapa Abeywardena told the media in Colombo last week.
He said that the Government had spent Rs. 58,314 million on rural development. The Shangri-La Hotel project in Hambantota is progressing smoothly. While the Shangri-la hotel in Colombo is due to be opened in the first quarter of 2017.
Thirteen acres of land had been given to Softlogic, Minister Abeywardena said.
From January to October this year, the BOI received 161 applications to invest in Sri Lanka from various parts of globe. The total value of these applications was US$ 4.39 billion. An estimated 23,600 new jobs were created by the BOI enterprises by the end of 3rd quarter of 2014.
"The BOI has signed 112 agreements with investors. The value of signed investments was US$ 1.184 billion. It is estimated that these agreements signed with investors will lead to the creation of 20,000 new employment opportunities," the Minister said. The World Investment Forum will be held at the Palais des nations in Geneva from tomorrow by Thursday.
Many issues in connection with the investment process will be discussed and the main subject will be Investment for Sustainable Development.
Over 3,000 officials from over 140 countries will attend the forum including Heads of States, Ministers, Leading CEOs and Heads of International Organisations and civil society are expected to participate, Minister Abeywardena said.
The Minister will speak for 10 minutes at the forum and explain the investment opportunities available in Sri Lanka and the facilities being provided to investors. He will also participate in the investment promotion mission to be held in Osaka and Tokyo in Japan. BOI Chairman Dr. Lakshman Jayaweera will accompany Minister Abeywardena and will hold discussions with a number of leading Japanese companies and senior officers and State agencies.