Sampath Bank provides library facilities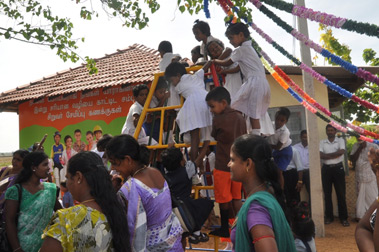 Two libraries were provided and a children's park was constructed in Navatkuli by Sampath Bank under its reconciliation program 'Emblem of Hope'.
"We are happy that the under-privileged children now spend their free-time in environment-friendly surroundings," said Sampath Bank's DGM - Marketing and Business Development, Tharaka Ranwala.
The Bank also provided library facilities to the children of Navatkuli, as they had done at the Navatkuli sub office where a library unit has been installed and also restored the library at the Chavakachcheri Urban Council. Computer facilities were also provided.
The projects, will help-students and adults to improve their reading habit and motivate them to engage in extra-curricular activities. This initiative will be a fulfilment of a timely need for the students and will raise the Bank's standing among the community and government officials. The bank's fervent belief is that these facilities will undoubtedly help them mentally and physically to work towards a bright future, a bank spokesman said.
Sampath Bank's Head of Deposits,Thilak Abeysinghe, Sampath team members, officials of the Pradeshiya Sabha, schoolchildren, teachers and parents were also present.
The restoration of Navatkuli railway station, the penultimate stop of the Yal Devi train, is another CSR effort of Sampath Bank.