Sherlock Holmes mystery solved
Call it The Adventure of the Misplaced Celluloid. For almost a century, one of the earliest and most influential on-screen portrayals of Sherlock Holmes was thought to have been lost to history.
Now the missing silent movie, made in 1916, has been discovered in the vaults of the Cinémathèque Française film archive in Paris.
The find is significant because it features the only surviving performance by the American actor and playwright William Gillette as the Baker Street sleuth.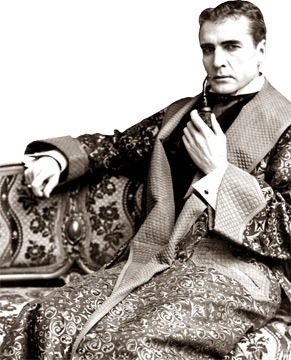 During his lifetime Gillette, who died in 1937, was considered the pre-eminent Holmes. His own play featuring the famous detective, which he performed 1,300 times, was a hit on both sides of the Atlantic.
Character traits
It was Gillette who introduced many of Holmes's most familiar character traits, including the deerstalker hat, curved or "bent briar" pipe; his use of a magnifying glass and syringe; and his amateur violin playing. Most have survived even into contemporary interpretations by Benedict Cumberbatch and Robert Downey Jr.
Gillette is also credited with inventing the detective's catchphrase, telling his sidekick Dr Watson: "Oh, this is elementary, my dear fellow."
The 1916 film, simply entitled Sherlock Holmes, was directed by US film-maker Arthur Berthelet for Essanay Studios, which also produced Charlie Chaplin movies. Based on Gillette's own play, it included elements from a handful of mysteries by Holmes creator Sir Arthur Conan Doyle, including A Scandal in Bohemia, The Final Problem and A Study in Scarlet.
Anonymous
The first actor to play Holmes on film remains anonymous: he was the star of a 30-second Nickelodeon picture produced in 1900. But it was Gillette's performance that would become the template for all Holmeses.
Russell Merritt, the supervising editor for the restoration of the newly discovered film said: "At last we get to see for ourselves the actor who kept the first generation of Sherlockians spellbound.
"As far as Holmes is concerned, there's not an actor dead or alive who hasn't consciously or intuitively played off Gillette."
Conan Doyle himself considered Gillette the best actor to take on the role. The author had killed off Holmes in his 1893 story The Final Problem, but after seeing Gillette's play debut in 1899, he reportedly said, "It's good to see the old chap back."
The film is now undergoing a digital restoration in time to be screened at the Cinémathèque's Toute la Mémoire du Monde festival in Paris in January.
- The Independent