English pronunciation in Sinhala
Ingreesi Akshara Vinyasays Ha Uchcharanaya
(English Spelling and Pronunciation)
Author: G. W. Nandisena
Serious learners of English in the past always used a monolingual dictionary designed for non-native speakers such as the Oxford Advanced Learner's Dictionary to check the spelling and pronunciation of doubtful words.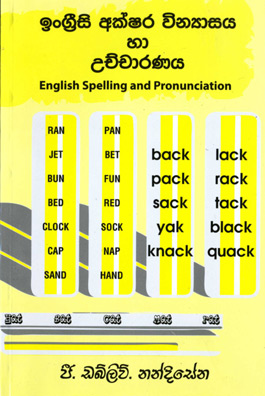 Such dictionaries gave valuable information about pronunciation using phonetic symbols. However, students in the pat used a separate pronouncing dictionary. Such a dictionary was devoted entirely to pronunciation rather than meaning.
The standard pronouncing dictionary was compiled by Daniel Jones.
The principal use to which a foreign learner will put such a dictionary is to look up a standard pronunciation in Received Pronunciation (RP).
This included not only lexical words but also weak forms and names. It must of course be remembered that a phonemic system does not tell the reader how to pronounce a word.
It shows only the sequence of phonemes and the accentuation. The learner still needs to know how exactly each phoneme is realised phonetically and sometimes differently in different positions.
The brief introduction to pronunciation is thought necessary to deal with G. W. Nandisena's book on English Spelling and Pronunciation published in Sinhala. The reproduction of phonetic symbols in a Sinhala dictionary is a challenging task because there are certain sounds which cannot be adequately represented by Sinhala symbols.
For instance, Nandisena's symbols for the pronunciation of certain words such as "psychology, jam, gem, bench, chest, fetch, adjust" and "apology" are likely to present difficulties to the learner.
Even Prof G. P. Malalasekera faced the same difficulty when he compiled the Malalasekara Dictionary many decades ago. Apart from this flaw, a few typographical errors too have crept into Nandisena's dictionary.
Nandisena who claims to have self-studied English has many books to his credit. In addition to his books on English tenses, abbreviations and phrasal verbs, the book on Enligh Spelling and Pronunciation is a first of its kind by any local author.
He has made a commendable effort to produce the book. It will no doubt help the learner to overcome pronunciation difficulties to a great extent.