A mellow voiced folksinger
The atmosphere for the open air concert by Astrid Brook was made for folk and country music lovers who thronged the Mount Lavinia Hotel last week to soak in the fascinating vibes of the singer/guitarist.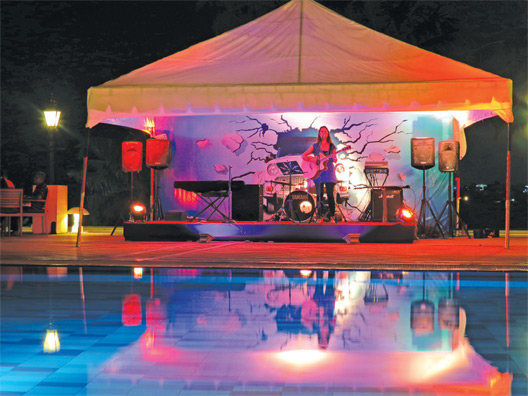 The dim lighting, the soft conversations interspersed with appreciative applauses, the clink of glasses and cutlery did not take away the spotlight from Astrid Brook, who held the audience attention with her lilting voice and her selection of songs most of them her own compositions.
She stood on stage a lone figure with her beloved guitar, and with her lilting voice transported the audience to a different world hither to unknown.
Inner strength
Her songs-originals by her sent-out many messages of having inner strength and peace and keeping calm in today's world of turbulence.
Of course there were the love songs of hers taken from her two albums Wild River and Full Circle and to make it more interesting to the Sri Lankan audiences she threw in her version of John Denver's 'Annie' and Carole King's 'You've Got A Friend' which James Taylor made into a hit.
What was remarkable in her performance is that she held the attention of the audience until the end of each of her sets despite the fact that there were no supporting instruments such as the piano, bass or drums to add more glamour to her performances.
She ended her performance leaving the audience relaxed and happy and wanting more which is always a good manner in which to end practically anything.
Astrid Brooks has been performing professionally for the past 15 years around UK and abroad.
She enjoys performing at acoustic nights and is a popular figure at private corporate events and festivals.
Records
In a spool back on her early years Astrid said that she was involved in music from the age of eight. Her mother was a DJ and as a result their home had a lot of records especially the pop music of the 70s.
Astrid used to listen to the Top of the Pops everyday and alongside got into the routine of playing the records and listening closely to the lyrics of the songs.
Her mother helped her by getting her a Casio keyboard and it was then that she wrote her first song.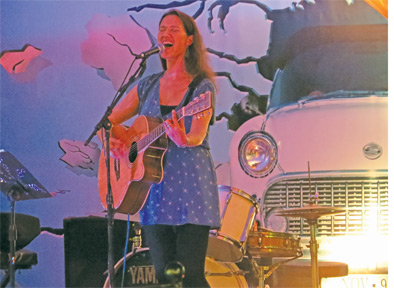 When she turned 14 she started her first band, got involved in music recordings and then went into a hiatus.
But the desire to song folk songs saw her back on the professional stage and since many music lovers told her that her voice is mellow, gentle and warm she decided to sing folk in her style.
Playing solo suited her fine and she took up the challenge to entertain an audience for up to, two hours and began enjoying herself. Today she is recognised folk singer.
After two of her performance sets on Saturday we were able to meet Astrid Brook for a short while and find out more about her career as a folk and country music singer.
Question: What we have learnt from the hype about you is that you are basically a folk singer reaching out to your audience with songs that carry a message. Quite naturally. But now here in Sri Lanka you are associated with the Country Roads concert and this is the second time you have come to our country, where does folk songs stand?
Answer: Yes. I am basically a folk singer. I love country music as well. I love them equally. I'm not a country music singer usually.
I come to Sri Lanka to sing at Country Roads, to help the Country Music Foundation to raise the funds for childrens' charities.
I make country music more folky in style - because its me and my guitar and with gentle finger picking I sing the country songs in my own style. I sing the songs of Dolly Parton, and other well written songs by John Denver and Bob Dylan, the ones that one knows and loves.
Q: How does the music of Joan Baez, Joni Mitchell figure in your repertoire. Have you been inspired by them? And who are the other singers who influenced you?
A: Joni Mitchell, I'm a big fan of her. In my opinion she's brilliant. My favourite year to me is 1971 because of the music of Joni Mitchell, James Taylor, Neil Young and Carole King.
I will be singing Carole King's composition 'You've Got A Friend' at the show tonight. With her collaborator Gerry Goffin she inspired the Beatles.
Fantastic
She still composes and performs and so does Joan Baez.
Of the modern country singers I enjoy the music of Shania Twain. She's a fantastic song writer.
My favourite of the older singers is Dolly Parton. She played at the Glastonbury Festival last year.
I like to listen to the older singers such as Tammy Wynette and her peers.
Q: In your fifteen-year career you have released two albums and hope to release a new one next year, what are the subjects you use for the compositions of your songs?
A: My songs are usually love songs. The themes are falling in love, being in love, breaking up. Now I compose songs that convey a message.
I sang one earlier in the evening today titled 'Try'. Its all about the riots going on in London, about the global wars and how in this context we need to have inner strength and peace to keep calm and keep on going.
I practise Buddhism and I learnt that if you are on a journey - you have to keep on going, to the end of the journey. I have also dedicated one song to my father who has passed away.
I love reading non fiction. I read biographies of musicians and people who have made a name for themselves such as Nelson Mandela.
They inspire me to write the songs. I have no particular time to sit and compose my songs. I know some make use of the early morning or the late evening hours.
But that's not for me. In my opinion composing a song is like making a soup - getting the ideas, the ingredients for making the soup. In writing songs you get the idea, you get the melody, the lyrics, the ingredients and you create the song. It's sounds simple but sometimes it is not!