New Arrivals
Fire and Water
Author: Srimathie Weerasuriya
A Sanghinda publication
Fire and Water, unfolds a saga of a married woman, who abandons her family for another man, a lawyer. He is compelled to forget and leave her after some time. With a wounded self esteems, she seeks vengeance, but wouldn't know how, when and where. An opportunity arises for her after a long period, unexpectedly to see him, who is now risen to the peak of his career and fame.
He lives comfortably with his wife and children, while she lives in poverty and misery.
She is left by her family. She has lost her all glamour as a daughter of a respectable father and a wife of a senior police officer. She was also a mother of two daughters.
Even her pleasant appearance has changed.
She set her plan to confront him, apparently a difficult goal. Somehow she achieves her aim, but the unexpected happens at the confrontation. Her search for vengeance ends. Instead she transforms herself into an awakened woman.
---
Mothers
Author: Srimathie Weerasuriya
A Sanghinda publication
In an atmosphere of doubt, fear and unhappiness, and engulfed by a feeling of abandonment in the absence of family togetherness, Ayoni, a lawyer, is compelled to leave her 11 year-old daughter.
They both miss each other very much and Ayoni expects her daughter would join her. Days pass by and it does not happen.
For Ayoni, it becomes almost a rude awakening to learn that she is no more precious to her daughter.
Therefore, she chooses her own independent way of life.
After a long period of living in separation, they both realise that the bond between the two of them has not been shattered; but remains intact.
The novel is about her long journey in search of love, care and family togetherness.
---
Un Giya Den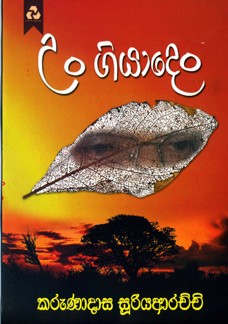 Karunadasa Sooriyarachchi's latest Sinhala novel Un Giya Den was launched recently as a Dayawansa Jayakody publication.