Countdown begins for Pope's visit
The Catholic church began the 100-day countdown and preparations for the visit of Pope Francis from January 13-16 for the canonisation of Blessed Joseph Vaz, the patron saint of Sri Lanka.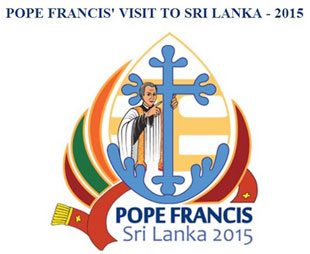 The run-up to the Papal visit comprises spiritual and material preparations launched by the Catholic church at a special mass celebrated at the Tewatte Basilica last week.
Head of the Social Media Committee for the visit of Pope Francis Rev. Fr. Cyril Gamini said that spiritual preparations include a special prayer to be recited at all churches and homes for the success of the Papal visit.
"A special prayer card has been distributed to all parishes to be recited at the end of every mass.
A spiritual bouquet by children will be presented to the Holy Father during the mass at the Galle Face Green. A program for the preparation of the bouquet has been launched through Catechism schools to enlist the participation of all children in parishes" Fr. Gamini said.
The prayer committee for the Holy Father's visit has organised a holy hour to be made at every church and home during the preparation for the visit.
'We expect a large number of people on the eve of January 13 at the Galle Face Green for prayer service in preparation for the canonisation of Joseph Vaz.
"Sanitation facilities and food will be provided for visitors for the program at the Galle Face Green on January 14. Arrangements also have been made for confessions", he said.Material preparations comprise decorations along the road, setting the stage for the mass at the Galle Face Green and decorating the Madhu Shrine where the Holy Father will bless the devotees with the statue of Our Lady of Madhu on January 14 afternoon.
Fr. Gamini said that special arrangements have been made for the media ahead of the visit. The 100-day media campaign has been launched to create awareness of the Papal visit and the canonisation.
"We expect around 80 Vatican accredited journalists who will accompany the Holy Father. We hope to have around 800 media personnel including journalists from India as Blessed Joseph Vaz is an Indian Oratorian missionary. The 24-hour main press centre will be set up at the Galle Face Hotel from January 12-16 to provide live coverage of the canonisation", Fr. Gamini said.
Pope Francis announced the conclusion of the canonisation process of Joseph Vaz, a zealous Catholic priest who obeyed the call of God to save Catholics who were persecuted by the Dutch. Pope Francis who was appointed the 266 head of the Catholic church is popular for his simplicity and love for the poor.