In Brief
Musaeus prize-giving on Oct. 16
The annual prize-giving of Musaeus College will be held on Thursday, October 16 from 3.00 p.m. to 7.00 p.m. At the Peter Abrew Memorial Auditorium.
Prof. Mohan de Silva, Senior Professor of Surgery and Dean, Faculty of Medical Sciences, University of Sri Jayewardenepura will be the chief guest.
---
Radio goes 'Vadio'
Vadio, a new concept that enables a radio station's music selection to program music videos on the station's website has been launched in Sri Lanka. Through this, users get real-time access to song titles and videos, syncing what's airing on radio to its music video. Vadio will tie up with MBC Network's Yes FM to present the concept of 'Radio worth watching'. Listeners will have access to real time programs on radio.
---
Death of Sudath Silva's nephew, Sachin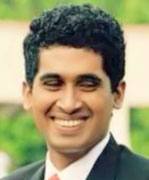 The death occurred of Sachin de Silva (21), son of veteran photographer and singer J. Vijith de Silva, after a sudden illness. An old boy of D.S.Senanayake College, Colombo, Sachin was employed at the Nations Trust Bank.
He is the nephew of Director / Photography and Video of the President's Media Unit, Sudath Silva. Cortege leaves residence, No. 21/B, Anagarika Dharmapala Mawatha, Hokandara to Thalawathugoda for cremation at the Thalawathugoda Welipara Cemetery at 4 p.m. today (12).