CCD rescues: Mannar student from international abduction drama
It was21-year-old Malcom Denver's dream to find an overseas job after completing his Advanced Level examination. It was also the wish of his parents and close relatives to support him in his endeavour. The Mannar- born Tamil student who followed his dream to an overseas country ultimately fell into a hellhole of treacherous men who acted as good samaritans and caused undue problems for him.Fortunately, he returned to his family in one piece after an unbelievable turn of events.
In the last few months we witnessed several high profile abduction dramas involving small children and millions of rupees were demanded to free them. Certain cases put the country in suspense and even gained the attention of President Mahinda Rajapaksa who directly ordered to hold immediate inquiries. The quick response of the police saved two young lives.
But surpassing all this is a case which tops the list, where abductors dared to take the abducted person to a foreign country to demand a ransom of Rs five million from his family to release their son. The Colombo Crime Division(CCD) reputed for its involvement in solving many high profile cases unearth a carefully masterminded abduction drama which perhaps could be seen as a box office thriller.
On June 17 this year, the IGP, N K Illangakoon received a complaint from a middle-aged couple from Mannar who claimed that their nephew had been abducted by a group of men in Singapore and a ransom of Rs.5 million was demanded to release him unhurt. The police chief who realised the gravity of this one- of- a- kind case ordered the CCD to investigate the matter.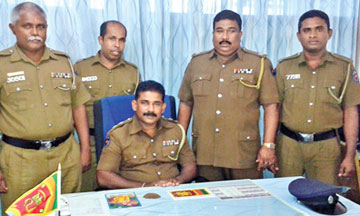 CCD Unit 3 investigation team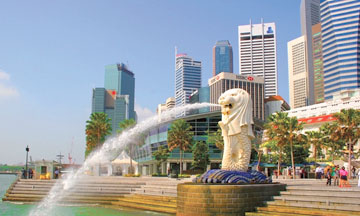 Passport photo of Malcom Denver
CCD Director SSP Roshan Silva who received instructions ordered his subordinates to handle the case. On the same day, the aggrieved couple visits the CCD in Demtagoda to lodge their complaint. OIC CCD Chief Inspector Neville De Silva listens to this unbelievable story of how a 21-year-old youth was deceitfully taken to a foreign land with the promise of finding him a job and then keep him in the captivity for days demanding a fortune to set him free.
Joseph Mariyadas Malcom Denver was born to an affluent Tamil Catholic family in Mannar in 1993. His father Joseph Mariyadas was engaged in the fisheries trade for many years.
When the boy was growing up he was taken care of by his father's younger brother and wife, James Marie Asanta, who also lived in Pallimure, Mannar close to Joseph's house. The boy after sitting for his Advanced Level examination in 2012 moved to his uncle's house where he was well taken care of by his aunt.
Denver had a dream to find an overseas job one day and even the adults felt the same because he was wasting his time at home. Joseph decided to consult one of his former friends known even to his brother, to seek foreign employment. Initially the parents and relatives wanted to send Denver to Canada. During this time they met Joseph's friend Sivasubramaniam, originally from Sulipuram, Jaffna.
Sivasubramaniam is temporarily based in Mannar and was running a dried fish business for sometime. When Joseph and his brother had excessive harvest of fish that would near the expiring period, it is usually sold to Sivasubramaniam to be processed as dried fish. Being invitation of Joseph Sivasubramaniam visits their house to discuss about the Denver's future. When the family expresses their desire to send Denver to Canada, Sivasubramaniam proposes them to send Denver to Singapore. The former however agreed and got ready for the trip.
This happened in early May and after about a week Denver and his aunt Asanta come to Colombo to buy essential items for his trip. The duo stayed at Joseph's sister's house in Crow Island, Modera for a few days.
One day the couple visit the Pettah market to buy clothes when Asanta received a call from a man named Vigneshwaran who claimed to be a friend of Sivasubramaniam.
Vigneshwaran tells Asanta that he will help Denver to find foreign employment and ask them to come and meet him at Cinnamon Lakeside hotel to discuss about the trip. Asanta who didn't have a clue about where the five star hotel was asked to pass the phone to a trishaw driver to whom Vigneshwaran gave directions.
That afternoon Denver and Asanta met Vigneshwaran and Sivasubramaniam at the lobby of Cinnamon Grand. There Vigneshwaran told Asanta to pay him Rs.50, 000 for the air ticket and keep $100 ready as pocket money until Denver finds a job in Singapore. He also tells Asanta to bear the cost of Denver's passport. With the trust placed in Sivasubramaniam, Asanta agreed to pay the ticket money to Vigneshwaran. The duo was then instructed to meet Sivasubramaniam in Kotahena on the next day to visit the passport office to apply for a passport.
Asanta and Denver met Sivasubramaniam near St. Anthony's Church in Kotahena on the following day and travelled to Punchi Borella in a trishaw. There the group submit the application forms to the Department of Immigration and Emigration to obtain the passport in the one day service. Since the applicants were asked to return by 3.00 in the evening, the group went to All Saints Church in Borella and waited in the premises.
Vigneshwaran who comes there in a white colour car along with another man known as Anwar, asks for the receipt of Denver's passport to collect it for them. Vigneshwaran who departs with the receipt returns with the new passport in no time. After showing the passport to Denver, Vigneshwaran takes Rs.50, 000 for the air ticket and tells them to get ready as the trip is scheduled for June 1.
However, in the last week of May, Vigneshwaran calls Asanta and tells her that due to unavoidable reason the trip has been postponed indefinitely. But with persistent requests made by Asanta to Vigneshwaran and Sivasubramaniam, the latter tells the former to prepare for the second flight on June 6. And also ask them to bring another Rs.50, 000 in addition to the already paid amount. Vigneshwaran explains to Asanta that Denver will be recruited to a company in Singapore which is a joint venture by the former and his partner and that the additional Rs.50, 000 is required to be paid to his partner.
On the night of June 6, Denver accompanied by his parents, his uncle and aunt and other relations arrive at the Bandaranaike International Airport. There they meet the other group including Vigneshwaran, his assistant Anwar, Sivasubramaniam and three other males who had come to leave for Singapore for foreign employment. After a fond farewell, Denver leaves behind his kith and kin full of hope for a bright future. The group boarded the flight that departed Colombo at 12.05am.
After four hours journey the group arrive at Changi International Airport in Singapore, where they hire a cab and leave for the hotel. The group is divided into several rooms and Denver is accompanied by Vigneshwaran's assistant Anwar. After spending the first day at the hotel Denver learns that the other boys had been taken to their work places. Here begins the countdown to a series of unpleasant events for Denver where his dream is shattered. After sending the other three youth, Vigneshwaran tells Denver that his appointment will take a couple of days more and that they will move to a private apartment from the hotel. The trio moves to an apartment on the following day and Vigneshwaran goes out leaving Anwar and Denver behind. A strange incident happens following this. Waiting until Denver has gone to the toilet, Anwar steals his passport from his baggage.
In the meantime Vigneshwaran returns to the apartment and asks for Denver's passport. Denver who learns that his passport is missing tells Vigneshwaran that somebody had stolen it.A furious Vigneshwaran then makes a scathing attack on the youth and demands for the pocket money of $100. After taking the cash, Vigneshwaran and Anwar tie Denver to a chair and assault him unmercifully. Threatening Denver with death they demand Denver to ask his family to pay them Rs.five million to release him.
Weakened by the physical assault and with fear for his life being alone in a foreign country, Denver agrees to call his aunt requesting money. With a breaking voice he tells his aunt to prepare Rs.five million as soon as possible and transfer it to an account mentioned by Vigneshwaran. Asanta. Realising the tragedy that had befallen his nephew with promises made by Vigneshwaran to arrange the money soon. Having informed Denver's parents about this tragic event the relatives gather Rs.100, 000 and transfer it to the account given by Vigneshwaran. And with utter agitation they start looking for the rest of the money.
When the situation was progressing like this Vigneshwaran and Anwar accompany Denver back to Sri Lanka on June 17. They hire a cab from the airport and come to Pettah, where on the way Anwar get off the car. Vigneshwaran takes Denver to a lodge in Kathiresan Street named Balagi Lodge. There he instructed Denver to enter his name in the registry as Joseph Mariyadas and follows instructions.
On the same day Vigneshwaran had called Asanta and demanded for the rest of the money saying that they have brought the boy back to Sri Lanka, and that he will be thrown into the Kelani River if the money is not paid on time. She responds in a helpless manner saying only Rs.70, 000 was available at the moment and would transfer that money straight away. The money was transferred to an account belonging to a name A H M Afkar.
After receiving this call Asanta decides to report the case to the police and visits Police Headquarters, where she informs the IGP Special Complaints Unit. Following this she visits CCD and lodges the complaint and explains the entire incident to OIC Neville De Silva.
CI Neville De Silva explaining the entire case to the Sunday Observer said the duo had taken the boy to several other places in Dematagoda, Maligawatta and Kollupitiya on the following day. When Denver had asked for food, they had given him an ice cream from Carnival Ice Cream parlour in Kollupitiya. They had then taken the boy to Pettah bus stand and boarded him into a Mannar bound bus after taking his signature to several blank documents threatening that he will be killed if he complained to the police.
Denver had returned home on June 19, on the same day Asanta and her husband returned to Mannar after lodging the complaint with the police. Much relieved to see their son back, the relatives informed the CCD about his arrival and took him back to Colombo on the same day.
CCD Unit 3 OIC Inspector Saman Premathilaka and Sub Inspector Thushara Perera recorded a statement from Denver and commenced investigations. A special team sent to Mannar arrested Sivasubramaniam who was hiding in a different location. After questioning him the police learnt that the suspect did not know the whereabouts of his accomplice Vigneshwaran or Anwar.
The police then checked the phone calls made between Asanta and Vigneshwaran and found a connection being registered to a man under the name Rizwan in Grandpass. When Rizwan was questioned by the police he said that he had helped Vigneshwaran with airline ticketing work. But he did not know the whereabouts of Vigneshwaran. And also the phone with the particular sim is with Vigneshwaran at the moment. So police let him go for the moment.
In the meantime the CCD found that a young female model who had been selected to the final 12 contenders of the Miss Sri Lanka pageant linked to Vigneshwaran. When the particular phone number was dialled the female model answered the call. The police questioned the model and learnt that she was working part time for Vigneshwaran's business promotional work. And Vigneshwaran had given her the phone to use. Even she didn't know the whereabouts of Vigneshwaran.
However, the girl told police that Vigneshwaran's mother was hospitalised a couple of days ago over a heart failure and she was soon discharged. She had gone to see the patient with Vigneshwaran and another person called Anwar. The police immediately checked for the CCTV cameras of the private hospital in Colombo and found the footages of Vigneshwaran, the model and the other man Anwar being none other than Rizwan, whom they interrogated and released a few days ago.
The police immediately arrested Rizwan and upon further questioning he admits being Anwar and leads the police to a secret hideout in Wellampitiya. The mastermind of the abduction and extortion drama Vigneshwaran was taken into custody by the CCD on October 1 and was remanded with Anwar on the following day before Colombo Chief Magistrate.
Vigneshwaran was found to be a fake name. his true name being Vishwanadan Dushyanthan aged 23 and having no permanent address. He was the son of a one time successful gold jeweller in Dematagoda and after his father's demise had engaged in various illegal activities. There are two cases pending in the Fort and Dehiwala Police Stations with open warrants to arrest him on the spot. Sivasubramaniam was also remanded on July 18. The gang had stolen money amounting to Rs.400, 000 from Denver and his family volunteering to help them find foreign employment.
Director CCD SSP Roshan Silva said that people should be careful and not trust strangers with money and favours. He said the CCD will not hesitate to bring such criminals before the law at any given time.
CCD Unit 3 OIC IP Saman Premathilaka, SI Thushara Perera, PS Yasaratne (30501), Constables Wickramanayake (84333), Piyadasa (87159) and Chandana (77511) conducted the investigations under CCD OIC Neville De Silva and Director Roshan Silva.