House covered with seashells
Don't be shellshocked after reading this unusual news story.
This house on Lingshan Island, off the coast of Qingdao city in eastern China's Shandong province is completely covered - every nook and corner - with seashells.
Fifty-four-year-old Xiao Yongsheng, the owner of this spent two years sticking every inch of his house with seashells.
This was what he did when deciding to renovate it. Without spending money on expensive designers and architects he decided to save up and do it for free.
Hence he decided to collect seashells which are free to grab in his small beach and took effort to stick on the walls of his house.
"I'd always liked shells but it never struck me to use them until I was walking on a beach one morning and came across a very unusually coloured clam shell and then it hit me," said Xiao.
"I realised I was sitting next to a huge, free supply of beautiful building material - so why not use it?" So he began collecting every kind of shell he could find - right from tiny 3-millimeter ones to giant conches that weighed over four kilograms.
"I used them for everything," he explained. "For decoration, for roof tiles, as handles, and even crushed up to make mosaics. They are everywhere."
"I just did it because I wanted to make my home beautiful for myself." Xiao is currently using his house as a museum to display the history of the island and the daily life of local fishermen.
His seashell decorated home has now become one of the most popular tourist attractions on Lingshan Island.
---
Vacancy at the Buckingham Palace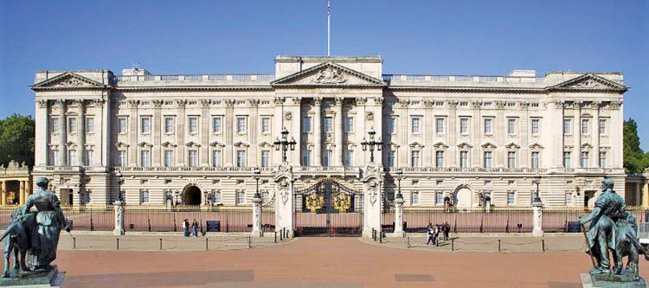 If you are interested in doing a job in Britain, there is an opening at the Buckingham Palace., The job will pay you 16,000 pounds per year.
According to the British Monarchy website this 20-hour per week job entails mainly removing of chewing gum from the Historic and state apartments in the Palace.
The advertisement in the website says the job will be split between Buckingham Palace and Holyroodhouse in Edinburg.
The Sun quoting a palace source says: "It is extraordinary that guests to the Royal palaces do leave chewing gum. You woudn't expect people to be chewing gum when they visit, let alone stick it on the priceless antiques of parquet floor".
The chosen person also will have to change beds, clean out wardrobes and drawers at royal residencies.He must also man the cloakroom during Royal parties.
---
California farmer grows 'pumpkinsteins'
Heart or cube-shaped watermelons were a big hit in Japan during the Valentine Day celebrations. Inspired by these unusually shaped fruits and vegetables Tony Dighera, the Californian farmer has come out with a unique creation for the Halloween festival.
They are called pumpkinsteins and are seen hanging from pumpkin creepers he had grown.
To save you the mystery, it is a pumpkin which resembles the head of Victor Frankenstein, the grotesque monster.
The price is kind of justified considering the effort that Dighera put into creating these fabulous pumpkins.
The California farmer used two special $100,000 tooling machines to make the pumpkin moulds, which is quite huge in terms of investment. But he seems confident that his product is going to be a huge hit and that he will earn back the initial investment within the year.
Dighera designed the entire process from scratch. "There's nobody to ask questions, you're the pioneer," he said. He had to start by making the perfect mould with just the right materials, to avoid the risk of the fruit rotting. The timing of the mould placement was also crucial - it had to be done when the fruit was small enough to fit inside. But there was also the risk of the fruit turning during the growing process and snapping away from its stem.
He does agree that $75 for a pumpkin is quite pricey. "I wouldn't pay for it," he admitted. "But there's plenty of people with an income of 200k or more who will." And it looks like Dighera's right - the pumpkinsteins are so popular this season that they're almost flying off the shelves. He's now planning to develop heart-shaped watermelons for Valentine's Day and white pumpkin skulls for Halloween next year.