William Blake:
A mystical and visionary poet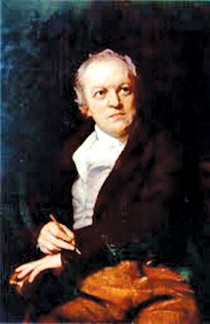 William Blake was a 19th century poet, painter, artist and engraver born in Soho district London, England. His father James Blake and mother Catherine Wright Armitage were highly conscious of the temperament and visionary utterances of their son young William Blake and on certain occasions they even punished him for talking about his visionary experiences as lying.
In 1782 Blake got married to Catherine Boucher who could neither read nor write but later he taught her reading and writing and even the art of engraving and painting.
At the age of four Blake had claimed that he had seen God put his head to the window and again when was nine he had seen a tree filled with angels when he was walking through the countryside.
Blake was highly frustrated over the death of his brother Robert Blake and later Blake was known to have said that he had seen how the spirit of Robert was released.
'His spirit ascended heavenward through the matter of fact ceiling clapping hands of joy.'
Visions
Over the years similar experiences of visions and dreams of supernatural beings increased throughout his whole life time and he made similar expressions based on his imaginations even during the final hours of his life.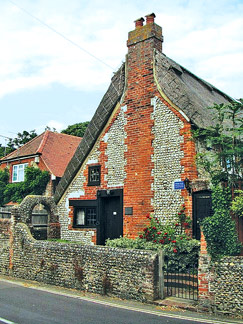 Blake had cried to his wife a few hours before his death' Stay Katel keep just as you are. I will draw your portrait for you have ever been an angel to me'.
Having completed the portrait of hers he passed away peacefully. Blake is also identified as a radical both in his thinking and in composing poems and in visual arts of paintings and engravings.
Besides he combined his literary and pictorial genius in exploring contemporary issues relevant to politics, religion and psychology as his themes in his poems.
French and American Revolutions also had a great influence on him.
The visions and hallucinations experienced by Blake since his early childhood triggered his imaginations in creating poems using simple diction but having very abstruse philosophy and mysticism which his contemporaries found difficult to fathom and tagged him as mentally deranged.
Spiritual world
According to his visionary thinking Blake believed that there were two worlds he had identified as natural world and spiritual world both existed independently.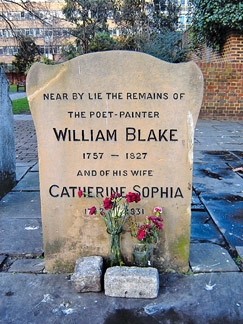 'Everything in the spiritual world is spiritual while everything in the natural world is natural.'
Blake's imagination was based on the inner world of his vision and those imaginations were higher when compared to the physical reality or the world of matter.
He was not a believer of visual world and always relied on his own inner vision.
His mind was always visual and visionary and he thought reason could destroy them.
On the analysis of the themes of his poems and of his numerous engravings and paintings it is evident that Blake had an inner vision beyond sense perception and he was in constant touch with what he perceived through the eye of the soul. Blake emphasised this in his own words:
'A spirit and a vision are not as the modern poses, a cloudy vapour or nothing.
They are organised and minutely articulated beyond all that the mortal and perishing nature can produce.'
'With my inward eyes 'tis an old man grey.
With my outward, a thistle across my way.'
Inner emotion
Blake could visualise an inner emotion very quickly as he lived in the spirit which was source of his imagination.
Blake's philosophy was based on the exaltation of the sprit over the body, instinct and intuition over education and of spiritual vision over the impressions of the physical sense.
He made a famous statement that it was possible to see the infinite and the external beyond the material appearances of the finite world. 'If the doors of perception were cleansed, everything would appear as it is infinite.' As a mystic and visionary poet Blake rejected all beliefs, philosophies and attitudes that existed in the 18th century England.
Songs of innocence and experience
Blake composed 'Poetical Sketches '(1783),'Songs of Innocence', (1789) and 'Songs of Experience' (1794). The Songs of Innocence comprised 19 poems including' the Lamb, the Shepherd, the Little Boy Lost, the Little Boy Found, the Blossom, the Chimney Sweeper, Night, Spring and a Dream are some of the Songs of Innocence.
There are 26 poems including Earth's Answer, The Little Girl Lost, The Little Girl Found, The Sick Rose, The Fly, The Tiger, Ah! Sun Flower, The Lily, The Garden of Love and London are some of the Songs of Experience.
Metres of ballads, nursery rhymes and hymns had been employed by Blake in his poems.
Literary critics says that the 'The Songs of Innocence' and the ' The Songs of Experience' are primarily based on Milton's Existential Mythic States of Paradise and Fall.
Poetic genius
Using his poetic and artistic genius Blake very strongly condemned the Church of England, which he believed in spreading institutionalised religion , state and the ruling classes of the era and the Industrial Revolution instrumental for spreading poverty, corruption and exploitation in the society.
In the Songs of Experience Blake exposed the loss of childhood vitality due to fear of inhibition created by social and political corruption and repressed the innocence of childhood.
Some scholars attribute religious views of Blake to his exposure to Gnosticism and Cabbalism and the influence of thinkers such as Emmanuel Swedenborg and Jacob Boehme. In 'Chimney Sweeper' the child is unaware of his exploitation which is inexperience and he accepts his fate happily as he is aware that he will go to heaven.
"When my mother died I was very young, And my father sold me while yet my tongue Could scarcely cry 'Weep', 'Weep', 'Weep',
So your chimney I sweep and in soot I sleep.'
'Marriage of Heaven and Hell' along with 25 engraved plates had been produced by Blake In 1797 which was a satirical portrayal of the penetrating the essential nature of human experience.
Creative energy
Dual world of opposites and how the rules of reason and religion repress and pervert the basic creative energy of humanity have been identified as some themes of the poem.
Blake believed 'good and evil', 'angels and devils', 'love and hate' were needed for human survival.
'The Tiger' is a Song of Experience portraying the God's power of creation.
Blake had used expressions such as 'fearful symmetry,' burning bright, fire, hammer, chain furnace and anvil as images.
The suffering of innocence and Jesus Christ are portrayed in 'Lamb and comprised a repetition of questions found easy to answer than the questions raised in the Tiger.
As usual almost all the poems composed by William Blake have been analysed in so many ways by literary critics.
Interpretations
Popular poems of 'The Lamb' (Songs of Innocence) and the 'The Tiger' (Songs of Experience) composed by Blake usually discussed through comparison and contrast of similarities and interpretations have been given by literary critics.
Half of the poem' The Tiger' comprises twelve questions directly addressed to the Tiger proved unanswerable.