Glitter of gold to fade further
Gold prices in Sri Lanka will slump further with the drop in global prices triggered by the recovery of the US economy and the strengthening of the US dollar.Gold futures fell 0.7 percent to $1,233.12 an ounce in New York, heading for the biggest decline since October 3, when the metal wiped out the year's gains.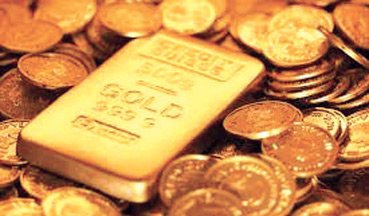 Earlier this month, Goldman Sachs Group Inc. reiterated its forecast for prices to reach $1,050 in a year, 12 percent below the October 3 price, and HSBC Securities USA Inc. cut its outlook for 2015 to $1,175 from $1,310. A losing 2014 would mark the first back-to-back annual decline for gold futures since 1998.
Gold merchants here said that while the drop in prices is good for buyers it will have a adverse impact on sales which has plummeted by around 50 percent over the past two years."Sales have dropped by around 50 percent this year. We hope with the revival of the economy and the festive season round the corner the demand for gold will increase and prices will stabilise," Pattakannus (Pvt) Ltd, Chairman S.A. Thiagarajah said. Gold and the US dollar has a correlationship.
When the demand for dollar rises investment in the precious metal declines.
Today, the perceived haven for investors is the US, where a strengthening economy and low inflation are increasing demand for dollars and dollar-denominated assets.
Gold merchants are banking on the year end season for sales as it is the time for gift-giving with the celebration of Christmas and weddings. June and December are the best months for gold sales.
Gold prices in the global market dropped from around US$ 1.700 an ounce to US$ 1,200. The price of a sovereign of 22 karat gold is Rs. 42,000 and 24 karat is around Rs. 44,600.
The US dollar is buoyant, rising 5 percent this year against a basket of 10 leading currencies. The country's unemployment rate is at a six-year low, suggesting the world's biggest economy will survive slowdowns in Europe and Asia.
The European Central Bank plans to stimulate growth by buying asset-backed debt. Economists cut estimates for Chinese growth after disappointing data on industrial profits, factory output and credit.