SL exports high quality goods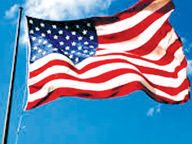 Sri Lanka's export goods are of high quality and there is a big demand for Sri Lankan apparel in the United States, US Trade Representative for South and Central Asia, Michael Delaney told Economic Development Minister Basil Rajapaksa during a discussion at the Ministry last week.
He attributed the growth in foreign investments to the literate workforce and the salutary investment environment created by the Government.
The Trade Representative said that he had witnessed the high living standards of the people and environment-friendly industrial development. During the discussions, they exchanged views on the new investment opportunities available for Americans in the island nation.
Minister Rajapaksa told the US trade representative about the quality and quantity of the development achieved by Sri Lanka.
"There is also environment-friendly investment growth while the export of goods and services had enhanced rapidly. Sri Lanka has also recorded high growth in investments," he said.
The Government has succeeded in generating job opportunities through industrial parks, for the people of the North and the East which were paralysed by terrorism that lasted several years. Minister Rajapaksa said that plans are afoot to increase foreign investments in the North and the East within the next few years to further develop infrastructure.
Courtesy: PRIU