Dwellings Group to boost property investments in Australia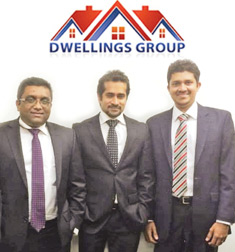 The need for landlords, landowners and property investors to generate maximum returns from assets is becoming increasingly important and property investment advice is invaluable to attain this.
Dwellings Group Property Investment Services focuses on assisting clients to create wealth by investing in property in Australia, which would in turn create opportunities for local investors to own prime real estate outside Sri Lanka.
The Dwellings Group covers all areas in Australia and asset types from large-scale residential buildings to houses in the outer suburbs.
Priority is given to educating clients on investment strategies that optimise the use of their capital, with an entire spectrum of services related to purchasing real estate being offered to investors.
The Group handles property development and management, home loan finance, legal and immigration services in addition to providing investment advice.
Australian banks lend up to 75 percent of the property value to Sri Lankans who are non-citizens and non-residents of Australia. The right property at the right location in Australia will yield between 8 and 10 percent annual growth, a company spokesman said.
Additionally, Sri Lankans who invest in Australian property can repatriate their money to Sri Lanka with substantial returns after three to five years, he said.
The company will guide investors through the entire property-investment process. Beginning with obtaining finance approval from an Australian bank and an endorsement from the Foreign Investment Review Board in Australia, to the management of end-to-end construction of the property up to the point where the properties are rented out to tenants.