Union Assurance launches Super Investor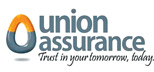 Union Assurance has introduced its latest product, Union Super Investor, for investors, adept at planning their lives and achieving goals. The product is an ingenious combination of an investment and insurance product. A Union Super Investor has to make premium payments for five years, while he could decide the policy term from 10 to 30 years.
The dream of embarking on a foreign tour, or buying a luxury motor vehicle, or even filling your house with the latest appliances and furniture, could be fulfilled because your investment account will accumulate interest every year.