Yahoo profits surge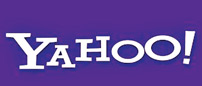 Technology giant Yahoo has reported profits of US $ 6.8 billion (£4.2 billion) for the three months to September, buoyed by earnings from the firm's stake in Alibaba. Yahoo had to sell part of its stake ahead of the Chinese firm's stock market floatation, netting it US $ 6.3 billion.
That made up for a continuing fall in advertising sales at Yahoo. The search company has struggled to maintain market share against rivals like Google. Revenue from ads decreased by 5%.
But overall revenue increase by 1% to US $1.15 billion compared to the corresponding period of the previous year and despite the lion's share of its earnings coming from Alibaba, Yahoo's numbers were better than expected.
Shares in the technology giant rose over 2% in after-hours trading, following the close of the US markets.
In a statement accompanying the earnings release, Yahoo's chief executive Marissa Mayer said, "We have invested deeply in mobile and we are seeing those investments pay off," she said.
"Not only are our mobile products attracting praise and engagement from users and industry awards, they are generating meaningful revenue for Yahoo," Mayer said.
Yahoo said revenue from its mobile products was over US $200 million for the quarter and estimated that mobile revenues could top US $1.2 billion by the end of the year.
- BBC