UNCTAD confab debates private sector role
Geneva: Governments in the world's poorest countries face difficult choices – how to fund essential services and at the same time ensure quality, accessibility and affordability.
The World Investment Forum organised by UNCTAD, brought government and business leaders together in Geneva recently to address that question at a high-level summit.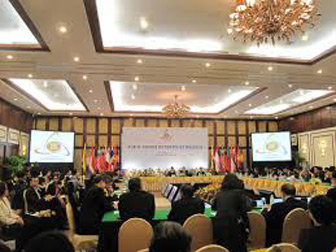 The role of the United Nations in this process was highlighted by Speaker of the House of Representatives of New Zealand, David Carter.
"The United Nations has an important contribution to make as an enabler of sustainable development," he said.
One of about 50 events that comprise the Forum, speakers at the second session of the World Leaders Investment Summit debated how investment could be increased in critical areas, such as infrastructure, energy, health and education.
Demand is growing for such services, as are challenges linked to climate change adaptation and control. While public authorities take the lead in assuring these services, budgetary constraints have led to calls for increased private funding.
The speakers agreed that it is not always a question of a lack of finance.
"As strange as it may seem, there are investors who are sitting on cash that they cannot invest for lack of adequately packaged or large enough projects," UNCTAD Secretary-General Mukhisa Kituyi said.
In its World Investment Report 2014, UNCTAD identified almost $200 trillion in assets in the global financial system, some of which could be reoriented to sustainable development outcomes.
The discussion focused on ways to mobilise finance and package investment, even on the smallest scale, to channel it to infrastructure and public services in developing markets. This point was emphasised by Speaker of the House of Representatives of Australia, Bronwyn Bishop.
"Investment does not have to be large-scale. Small investments can have a huge impact on development and on people's lives," Ms. Bishop said.
Chair of the Group of Eight task force on impact investment, Sir Ronald Cohen said, "The issues we face won't be solved by exhortations to do more. We need innovation in finance and investment approaches."
Participants, including President of the Fondation pour Genève, Ivan Pictet, discussed how to change mindsets and mobilise finance into what are perceived to be high-risk sectors in often unfamiliar markets.
One solution, according to the Chief Executive Officer of the Japan Exchange Group, Atsushi Saito, is to adopt regional approaches to infrastructure development which can help reduce risks for investors through diversification.
From the perspective of countries seeking investment in crucial areas of need, it is important to ensure that investment contributes to sustainable development.
President, China Minmetal, Zhou Zhongshou said, "Transnational corporations must do their best to recruit local staff and preserve the local ecosystem.
"Working with local communities is key for investment projects, so that 'one plus one' is more than two."
United Nations Secretary-General's Envoy on Youth, Ahmed Alhendawi, said that investment must target the developing world's burgeoning youth population.
"Investment in youth is crucial for peace and stability, which are a prerequisite for sustainable development goals," Alhendawi said.
The Forum, which brings together over 3,000 people from across the global investment community, addresses the world's development financing challenges and puts sustainable development and responsible investment at the centre of policy discussions. The event is the largest international conference devoted to the issue of investment for sustainable development.