Biz Briefs
BOI participates in CEATEC Japan 2014
The Board of Investment (BOI) participated in the CEATEC Japan 2014 exhibition in Tokyo, Japan recently.
CEATEC Japan is a comprehensive exhibition of cutting-edge IT and electronics that provides information to a wide range of users including people in business, in Japan and internationally, under one roof. The exhibition was attended by Japanese entrepreneurs, university graduates, researchers. CEATEC JAPAN 2014 was sponsored by three leading organisations, Communications and Information Network Association of Japan (CIAJ), Japan Electronics and Information Technology Industries Association (JEITA) and Computer Software Association of Japan (CSAJ). This is one of the main exhibitions in Japan.
---
Lanka Hospitals awarded JCI accreditation
Lanka Hospitals received the JCI accreditation and its gold seal of approval after a rigorous onsite evaluation by an international surveyor team of experienced and skilled healthcare experts, elevating the hospital to a group of healthcare organisations worldwide that have met every stringent clinical quality standard set by Joint Commission International (JCI), the recognised leader in international health care accreditation.
---
Mobitel and Sports 1st launch Platinum Awards 2014

Sri Lanka Telecom Mobitel with Sports 1st recently launched Platinum Awards 2014, an award ceremony benchmarked as the pinnacle of sporting achievements.
The Platinum Awards will reward and recognise sports stars for their efforts in keeping the passion of sports alive in the hearts of millions of Sri Lankans.
Organised for the first time to honour athletes who have displayed exceptional talent, determination and dedication, the Platinum Awards will be held on Thursday.
There will be a build up to the Awards Night inclusive of a road show covering 30 towns across the island.
---
Hiran Cooray - THASL president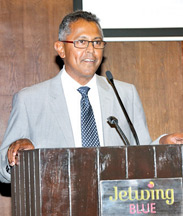 The Hotels Association of Sri Lanka (THASL), the apex body of the hotels industry in the country, unanimously appointed Chairman, Jetwing Hotels, Hiran Cooray as its President at the 49th Annual General Meeting held recently at Jetwing Blue, Negombo.
Cooray, a veteran with 20 years' experience in the hotel industry has represented Sri Lanka on the Board of PATA since 1996.
He holds a Degree in Business Administration obtained from the University of North Carolina and also has successfully completed a senior management course in Hotel Management at Cornell University, Ithaca, New York.
The veteran hotelier has held the Presidency of the THASL on three previous occasions.
---
Amăna goes for rights issue

Amăna Takaful Plc will raise Rs. 400 million through a rights issue according to the company's stock exchange filing. Amana is an insurance company.
Subject to the necessary approvals, the company will issue 500 million ordinary shares at 80 cents each in the ratio of one for two.
The proceeds will be used to fund its subsidiary Amăna Takaful Life Limited, a company official said. Amăna Takaful has expanded its geographical foot-print in the island with over 20 branches and a staff of over 400.
---
NTB opens branch in Minuwangoda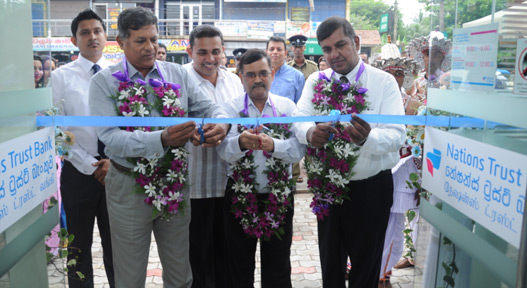 Chief Operating Officer, Nations Trust Bank, Rohitha Ganegoda (right) opened the Nations Trust Bank's 85th branch in Minuwangoda with Mayor, Minuwangoda Urban Council, Fredrick Alahakoon (left) and Deputy Mayor U.B. Premathilaka (centre).
---
Etisalat, Pensions Department empowers pensioners

Etisalat Lanka with the Department of Pensions, launched products and services for pensioners at the National Pensioners' Day event at the Pensioners' Resort in Wedamulla, Kelaniya.
It was organised by the Department of Pensions, to improve the lives of the pensioner community.
President Mahinda Rajapaksa was the chief guest.
The Department of Pensions organised this initiative as an expression of gratitude for the services rendered by the pensioners to the nation.