Chronicling the Indian emigrant experience
An interview with award-winning novelist Chitra Banerjee Divakaruni:
Born in 1957 to a traditional Bengali Hindu family in Calcutta, India; Chitra Banerjee Divakaruni has become a prolific voice which gives insight into the Indian experience as immigrants in the USA, through her writing, which includes poetry, short fiction and novels.
Emigrating to the USA at 19, she continued her postgraduate education by reading for a Master's in English from Wright State University in Dayton, Ohio, and later, a Ph.D. from the University of California at Berkeley. Divakaruni's life experiences in the United States would have gained significant perspective as she engaged in different occupations to financially support her goals in education.
Working as a babysitter, a saleswoman in an Indian boutique, slicing bread at a bakery and washing paraphernalia in a science laboratory are job descriptions that she has experienced in her journey to become a celebrated novelist and a Professor of Writing at the University of Houston's Creative Writing Program.
Her debut novel The Mistress of Spices was shortlisted for the Orange Prize and named one of the best books of 1997 by the Los Angeles Times. It was also adapted for the big screen and released in 2005 with Aishwarya Rai Bachchan and Dylan McDermott in the lead roles.
Leaving Yuba City, published in 1997, is a collection of poetry by Divakaruni from which selections have won the Pushcart Prize and an Allen Ginsberg prize.
Genre
Her works evince how Divakaruni does not restrict herself to one chosen genre since the body of fiction she has authored includes novels for children as well as adults, and encompass realistic fiction, historical fiction, magical realism, and fantasy. With four volumes of poetry and 14 works of fiction published thus far, Oleander Girl is Divakaruni's latest novel, which was released last year.
In an interview with Montage the celebrated author Chitra Banerjee Divakaruni shares insights and perspectives on various aspects related to her craft of writing and explains what factors influenced and impacted her as she made her journey as a writer, to become, as an enchanting storyteller, a voice of the East, through the written word, in the West.
Excerpts:
Question: How often do you take part in writers' forums such as seminars, conferences, book readings? How important are such public events that relate much to the marketing aspect of the industry in relation to the cultivating creative sense in writers?
Answer: I've done a lot of these in the past but now I take part in events less and less, mostly when a new book comes out and the publisher sets up events.
I prefer a quieter lifestyle, focusing on my writing, teaching, community service and family. However, I realise the importance of public events to raise awareness of a new book and attract new readers and offer a literary experience to readers through live interaction with writers.
Discovery
Q: You are a prolific writer whose debut novel The Mistress of Spices reached bestseller status and was adapted to the screen with Bollywood superstar Aishwarya Rai Bachchan in the lead role. But where did it all start? I mean before your first book of poetry, Black Candle was published in 1991, when and where did you discover the writer in you?
A: These things happen slowly. I started writing when I was completing my PhD program at the University of California at Berkeley.
The immediate impetus was the death of my grandfather which made me want to capture his life in writing.
But I realised that I was very interested in trying to chronicle the immigrant experience, which had had a huge impact on me. I started with poetry, moved to short stories, then the novel.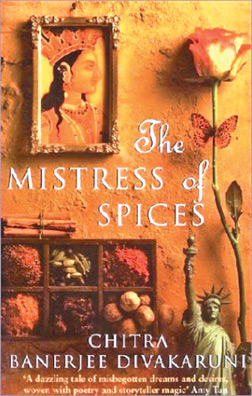 Q: You are a poet, a writer of novels and short fiction. As a practitioner of all three of those forms of writing, how would you define them? Would you say the craft of the novel is the hardest among them?
A: Each form is challenging in its own way. Poetry is cryptic and elliptical, working through imagery. Short stories are like the Chinese brush paintings—suggesting a life through a few moments.
Novels are like tapestries, carefully stitching in details to create an entire world.
Q: Have you any plans of setting your hand to write for screen or theatre?
A: Not at the moment, although I have been asked to do some screenwriting in the past.
I have adapted one of my stories, "Clothes," for a full length play, which was performed in California by the Sacramento Theatre Company under the title "Arranged Marriage." I have also written an opera for Houston Grand Opera titled "River of Light." But for screenwriting, I feel I would have to learn a whole new set of skills, and I really would prefer to stay focused on my fiction.
Bengali heritage
Q: You are a Bengali to whom Calcutta and the Bengali heritage surely means a lot. The premises of some of your novels as Victory Song, Sister of my Heart, The Vine of Desire, and also your latest work Oleander Girl, indicate this. What place does Calcutta and the rich Bengali culture hold in your creative pulse? Is it something spiritual to your heritage that you share with Calcutta?
A: I grew up (at least my high school and college years) in Kolkata, very impressionable years. Also, our family was very traditionally Bengali and I understand the nuances of Bengali culture better than other cultures.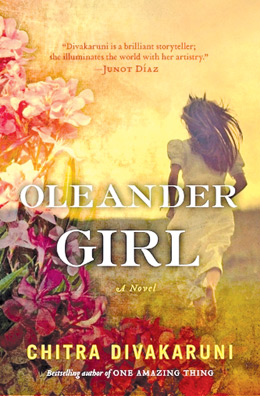 Also I grew up reading the great Bengali writers such as Rabindranath Tagore, Bankim Chandra, Sharat Chandra, Mahasweta Devi and Ashapurna Devi. They had a big influence on me. In recent years, as in Oleander Girl, I'm particularly interested in the collision of old and new cultures in Kolkata.
Q: The 'Brotherhood of the Conch' trilogy you authored has a character trio at its centre–Anand, his mentor Abhaydatta and Nisha. How did this series come about? What were the bases and founts of inspiration and ideas for the storylines and the characters?
A: I wanted to write a series of novels for younger readers—a magical fantasy with Indian characters, and using themes out of Indian mythology, for Indian/South Asian children to relate to.
This I feel is especially important for South Asian American children growing up in India. I gave the male characters the names of my two sons! I was delighted when numerous schools in America and India adopted the books for their students.
Triumph
Q: How did you get started with your first novel –The Mistress of Spices, which was quite a triumph considering how it was received? Where did the 'ingredients', if I may put it so, come from? How much time did you put in for research and 'plotting' the storyline?
A: That was the first time I wrote a novel, so a lot of my efforts went into structuring the novel and finding the voice of the main character, Tilo, who runs an Indian grocery and has special powers.
I did a lot of Ayurvedic research as well as research into Indian folk beliefs and remedies for that novel.
I wanted a novel that would blend the realities of immigrant life with magic, and I was influenced by Gabriel Garcia Marquez and Isabel Allende, two of my favourite magic realist writers.
Q: With regard to the film The Mistress of Spices, you must have surely been delighted at the proposition to see a cinematic adaptation of your first novel. To what extent did you have a say in the creative process of its adaptation? Do you see the film as having a separate life and identity of its own, distinct from the story you created as a novel?
A: Yes, I was delighted when Gurinder Chadha approached me and said she would like to make a movie of Mistress of Spices. I did not really have much to do with the film, except as an informal consultant whenever Gurinder and her husband Paul wanted some input. Yes, definitely, the film is its own entity, quite different from the novel.
Q: Critical appraisal has positioned your stories as exploring the 'Indian-American' migrant experience and identity. In the larger context of the Asian migrant's identity being redefined due to relocation to the West as émigrés, how do you view the specifics that distinguish the 'Indian-American' scenario?
A: I have really approached this question in a very personal, experiential way. Immigration to America transformed my life in positive and negative ways and challenged me and forced me to grow.
Looking around me, I saw many men and women who faced a similar experience that redefined their relationships with family and homeland and changed their notion of themselves. In turn, they were transforming America, American culture and American race relationships.
These are some of the things I continue to explore in my work, although some of my books, such as Palace of Illusions, based on the Mahabharat, are quite different and have nothing to do with America.
Tragedy
Q: Several of your works such as Queen of Dreams, One Amazing Thing, relate with the 9/11 tragedy and the impact it had on many people in many ways. How did you find that event affecting your perceptions and creative sensibilities?
A: I feel that 9/11 changed things for many immigrants in America, especially brown-skinned immigrants who seemed suddenly "dangerous" to many people, and even to the government.
I had close friends who lost family in the tragedy of the towers, so I was aware of the aftermath from that angle.
I knew people (including myself) who became the victims of racist attacks after 9/11, so I experienced that side of the tragedy as well. I try to explore these in my books.
Glimpses
Q: Have you begun work on your next book? Are there any glimpses you could offer as to what your readers can expect from you in the days ahead?
A: I'm working on a collection of linked short stories about three generations of women, a grandmother, a mother and a daughter, and how the definition of what a 'good woman' is changes in their lifetime.
Q: Given the body of work you have produced so far and thinking of what you intend ahead can you share what your personal outlook is when it comes to the position and purpose of the writer as a storyteller in today's world?
A: I feel writing is a powerful medium that can make readers aware of issues and problems and the nuances of life, both political and personal.
I feel blessed and privileged to be a writer and am always touched and appreciative when readers contact me to tell me how much my books have meant to them.