Short story
The birthday party
A nurse leads me down the stairway into the hall where my parents are celebrating. She keeps telling me that they are celebrating my 16 birthday. The hall is lit up and filled with streamers, balloons and decorations and people.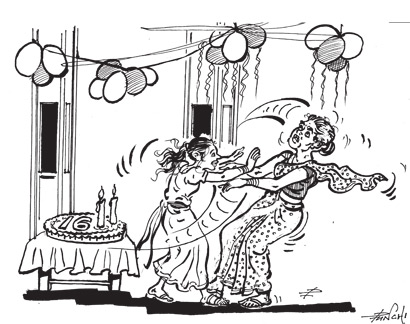 They were talking to each other until they saw me come into the room with the nurse. A silence fell as they saw me. Why is it that people fall silent when they see me?
'Hold on to me,' says the Nurse 'Don't push against other people or try to talk with them, Just smile at them.'
Sometimes I love my nurse but there are times when I hate her.
Why had she dressed me up in a pink dress with a pink ribbon holding my hair together and put me into pink shoes with a slight heel which made me feel tall when she is still controlling me like a child? We are celebrating my 16 birthday today.
'Poor child! Unfortunately you were born under an evil planet,' she whispered in my ear. I walk among the guests who had fallen silent when I entered the hall.
'Hello, Anjana! You are 16 years today? Someone put an arm around me which made me feel restrained again. I gave her a push instead of a kiss and she went backwards until someone held her from falling.
Sedation
The music and the talking had stopped. Where is the nurse? Why isn't she protecting me? Instead I see mother standing near me, her eyes sharp as the steel knife in her hand.
'Since you cannot behave even after sedation, you must leave your own birthday party.
Nurse take her upstairs!'
With the steel grip of the nurse on me I go upstairs, whimpering and crying like a four-year-old child and not a 16-year-old girl.
Mother is crying. I see her tears sliding down both her cheeks. Mother who is so strong is now crying. I am 16 but treated like a nursery school child.
I cannot understand what is wrong with me. Upstairs in my lonely room, I am tucked into bed by the nurse. My parents had tried to give me a 16 birthday party.
Apparently although I am tall and grown up in body, I have not become a teenager yet. My mind is still that of a child.
Attention
I hear footsteps on the staircase. The door opens. My father comes in and stands near my bed. The nurse stands to attention.
'Sir?' She addresses him. I can see her hands are shaking.
Father speaks directly to me. 'Anjana don't worry about what happened at the party.
In any case you should have been free to act as you liked among friends of your own age.
It is your unfortunate fate that you were born with a retarded brain. Don't worry we will look after you as long as your mother and I are alive.
We will make arrangements that you will be looked after even after we are gone. Nurse sedate her so that she will have a pleasant dream.'