Hada Vindana on Thinetha TV
The popular television program Hada Vindana, Produced by Srimath Indrajith Liyanage is telecast on Thinetha TV every Sunday at 10.30 a.m.
---
Digital studio and melody bank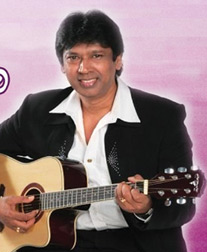 The popular singer/composer Keerthi Pasquel who has always endeavoured to raise the music industry to an upper level, has moved with the rapid development of technology and opened three studios with the latest digital recording facilities for the benefit of all amateur and professional musicians.
This Sonic Digital Recording Studio at Sri Soratha Mawatha, Gangodawila, Nugegoda was opened on October 2. The studios can accommodate a 20-piece orchestra and also program music for present day youth musicians.
The Melody Bank where musicians can store their music with, according to Keerthi Pasquel, be a great benefit to amateur and professional musicians, especially those who are involved in composing music for film tracks. The composers are entitled to royalties and the Recording Studio and Melody Bank will be open 24 hours daily.
Keerthi Pasquel will soon be on stage on a concert titled 'Fathers and Sonsí in March next year.