Construction work on Pinnawala Zoological Gardens nearing completion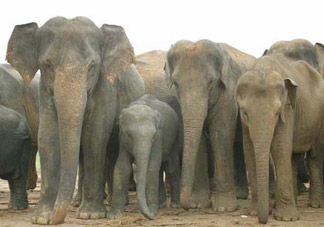 The Kegalle District M.P. Kanaka Herath, at a discussion recently at the Wagolla Agricultural Centre said that the Pinnawala Elephant Orphanage in the Kegalle district attracts nearly 87% of the Foreign tourists visiting Sri Lanka.
Sabaragamuwa Province Chief Minister Maheepala Herath, Secretaries to the Provincial Ministries, officials of the construction project, Assistant Director of Planning in charge of this project Anuruddha Bandara participated.
Kanaka Herath who inspected the area and said the Zoological Gardens and the Tourist Village will be opened before the end of the year. The President has said that this place possesses a monumental significance and foreign tourists can be made aware of the lifestyle of Sri Lanka.
The tourist village also helps us to inform the world about our 2,500 year old Buddhist history, he said.
Chief Minister Maheepala Herath said that setting up a tourist destination will help the people of Pinnawala and Rambukkana to improve their economy by selling their home made traditional food items and traditional handicrafts to the tourists. He said the tourist village will consist of Hand loom centres, iron smiths house, a pottery workshop, Game Kopi Kade, Gem and Jewellery Centre, Kithul Products, indigenous resting place, wedagedera, Arachchilagedera, open stadium, a house of Gurunnanse who makes drums, chena, plants and small tanks, paddy fields, environmental friendly auditorium, sales centre for memorable items, people's, museum, Govigedera and carpentry workshop.