'Christchurch's Hagley Oval ratified by ICC, hosts the Boxing Day Test:
Sri Lanka to baptise New Zealand's newest Test venue
WELLINGTON, Oct. 25. - New Zealand is looking forward to the upcoming home series against Sri Lanka to be in good shape before it co-hosts the 2015 ICC World Cup with Australia.
Despite losing the first two games of the three-match home ODI series against South Africa, New Zealand captain Brendon McCullum is confident that they could still have time to regain form before the World Cup tournament begins in February next year. There is only an academic interest in Monday's third and final ODI between New Zealand and South Africa in Hamilton but McCullum is confident that the Kiwis could paint a better picture during the seven-match ODI series against Sri Lanka.
The failure of the top order batsmen in two successive matches has been an alarm for the Kiwi camp but McCullum is still hopeful that his team would come good. Even if New Zealand does not recall Jesse Ryder for Monday's ODI, the explosive opener has a slim chance of making a comeback in their home series against Sri Lanka. However, McCullum emphasised that the right character, rather than just runs, will be the only way for Ryder to be reconsidered.
He said Ryder needs to show maturity, commitment as well as discipline if he is to be recalled to the side. "There are lots of cards that need to fit into place before he can be back in the side. We know how good the team dynamic is when we get ourselves into form and get the ship rolling.
The environment is the most important thing," McCullum said after his team suffered the second defeat against South Africa at Mount Maunganui yesterday.
Ryder last figured in ODIs for New Zealand during their series win over India in January. But he was fired from the Test side in the following month after a late-night drinking session, an incident which also cost him his spot in the World T20 squad.
Sri Lanka's Test at new venue Christchurch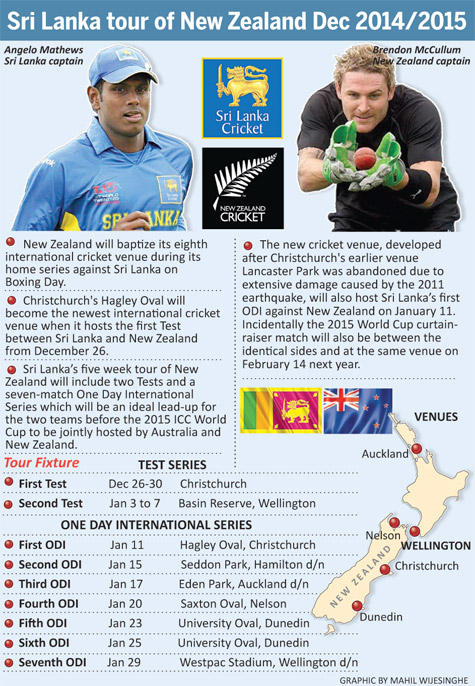 Sri Lanka will be playing its first Test against New Zealand at a brand new venue as Christchurch's Hagley Oval will be baptised as an international Test venue on December 26.
It was only a few days back that the ICC officials assessed the ground's on and off-field facilities and concluded they were of "good standard" to host international fixtures.
Thus, New Zealand will first use the venue for the Boxing Day Test against Sri Lanka starting on December 26 before the Hagley Oval hosts the first match of New Zealand's ODI home series against Sri Lanka on January 11. Incidentally, the 2015 World Cup 'curtain raiser' match will also be between the identical sides and at the same venue on February 14 next year.
The new cricket venue was developed after Christchurch's earlier venue Lancaster Park was abandoned due to extensive damage caused by the 2011 earthquake.
The Hagley Oval has already been used for domestic games and World Cup qualifiers, and will debut as New Zealand's eighth international cricket venue with the Boxing Day Test against Sri Lanka.
Hagley Oval to play key role
"From the earliest days of tournament planning, knowing what sport means to Cantabrians and the challenges the city has faced, we had a vison of Hagley Oval playing a key role in the World Cup," said Therese Walsh, the World Cup head for New Zealand was quoted as saying, adding that the Oval and pavilion are "truly world class, and it will be a very special occasion when Hagley Oval is beamed around the world for the opening match on 14 February".
Chief Executive of New Zealand Cricket, David White said that the Hagley Oval offers rare flexibility and could "operate in boutique mode" when smaller attendances are expected, or can expand to cater for a crowd of about 20,000 when required. "We're delighted to have another quality international venue approved by the ICC," White said.
Canterbury Cricket's Chief Executive tagged the new venue as a "ground for all generations," adding that the Hagley Oval balances nicely the heritage of the precinct, and all the modern, high-tech innovation that is needed for an international cricket venue. Receiving the official ICC nod is an important milestone for a ground designed to serve the region for the next hundred years.
Lanka in seven matchODI series
Following the first Test in Christchurch, Sri Lanka will also figure in the second Test against New Zealand to be played in Basin Reserve, Wellington from January 3 to 7 next year.
The marathon seven-match ODI series between New Zealand and Sri Lanka will be played on January 11 (Hagley Oval, Christchurch), 15 (Seddon Park, Hamilton d/n), 17 (Eden Park, Auckland d/n), 20 (Saxton Oval, Nelson), 23 (University Oval, Dunedin), 25 (University Oval, Dunedin) and 29 (Westpac Stadium, Wellington d/n).